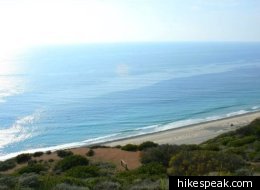 How do you feel when you see the ocean -- relaxed, right? Whenever life in Los Angeles gets too hectic, it's comforting to know the Pacific is just a quick escape away. A look at the ocean named for its calm is guaranteed to pacify, especially when that perspective comes from one of Southern California's ocean view hiking trails. From Point Mugu to Palos Verdes, there are numerous places to find a piece of quiet and stare out at the big blue beyond. If ocean views are what your hiking heart desires, check out these five great trails that pack more Pacific punch than most hikes in Los Angeles.
5 Ocean View Hikes in Los Angeles
Tune in to Tuna Canyon Park. This tucked-away parcel of the Santa Monica Mountains between Malibu and Topanga has some of the best ocean views around. Both short and long hikes are possible in this 1,255-acre park. The Pacific vistas from Hearst Tank Mountainway and Big Rock Lateral are jaw dropping.

While the names of the trails on this hike are both generic and enticing, the views are unique and unforgettable. From the Pacific perch at the top of the loop, Point Mugu State Park looks like an exotic destination in a far away island nation. Luckily, the ocean views on Scenic and Overlook Trails Loop are just a short hike and a short drive from Los Angeles.

Point Dume juts into the Pacific at the northwest end of Santa Monica Bay and is a great place to spot whales migrating along the coast. In the offseason, the promontory still delivers in-your-face vistas across the bay and up the coast past Zuma Beach. The hike to the top of Point Dume is short and easy, and there is beach access if the waves become too alluring.

Corral Canyon Loop Trail looks up the sandy coast toward Point Dume, and the canyon is draped in coastal sage to add even more color to the view. The lovely loop is 2.5 miles long, starting from PCH just across from the beach and rising to ocean vistas that can't be corralled.

For oceanic inspiration in the South Bay, visit Seascape Trail on the Palos Verdes Peninsula. The easy stroller-friendly hike crosses wave-battered bluffs north of the Point Vicente Lighthouse. The ocean breezes invigorate the soul, and there are nearby tide pools to explore.
Follow Seth Smigelski on Twitter: www.twitter.com/hikespeak