This one-minute excerpt comes from a special colloquium celebrating the 25th anniversary of the SETI Institute.
Watch a video of Dr. Franck Marchis giving a one-minute summary of his work.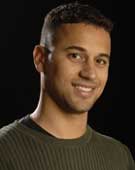 Franck Marchis has been a planetary researcher at the SETI Institute and the Carl Sagan Center since 2007. He uses adaptive optics (AO) technology on 8-10m class telescopes. This technique provides exquisite images, as if the telescope were in space, to study the wonders of our solar system. With his group, Dr. Marchis searches for and studies asteroids with moons, monitors the volcanic activity of Io, and studies the atmospheres of giant planets. In the future, new AO systems such as GPI will even be able to study planets around other stars. Dr. Marchis is also involved in the design of innovative instruments and space mission concepts.

Learn more about Franck and his work on this Huffington Post interview.
SUBSCRIBE AND FOLLOW
Get top stories and blog posts emailed to me each day. Newsletters may offer personalized content or advertisements.
Learn more