Life at the SETI Institute: Meet Dr. Jill Tarter -- Video
This one-minute excerpt comes from a special colloquium celebrating the 25th anniversary of the SETI Institute.
Watch a video of Dr. Jill Tarter giving a one-minute summary of her work.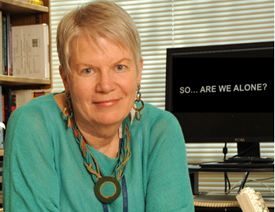 Jill Tarter is the director of the Center for SETI Research, and holds the Bernard M. Oliver chair for the search for extraterrestrial intelligence. She worked with Tom Pierson to found the SETI Institute, writing a charter that encouraged research into all terms of the Drake Equation, setting up the Institute as one of the earliest centers for astrobiology. She spends her days juggling many balls, including SETI observations at the Allen Telescope Array (ATA), and overseeing a relationship with the US Air Force to assess how well the ATA can detect spacecraft and space junk to help avoid future collisions. Since she was awarded the 2009 TED Prize, Dr. Tarter is overseeing SETIquest which will enable the world at large to help us make our SETI searching better.
Learn more about Jill in a Q&A in which she responds to questions about her childhood, schooling, and career. An excerpt is available on the Huffington Post.

Follow SETI Institute on Twitter: www.twitter.com/SETIInstitute