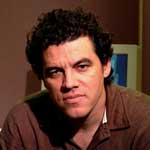 Dr. Ignacio Mosqueira is an astrophysicist at the Carl Sagan Center for the Study of Life in the Universe, SETI Institute. He works with Paul Estrada to piece together the way in which giant planets - such as Jupiter and Saturn -- and their moons and rings formed. Ignacio notes that making moons is similar to forming planets. Understanding moons may have something to tell us about the possible habitats for life, since large moons could, in principle, have both the liquid water and atmosphere necessary for the kind of diverse biology we see on planet Earth. Ignacio joined the SETI Institute in 2002.
Click on images for larger view
Ignacio, you're an astrophysicist. In layman terms, explain what that means.
Simply put, an astrophysicist studies celestial objects and the universe using the laws of physics. However, nowadays physicists also tackle such questions, so the distinction between the two disciplines is becoming blurry.
Describe your research project.
My project takes on the big question of how planets orbiting Sun-like stars form and attacks it from a particular direction. We're studying the origins of the moons of giant planets. We're essentially following on Galileo's trail. At the time of Galileo's discovery, Jupiter's moons proved that not everything revolved around the earth. Galileo immediately recognized the moons' significance. One could say he found a system of smaller planets revolving around Jupiter, which can be thought of as a "mini-solar system."
My current research is focused on Jupiter's and Saturn's moons and rings. We want to figure out how they fit into the history of the planets orbiting the sun -- how planets formed and in what order, why they have the properties they have, and so on. These questions are important because the answers can help us learn much more about the earth and its place in the solar system. Having only one example of anything makes it difficult to draw any conclusions from it - and this also applies to the solar system. What moons can offer us, however, are other planetary systems from which to learn. Although the largest moons are the size of Mercury -- a small planet -- we can still learn a lot from them. As an analogy, imagine you want to learn about a tiger but you have a house cat. Studying a house cat can actually tell you a lot about a tiger. And the more species of cats you study, such as a cheetah, a jaguar, a leopard, and so on, the more you can learn about which behaviors are specific to house cats and which are common to all cats, including tigers. The fact that there are many moons is very useful to us. It helps us to learn a lot more about planet formation.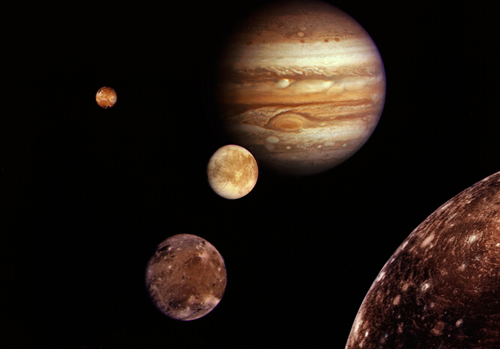 is nearest Jupiter; then Europa (center); Ganymede and Callisto (lower right).
One question I find really interesting involves the likelihood of planets around other stars resembling the earth. How common are they? If you don't understand planet formation, you have no idea. Maybe there are very few Earth-like planets and we live in a very special place. But is it special for us, because we happen to live here, or truly unique?
The solar system is like an intricate puzzle. The moons, planets and the sun don't function independently - they all work together. Scientists focus on one piece at a time. But in the end all the pieces must fit together to form a majestic picture of our place in the universe.
How did the specific study of moons attract your attention?
The problem that attracted my attention to this field was that of trying to explain the internal structure of Callisto, Jupiter's second largest moon. We know a good deal about the earth's internal structure. If you searched for a mountain made entirely of iron, you wouldn't find one. It couldn't exist because iron is so dense that the mountain would actually sink. When the earth formed, the iron sunk to the center of the planet, creating a core. So while we understand that principle for the earth, how does it apply to the largest moons? Do they have either metallic or rocky cores? And what would this tell us about how they formed? Callisto gave us a big surprise because we were expecting to find a core and no core was found!
How did you feel when you learned of Callisto's "surprise?" Was it a setback?
Not at all -- quite the opposite. A surprise is often much more instructive and more fun than a confirmation of something you already know. You think you understand something, you're familiar with it, and then you find out you have to rethink it. It's really great. Otherwise planetary scientists would still be insisting that Callisto must have a core and would learn nothing from this assumption. Luckily, this new information presents us with a deep mystery we must solve.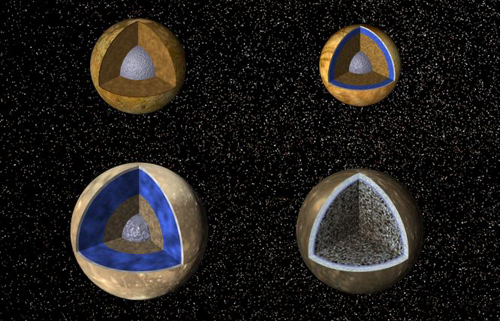 Cutaway views of the
possible internal structures
of the Galilean satellites. Ganymede is at the lower left, Callisto at the lower right, Io on the upper left, and Europa on the upper right.
Image credit: NASA/JPL
What is the coolest thing about your project?
There is a lot of interest in moons and planet formation right now because of the earlier Galileo and now the Cassini spacecrafts. The results from the Cassini mission to Saturn are radically changing the field, and that's really exciting. The coolest thing is that we are in a position to think about the meaning of these results when they are hot off the press.
What do you currently consider your biggest challenge?
The biggest challenge is in selecting the right problem to tackle. There are many directions to pursue, and it's important to choose a problem in which you can make progress. And it's equally important to select a problem that I'm interested in so I will be motivated to work on it. There isn't a formula you can use to select the right problem. You just try one for a while. If you're not making progress, you move on to something else.
Why should the general public care about your research?
We're now finding planets around other stars, and that's a topic many people are interested in and care about. It is important to move beyond our provincial geocentric point of view. For instance, the earth's orbit around the sun is almost circular. Is that typical of habitable planets orbiting stars other than the sun? If we inhabited a planet with an eccentric or squashed orbit, our day-to-day life would be totally different. We would sometimes be very close and sometimes very far from the star. What sorts of planets are possible? And what would it be like to live there?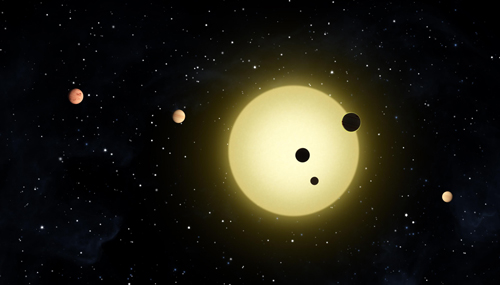 The recently discovered
Kepler-11
is a sun-like star around which six planets orbit.
Image credit: NASA/Tim Pyle