Shan Wells: Top Ten Cartoons of 2010
Shan Wells: The Year in Review 2010- Top Ten Cartoons
Senator Ted Kennedy's death in 2009 prompted a special election in Massachusetts for his open seat. In a harbinger of the 2010 midterm "shellacking," the Obama Administration only twigged to the fact that the seat was at risk for GOP conversion late in the game, and so could do nothing to stop it from going to a Palin understudy, Scott Brown. This took away the tenuous 60 vote super majority enjoyed by Dems in the Senate, and complicated health care reform tremendously.

G.W. Inc. let loose the Dogs of War to chew Iraq to pieces. With their ridiculous ruling on Citizens United vs. Federal Election Commission, the Supreme Court, (or at least the stupid members of it), loosed the Pigs of Corruption, shattering 80 years of steady effort to keep big money from buying the country. Not that the law ever did a great deal of disinfecting, but at least it shown a dim light on the country's bribe bosses.

Israel's boneheaded attack on a group of civilian ships carrying aid for Gaza in the summer of 2010 might have been a chapter in Johnson's book illustrating exactly the right way to not only create a new generation of Islamic extremists, but enrage just about everyone else.

As of 2011, there are 3,858 active oil drilling platforms in the Gulf of Mexico along the southern edges of Texas, Louisiana, Alabama, Mississippi, and Florida. There is good reason to suspect that other BP rigs may have defective parts and instrumentation. Given that Dick Cheney cheerfully deregulated the bejeezus out of drilling safety laws back in W.'s first term, there's even better reasons to think that all the other platforms may be in a state somewhere between bad and worse.

The hideous black curtain that snuffed our life in the Caribbean was only a precursor to the damage climate change will inflict. History handed the President an unprecedented opportunity to grab the wheel of State and spin it. What better than the nation's worst environmental disaster to use as a lever for making bold changes? And yet Obama offered no new legislative proposals, nor described the scope of the problem, or even asked for the American people to do anything except pray. How pathetic.

"Climategate" was stroked and milked by the denier community for every cherry-picked strand until it became like a diseased security blanket, held tight in the face of overwhelming evidence and used as a proxy for real analysis. It's hard not to feel personally offended by such willful idiocy. There is more than enough information from credible, vetted sources that no one should be a climate denier. Yet, there seem to be some that take real pleasure in it. They joyfully name as incompetent charlatans people who have devoted their lives to painstaking research.

$3 trillion burned. Thousands of lives lost. Countries ravaged, and for what? No one has been held responsible, nothing has been gained. And the really scary thing is we seem to have learned nothing from all this, which all but guarantees we will do it again. There is only one winner here, and it carries a scythe.

It seems to me that a community center dedicated to multicultural healing, with a 9/11 memorial and a mission of educational outreach, is exactly the sort of thing we would logically want near Ground Zero. But we have gone past logic in the America of Beck, Palin and Gingrich. The melting pot is boiling over these days.

At first blush, the 2010 "shellacking" seemed to be a response to Democratic ineptitude, even though the economy was stabilized and growing by 2010. My take is that the twin demons of the worst economic collapse since the great depression, and Obama's unwillingness to assign blame for the debacle in any public way, (unlike FDR, who held high profile hearings into banking as the first order of business), allowed a "villain vacuum." The GOP was only too happy to insert the Dems and the President into the slot.

The last few weeks have brought much confusion in the liberal ranks over what exactly Obama is doing. What appeared to be a craven bow to the GOP over tax cuts, seems now to have been a larger strategy to take away the Tea Party juju on debt reduction, get a second $500 billion stimulus, an unemployment insurance extension, keep tax break for the middle and lower class, and perhaps even get DADT repealed. Add to that a remarkable shift on the START Treaty, and Obama had a pretty amazing December. So I find myself wondering if the hits he's taking for compromising are foolish, or if he's really jumping on grenades for the higher goal. After all, the man is know as a "long game" player. So was it luck or skill? I know which one I hope it was. 2011 looms. We'll soon know.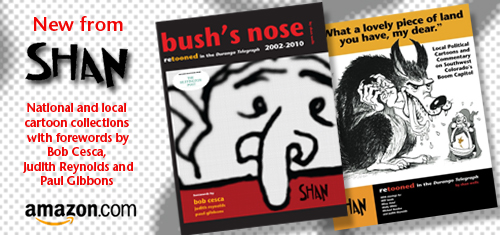 Follow Shan Wells on Twitter: www.twitter.com/shanowells