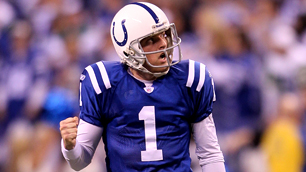 There are numerous NFL players who I wouldn't mind visualizing taking a drunken, naked skinny dip. The names Darren Sharper, Reggie Bush and perhaps even a headless Terrell Owens come to mind. Colts punter Pat McAfee, however, does not.
According to Sports Illustrated, McAfee was arrested on suspicion of public intoxication. Apparently he was so wasted, he thought it would be a good idea to take an early morning skinny dip in a canal in Indianapolis' nightlife district. What an interesting combination of awesome and gross...
McAfee's blood alcohol limit was reportedly twice the legal limit. (Sounds like just a regular old Wednesday morning to me.) Police say he slurred to them that his shirt was still in the water. I gotta say, I've always thought of the Colts as the boring, goody-goody team in the league. Kudos to McAfee for "de-classing" up the place!
SUBSCRIBE TO & FOLLOW THE MORNING EMAIL
The Morning Email helps you start your workday with everything you need to know: breaking news, entertainment and a dash of fun. Learn more