Is it wrong that I'm mildly amused, if not delighted, by the little tiff going on right now between New Orleans Saints defensive back Darren Sharper and Minnesota Vikings tight end Visanthe Shiancoe? The two are involved in what has escalated into a "Melrose Place"-esque back and forth over Twitter, leading up to their teams' opening night battle this September. Sharper is playing the role of Amanda Woodward, the thick-skinned Queen Bee of the Melrose Place bitches who never backed down from a good fight. Shiancoe, contrastingly, is more of the Sydney type- sarcastic, bitter, sneaky and always willing to push her foes to their brink. Meanwhile, Brett Favre is Andrew Shue's character "Billy", the All-American charmer who always seemed to be at the center of a skanky smackdown. Throw in some "Color Me Badd" music as the backdrop and I'd swear it was 1993 all over again!
For those of you who don't stalk, I mean, er, follow your favorite NFL players on Twitter, allow me to bring you up to speed.
A couple weeks ago, when it was announced that alleged Vikings QB Brett Favre would be getting ankle surgery, Darren Sharper alluded on Twitter the Saints defense would target Favre's gimpy ankle when the two teams face off in his team's home opener. Visanthe Shiancoe, Favre's teammate, struck back on Twitter. He responded, "Sharper had surgery too. And it was a knee. If x marks the spot on Brett, I wonder what marks the spot on Sharper?" Meow!
The two went tit for tat over Twitter, most of it pretty lighthearted and typical of competitive NFL players. But then, Shiancoe went for the ultimate low blow. After the Vikings spent time with the Minnesota National Guard, he had the "brilliant" idea of posting a photoshopped picture of Osama Bin Laden wearing Sharper's number and the words "I'm Darren Sharper" coming out of his mouth.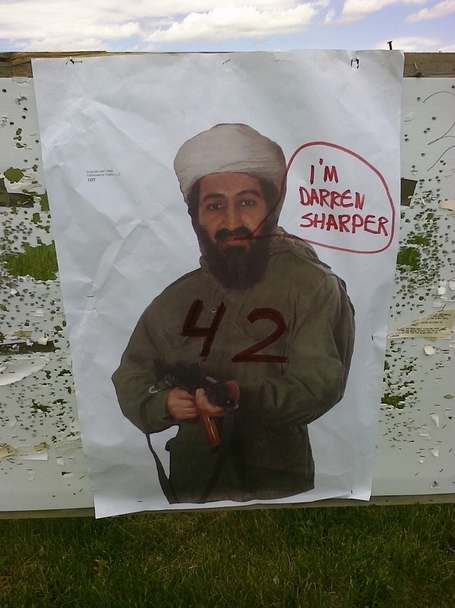 I'm sorry Visanthe Shiancoe, but NO ONE treats Amanda Woodward that way!
Sharper immediately shot back on Twitter, vowing to "bust Visanthe under his chin strap" from the first play on in the first game of the season. He also tweeted (what a foul word that is...tweeted), "ok homeboy you done went too far, making me out to be something that has brought this country alot of heartache...I don't care about the fine. F the money Imma do it for the red,white&blue ... And you'll see me cuz I'll be dressed in black & gold. Protect your neck that's all the warning you get."
Somebody pass me my As Seen on TV Emery Cat Scratcher, because the claws are out!!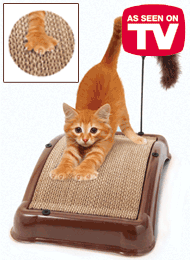 While both the league and the team coaches have decided to stay out of this one, fans are either egging it on or scolding the men for taking their manly rivalry too far. What I can't help but wonder is why no one has gone so far as to call this what it is, a good old fashioned catfight! Were this two WNBA players going at it over Twitter or say, Maria Sharapova versus Venus Williams, there would be cat calls heard from here to wherever Venus buys those lingerie uniforms that show off "Ur-anus." It would be an utter media "cat-astrophe" for female athletes. But when it's male sports stars letting their inner "divo" shine, well, we just chalk it up to boorish trash talk.
Double standard aside, I like it... all of it!! This is what keeps us NFL junkies entertained during these long summer months. I mean c'mon, what else do we have to hang our hats on right now? Saints fans are watching their beloved Gulf Coast get swallowed by a blob of oil while Vikings fans continually struggle to make peace with the fact that they live in Minnesota. Let's face it, we NEED this kind of drama.
So I say keep the insults, bitch slaps, and catty comments coming. It's like watching The Real Housewives of New Jersey...only much less butch.