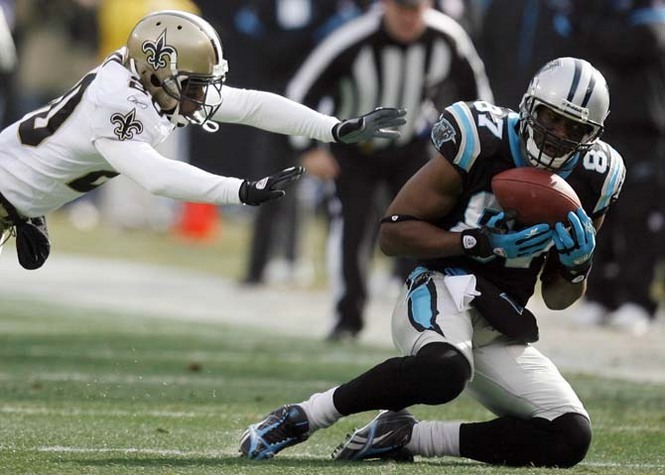 Have you ever been to a movie and:
a) fell asleep?
b) watched most of it with your fingers covering your eyes?
c) found yourself wondering just when, oh when it would end and put you out of your misery?
d) all of the above?
Well folks, I went with option "d" this past Sunday while watching the Saints "play" the Panthers. Even though many of the team's starters were on the bench, most of my emotions came to play. I cussed, bitched, moaned and whined with every 3 and out. I could hardly contain the urge to stab Jonathan Stewart in the knee cap. And when Anthony Hargrove's fumble recovery in the end zone was reversed as a touchdown, I could almost see the shadow of that throbbing vein in the side of my head. Sure, I knew this game in the big picture of life meant nothing. But when the Saints are playing, it always means something.
Coach Sean Payton apparently relied on the wisdom that it's better to go in healthy than pumped. The Saints had a chance to stop their losing skid by showing up strong against the Panthers. But with a team as hot as Carolina's, it's going to take a lot more than Mark Brunell and a pseudo north-to-south running Reggie Bush to get things going. You need all hands on deck and for Coach Payton, those hands belonged tucked firmly inside a snuggie on the sidelines for the last game of the season.
Here's the thing folks: while I yearned for the Saints to pounce the Panthers, I'm not one to question the coach's decision. He's the one who led us to a 13-3 season, right? He's the one who led us on a 13 game winning streak, right? He's the one who led us to a NFC championship appearance in 2006, right? He's our coach. Who am I? I'm just some chick who bleeds black and gold and who one time (one time people!) cried over a Saints loss. I'm just a fan. I don't know the game like my coach. I won't question his call. But...

If those motha bleeping Saints lose their first playoff game, I'm gonna want someone's head!
Oh it doesn't have to be Payton's. I have no beef with Payton on a regular basis. Sure the occasional double reverse in crucial clock management situations has irritated me or an onside kick for no damn good reason to start a half. But for the most part, Payton and I are on good terms. With all that said, the Saints must, I repeat, must win their divisional game. I refuse to acknowledge Chris Collinsworth, Keyshawn Johnson or Terry Bradshaw are smarter than my organization (or my mascot for that matter.) I'm going with the coaches. The game against the Panthers was just "practice." In the words of Allen Iverson... "Practice ... practice. Not the game. Practice!"
So, we'll just act like Sunday was, oh I don't know, a non event. It was a Lifetime movie that you put on for background noise while you clean the house. Jonathan Stewart racking up 100+ yards and a touchdown was like when you dream you're going to the bathroom and end up peeing on yourself. Gaining just 213 yards and scoring ten points on offense while losing Courtney Roby was just like, well, coughing on a full stomach and accidentally vomiting in your mouth. Sure it's gross but it's not the worst thing that could happen.
So, we'll just shuffle along past what happened in week 17. Sure no team has lost 3 straight and gone on to win a Super Bowl but this is the Saints. Would we expect our first Super Bowl win to follow conventional rules? Hells no! So I still say "Who Dat!" I mean, except for the Cowboys (ick), Bucs (arrggghh!!!) and Panthers (AAAAHHH!!!!!)...
Who Dat?