Pick up any wedding magazine these days and you will surely think that you need to find a money tree to shake to be able to afford a nice wedding. How about Mr. and Mrs. Kanye West? If you have a spare $14-$20 million, sure you can have a wedding of the century. Let's be honest though. How many of us can afford something as grand, and is it even necessary?
Does the sound of a "budget" wedding make you cringe? For me, it conjures up images of dollies, chocolate covered almonds, bubbles, and food that should be used as doorstops instead of being consumed by humans.
I was recently married in November, in what I consider my dream wedding. We had an ocean view, beautiful music, amazing food, and a signature drink to knock your socks off. I will let you in on a little secret... we had all of that and more for 70 people for a jaw-dropping $3,000. Yes, you read that right. Just $3,000.
You simply don't need to bankrupt yourself or your parents to have a hip and affordable wedding. Actually, it's quite silly to do so, even if you have the money. Think of all the things you could do with $50,000:
● Feed many small nations
● Down payment for a new house
● Pay off your student loans
● Take a round-the-world trip of a lifetime
● Start a new business
● ...and so much more
Your wedding should be about your marriage and not about the wedding, but I do understand the pressures to create an amazing event. After all, it should be one of the best days in your life.
Ready, Set, Let's Get Wed:
Rule number one to bring your wedding in on budget is to actually have a budget! This shouldn't come as a shock to you, but you would be surprised at the amount of people that simply forget this important step. Know your numbers -- know what you can spend, and where it is coming from, where it is going, and be as detailed as possible.
The Eight Great Ideas:
1. Location, Location, Location -- You are no stranger to those words in real estate, but this is where you can save massive amounts of money for your wedding. Does a friend have a killer backyard you could borrow? Are you friends with a restaurant owner and you could use the space on their day off? Do you have a special skill or talent that you could barter for a free or reduced cost wedding venue. Look at who and what is around you and I guarantee you can find an amazing venue for next to nothing.
Price Tag: $0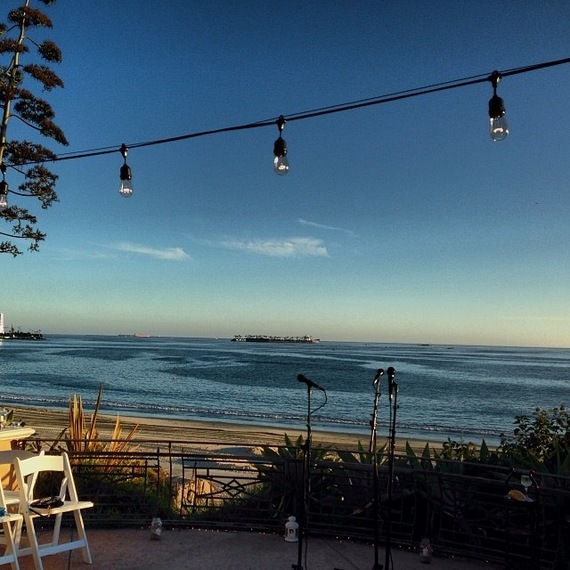 2. The Dress -- Girls, this one is for you. I know that when you pick up your copy of Martha Stewart weddings you drool with desire over the designer gowns. Pish Posh! You can do just as good, without the crazy price tag. Look for a dress hanging on the rack that fits you. Offer a cash payment to drop the price even lower.
Another great idea is to either rent your dress, or if you have a friend that wore a killer dress, ask if you can buy it from her. You would be amazed at what a little altering can do!
Price Tag: $500
3. Vacation on My Mind 0- Do you suffer from wanderlust -- an endless desire to travel? If you are like my husband and me, skip the wedding gifts that you will probably return anyway, and register for something super special. We used honeymoonwishes for our wedding honeymoon registry, and were able to go on an amazing trip to Paris instead of receiving the traditional household gifts. You can register for a trip anywhere in the world and give your guests a special code to login and make a contribution. The money gets deposited in a banking or savings account that you specify in a matter of days.
Price Tag: $0
4. Ready For My Close Up -- Pictures is another place where you are likely to demolish your budget if you don't be careful. However, with the advances in technology and the amazing cameras on cellphones, you have no excuses anymore.
Companies like Eversnap are your wedding budget's best friend. Guests can snap pictures all night long and upload them to your custom site. You can have the advantage of many different photographers. Then, hire a professional photographer for a few hours to fill in and round out your pictures.
Price Tag: $250-$500
5. Let's Eat -- Ah, back to the stale food. Not at our wedding, and you shouldn't suffer as well. Don't be afraid to go against the grain here. We hired an amazing wood burning pizza truck to make gourmet pizzas at half the price of a caterer, but double the hip factor. To round this out we had an amazing neighbor who made all the gourmet appetizers at cost. Honestly, if you put your mind to it, you can be both inventive and budget conscious without your guests even knowing. Trust me, their bellies will thank you!
Price Tag: $700
6. Twistin' The Night Away -- I promise that you don't need to spend thousands on a band or a DJ to have an awesome dance party at your wedding. Here's what you need: good speakers, a mixing deck if you can get access to it, and an IPod loaded with some great dance songs. Pay a friend to be your DJ. The important focus should be on your guests having a good time, and after a few cocktails, they won't notice if you had a six-piece band or a great playlist.
Price Tag: $100
7. Let's Accentuate -- Everyone loves the smell of fresh flowers at a wedding, but gone are the days of needing a flower to cover every service at your wedding. Think of flowers and decor as "accentuaters," not the main feature. One of the best secrets is to set aside some money and go to a local flower shop, flower mart, or even the local grocery store the day of your wedding. You may not get exactly what you have your heart set on, but I guarantee you will have plenty of options at a fraction of the price. Plus, if you choose a great backyard for a wedding the chances are you won't need many flowers all.
Some of the best wedding accessories such as candles, candle holders, and vases can be found at the 99-Cent store. I swear by it! No one would even know that you only spent $50 and were able to adorn every table with sweet smelling candles and funky vases.
Price Tag: $250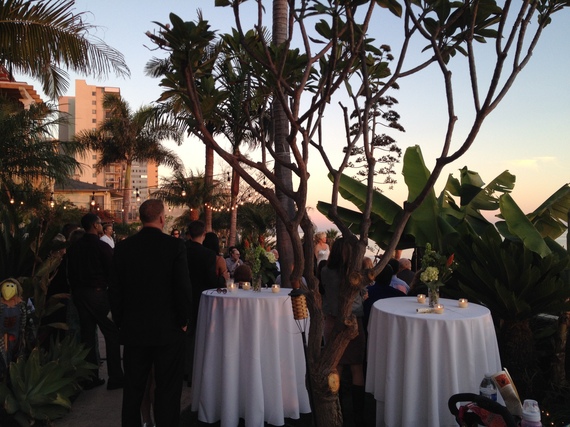 8. Put a Ring on It -- Yes, I know, this is where I may lose you. Wedding rings are the symbol of marriage and they come in every shape and size. Some shinier than others. Being creative with your cash doesn't stop here. There are so many deals and opportunities to get a "good" ring for decent price.
If you've been paying attention at all the last few years, the price of gold is very high. Right now it is jumping up and down around $1300 per ounce! What does this mean to you? If you have any old gold jewelry laying around this is your lucky day. Gather up all your pieces and take them to a reputable jewelry store and ask them how much you could get for your pieces. Chances are you might be able to sell your old pieces, if you care to part with them, and have enough money to get a shiny new ring. Maybe even the whole wedding set.
Price Tag: $500-$1000
It is quite possible to stun your guests with a hip and stylish wedding that is affordable at the same time. There are no prizes for the most money spent on a wedding. You won't get your picture in a fancy magazine either. All you are left with is an empty bank account. Hopefully with these simple strategies you can start imagining your wedding, with all the glitz and glamour, at a fraction the price.
Best Ways To Save On Your Wedding Budget
The most important tip cited by many wedding experts is to create a budget plan before you purchase anything -- and stick to it. Wedding experts Susan Southerland and Samantha Goldberg agreed that couples need to sit down and figure out exactly what their wedding "must-haves" are and how much they want to spend. "If they don't have a level head and they haven't started thinking, 'Here's what I can spend without getting into trouble,' they wind up going with their heart and not sticking to it," Southerland said. And, if you follow your budget, you shouldn't have any problems with overspending. "If they have a blueprint, there won't be a reason to feel like they're going to go over, because they've been on this plan the entire time," Goldberg said (download her wedding budget tracker here).

By cutting the guest list, you can save exponentially on things like flowers, tables, and square footage, said wedding planner Marcy Blum. You'll have a better event if you invite fewer guests, rather than eliminating services like an open bar and proper facilities. "It would be much better to cut the guest list than cut the wait staff. There's no point in doing something halfway," Blum said.

Money-saving expert Kendal Perez offered this little-known tip: buy used gift cards from stores you'd like to purchase wedding items from at GiftCardGranny.com. When shoppers receive a gift card to a store they don't like, they can sell the card on GiftCardGranny.com for less than face value -- meaning you can buy the card and save up to 30 percent. For example, there are cards available from 1-800 Flowers, Tiffany, and wedding dress retailers like J. Crew. "It's a different way to save money without having to shop sales, but if you can couple that with something on sale then you're getting even more savings," Perez said.

Matthew Robbins, author of "Matthew Robinns' Inspired Weddings," cautioned couples against renting too many fancy items, and instead recommended mixing in just a few special pieces with items already included in your venue. For example, rent a unique water or champagne glass to add something special to the table, or use a simple cloth from the venue for the tables and rent a beautiful overlay or runner to dress things up. "Choose wisely and consider rental items as a special accent to embellish what your venue provides," Robbins said.

Holidays are more expensive, plain and simple, said wedding planner Yifat Oren. "You might think it's easier for people to get time off work, but they'll be spending more money all around on travel and accommodations, not to mention the challenges with availability during high season times," she said.

Sign up for all your potential vendors' email lists and follow them on social media in order to get the first scoop on deals, contests, and freebies, said Sharon Naylor, wedding expert and author of "The Bride's Guide To Freebies." You'll hear about clearance sales, "Pin It To Win It" contests on Pinterest, trunk shows and more deals you wouldn't have known about otherwise. "If you're following them and keeping a good eye on them, you can cash in on some great stuff," Naylor said.

Don't feel like you need to spend money on things you don't really need but feel like you have to have, said money-saving expert Kendal Perez. Skip wedding traditions that seem necessary, like programs and favors. "I don't think I've ever kept a wedding favor. Those things are unnecessary expenses," Perez said. "Make sure you're planning the party you want and you're not including things just because everyone includes them."

Vendors will sometimes give discounts to clients they enjoyed working with and, if you ask, may agree to give you freebies or substitutions, said wedding expert Sharon Naylor. But don't forget to be nice! "You cannot be a steamroller and you can't demand it and you can't say, 'Well, I heard you gave my friend a free [food] station so what am I going to get?'" Naylor said. "When vendors don't like you you're not going to get as many freebies."

There's no rule that you must have a pricey dinner or cocktail hour for all of your guests, said wedding planner Xochtil Gonzalez. As long as you give guests something to eat and drink, that constitutes a party. Hire a food truck or consider holding a brunch on a Sunday afternoon. "If you know you have a fun crowd that's going to dance no matter what if the music's good and they've had a couple drinks, there's no reason to force yourself to just have a nighttime party," Gonzalez said.

Instead of registering for kitchen supplies you don't really need, wedding planner Samantha Goldberg said you can actually register for wedding items such as a videographer or upgraded room on your honeymoon. Many vendors will make cards you can put in your invitations explaining your request to your guests. "You'd be surprised -- everyone pitches in here and there and suddenly you now have this money to have something you thought you wanted but weren't able to afford," Goldberg said.
Follow Shannah L. Compton on Twitter: www.twitter.com/shannahgame