Kauai is the oldest of the Hawaiian Island chain and boasts some of the most spectacular scenery in the world. Hollywood directors count on this pint-sized island to bring their stories to life. But what about your life story? If you are planning a trip to Kauai or living on the island, spectacular moments will take your breath away.
This unique island is most famous for its overgrown lush vegetation and dramatic canyons, earning it the nickname "The Garden Island." Stretching 552 square miles, it is possible to explore Kauai in a few days. Take time to peel back the layers of the pristine golf courses and manicured lawns, and you will experience awe-inspiring, tantalizing adventures.
For a jaw dropping memorable experience, step away from the resorts and play with the world by experiencing these majestic adventures: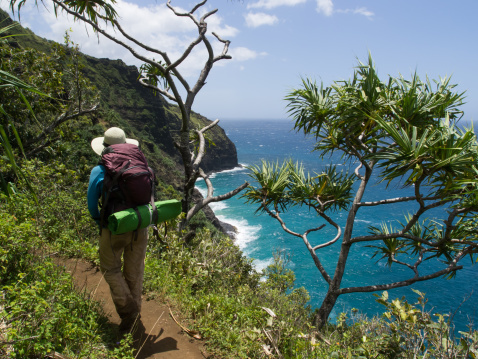 Hike the Kalalau Trail -- Na Pali Coast
This special pocket of earth beams with unique energy as you gaze into breathtaking beauty.
For a truly remarkable experience, pull out your hiking boots and legs of steel to venture by foot into the Na Pali Coast Line. This challenging and strenuous hike begins with a switchback and an 800 foot climb out of Hanakapiai Valley. Make no mistake, this trail is enchanting, but one of the most difficult in all of Hawaii.
On this trail, it is not uncommon to rub elbows with gutsy gurus who have braved Mt. Everest or K2.
Still it is arguable one of the most beautiful spots in Hawaii. With dramatic dripping valleys covered in iron red and emerald green cliffs that rise thousands of feet above the Pacific Ocean, your eyes and heart will be tattooed with spectacular omnipresent beauty.
The tranquil Wailua River is best known for its jungle landscapes along the island's east side. Kauai has the only navigable rivers in Hawaii, and the Wailua River is one of the most popular for the scenery, tranquility and history. The 20-mile river is woven with gorgeous waterfalls and lush terrain best viewed from the scenic glide of the riverbed.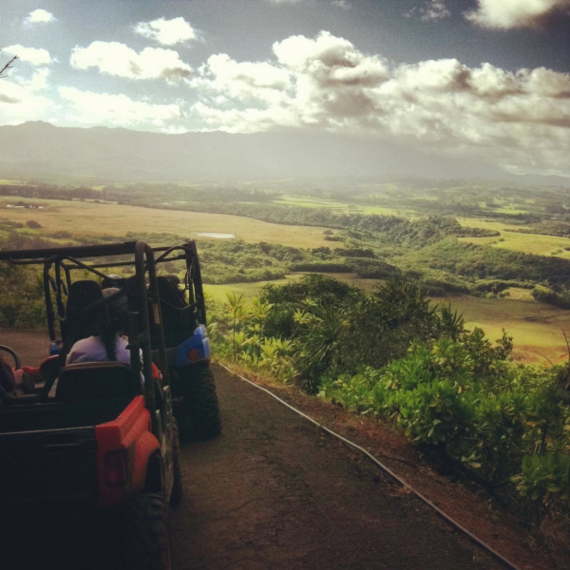 ATV Tour Through Back Country
Got off the beaten path in with a scenic ATV tour through the heart of the island. Kipu Ranch is 3,000 acres extending from the Huleia River to the top of Mt. Haupu, a significant part of backcountry of Kauai.
This awe-inspiring landscape will take your breath away. This sacred land is best known for its starring role in Hollywood movies such as Jurassic Park, Indiana Jones Raiders of the Lost Ark and, most recently, The Descendants.
An ATV adventure will take you straight into the heart of the island with camera-ready impressive views. The magnificent views will leave you speechless.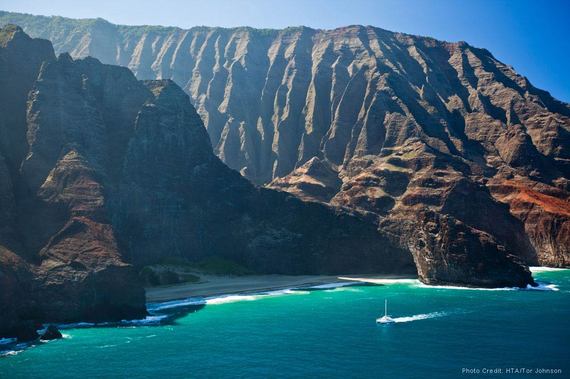 Sail the Na Pali Coast Line

The Na Pali coastline is one of the most pristine on earth. Inaccessible by road, this dramatic hot spot is best scene from the sea. Captain Andy's Sailing Adventures is well recognized on the island as the go-to guide for sailing the pristine coastline. Leave early in the morning for calmer conditions and an opportunity to encounter Hawaiian Spinner dolphins that cruise along boat side.
This carved coastline is the result of nearly eight million years of exposure to wind, waves and rain. It is a mental snapshot that will stay with your forever.
Photos Hawaiiadventurecenter.com
This Blogger's Books and Other Items from...
SUBSCRIBE AND FOLLOW
Get top stories and blog posts emailed to me each day. Newsletters may offer personalized content or advertisements.
Learn more