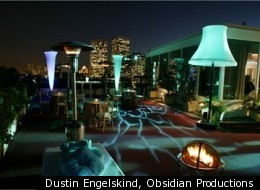 Leave raising the roof to the reception, and host your engagement party, rehearsal dinner, bridal shower, bachelorette party, after-party or wedding morning breakfast on the roof. Rooftop party settings are the new, hot trend, providing an elegant setting with a spectacular view, in a style that's purely you.
When Nick Lachey and Vanessa Minnillo kicked off their wedding weekend, they welcomed friends and family to a sunset rooftop 'wedding shower' at the London Hotel in West Hollywood. Their rooftop party scene was set with white couches, chairs and ottomans for a lounge feel, a deejay spun music, and guests toasted them with martinis. The ultra-Tweeted photos from their event made this rooftop bash the new, hot soiree style.
Here are the top features of a rooftop wedding party:
The blank canvas of an empty rooftop space takes on a clubby atmosphere with modern furniture and clubby lighting effects in vibrant shades of hot pink, purple, teal, or sexy red for a bachelorette party. The site might even have their own lighting pros. The Beverly Hilton in Beverly Hills, California, for instance, has their own in-house production company that transforms an event space with lighting and special effects, as well as a state-of-the-art sound system. Set up couches, ottomans, canopied daybeds, tallboy tables and bistro tables, plus coffee tables to provide ideal seating for guests. One or several bars can be placed wherever you'd like, and in cooler weather, fire pits may be placed around your rooftop party zone. That once-empty rooftop becomes your own personal, one-of-a-kind party space, including custom décor touches.

It might be the ocean, mountains glowing in the sunset, or spectacular city lights. At the Renaissance Hotel 57's Rooftop Terrace Lounge in New York City, the view is the jaw-dropping New York City skyline.The rich and famous spend major coin to get that view from their apartments and hotel rooms, and it can be your backdrop at a lavish New York City hotel. The lights of the city inspire a chic, cosmopolitan tone for your party. To find your dream rooftop party space at hotels and restaurants in major U.S. cities and internationally, visit rooftoprestaurants.com

Nick and Vanessa knew it, and now so do you. 'Owning' the rooftop for your wedding, shower, bachelorette party - and yes, guys book rooftop zones for their bachelor parties -- gives you that celebrity-style privacy and keeps strangers from trying to crash your bash...or have their drinks put on your tab! Plus, you and your guests will feel like celebrity VIPs when you get the special escort to your private rooftop party zone. That can elevate your party in the esteem of your guests, who will be Facebooking and Tweeting photos and updates from your amazing celeb-style bash.

At hotel or restaurant rooftop spaces, you have the site's amazing chefs whipping up your menu. At a Las Vegas ladies' bash, your menu could be prepped at a celebrity-owned restaurant. For a wedding morning breakfast held at the Beverly Hilton, the chefs created the following brunch parfaits: organic orange, melon with lime and mint, apple pear with vanilla, and mango with lychee. It's gourmet all the way, with the kitchen just a few floors down for masterful food prep and presentation.

Hotels and restaurants will of course require you to use their chefs, but at other locales you may bring in your own caterer or well-known food treat - like Sprinkles Cupcakes or Pink's Hot Dogs shown here on the roof of Madame Tussauds Wax Museum in Los Angeles. Guests love it when a famous taste of your region is included in your rooftop party.

No matter the time of day, your group photos, or your romantic couple's kiss photo, will have a spectacular backdrop. You get the sunset, or the night sky filled with stars, the lights of the city all around you, a view of the ocean during the morning brunch hours, and photo ops of all the spectacular details of your rooftop wedding or party décor...and the food. It's a fabulously pretty scene, one that sets your party apart from every other one your friends and family host that wedding season.

Jenny Orsini, owner of Pampered Bride Weddings in New Jersey, shares these essential rooftop party tips: "You must have a Plan B in case of rain, wind, extreme heat or humidity. A site can't just put up a tent if you need one - that can take a team of workers hours to set up and secure to the structure. So when you book your site, be sure you're happy with whatever Plan B the site naturally offers, like an indoor lounge...or have tents set up as part of your Plan A." "Arrange for heavier, sturdier tables and chairs. The wind can blow over a folding table, and plastic chairs can go flying. Wrought iron chairs and tables are best." "Be sure that table linens will be wrapped around the bottom of the table so that they're not flying all over the place in the wind, knocking over the food and drinks. Forget about sprinkled rose petals as your tabletop décor--those are going to fly away." "Use heavier linens and secure them to the table with double-sided tape. "Forget about plastic cups and utensils. Keep everything high-end for style as well as function." "Set up candles in hurricane lamps to protect them from breezes." "For your menu, passed hors d'oeuvres are best, as are nice stations with covers for the chafing dishes. On a hot day, don't serve cheeses or mayo-based foods that can spoil in the sun. Keep all foods on ice to maintain their proper, safe temperatures."
For more great wedding-planning tips and advice, check out these BridalGuide.com stories:
10 Creative Photo Save-the-Date Ideas
Search for Your Perfect Wedding Gown
5 Surprising Wedding Truths No One Tells You