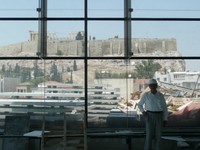 This is a view of the Parthenon from inside the new Acropolis Museum, where frantic construction continues on the $170 million museum being erected at the base of the historic mountain. The museum, monolithic from the outside but spacious and airy on the inside, is a grand statement to the world about Greece's ability to care for its own monuments, and most particularly its most iconic treasure, the Parthenon. The man in the photo is Dimitris Pandermalis, the president of the new museum, an archeologist who has spent seven years getting this museum built. (It's late in coming, plagued by lawsuits and other such.) The top floor, where this photo was taken, is the key: its shape echoes the Parthenon itself, and it will array the marble friezes, sculptures and pediments from the building on a life-scale model, all encased by glass. So here's the rub: Greece wants England to return half of the Parthenon sculptures, which have been at the British Museum since the 1820s, taken by Lord Elgin. The British Museum is not considering doing so. This story has gone on for decades. But now Greece has an appropriate place to display them, and is attempting to reunite all the Parthenon pieces scattered in various museums around the world.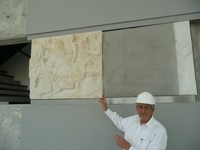 Here is how Pandermalis intends to exhibit the frieze of the Parthenon, with the actual sculptures at the height shown here, and with plaster casts of the many friezes stil at the British Museum behind a grey scrim. You can't help thinking of that as another deliberate gesture, hiding the casts behind a kind of shroud. Pandermalis, however, is anything but emotional. "It's the pride of the nation," he says quietly. "But I prefer to be silent on the issue."
Originally posted here.