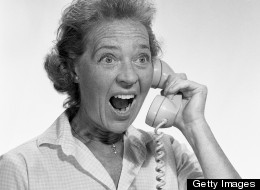 Earlier this week, I wrote about three common language mistakes that make me nuts. The post drew thousands of comments from readers eager to share their own pet peeves. "The one that has been driving me crazy lately is 'in regards to,'" one reader said. "Should be 'regarding' or 'with regard to.' The misuse is so common it's now replacing the correct use. Ugh!" Another reader wrote: "I'm amused when I ask younger members of my family how they are and they reply 'I'm good!' -- to which I respond that I'm glad to hear they've been behaving themselves." And yet another said: "It is 'sneaked' not 'snuck.' I hear snuck all the time and it drives me crazy!"
As a result of the response to that post, I decided to write about another thing that drives me insane: mispronunciations. There's no shortage of words in the English language that are consistently mispronounced. (Who can forget former President George W. Bush's much-cited pronunciation of nuclear, which may or may not have been correct?) Here are just four of them that I find particularly irksome. Feel free to add your own pet peeves in the comments.
1. Used/Use
Why people still get this wrong I have no idea. But if you've previously done something, you USED to do it. For example, one would write or say "I used to go running, but then I broke my leg." One would not write or say "I use to go running, but then I broke my leg."
2. Various words with the letter "x" or "x" sound
Okay folks. When you say "escape" it is "es-cape" and not "ex-cape." And when you say "ask" it is ass-k" and not "axe." Along this same line, there is no "X" in espresso. I hate hearing people say "I'd like an expresso."
3. Supposedly
There simply is no such word as "supposably." And it's "supposed to" and not "suppose to."
4. Anyway/anyways
Come on... there is no "s" at the end of the word "anyway."
Earlier on Huff/Post50:
What Should Kids Be Learning These Days?
A majority of our readers said the younger generation needs to learn manners, "because they sure don't seem to learn it at home!" wrote Huff/Post50 fan Carmen Brandes.

Basic car maintenance was one thing our readers said younger people need to learn.

Readers said they thought home economics should be brought back to schools to teach today's children "practical life skills" such as cooking.

Personal accounting came up as a lesson young people need to learn.

We're living in a truly global world these days, meaning everyone should get familiar with the countries around the world (not to mention the states).

Bringing back recess would be a way to combat childhood obesity, wrote one Huff/Post50 fan.

Calculators exist on every phone, and computers do all of our basic math for us, from the checkout lines at your local grocery store to Amazon. "Using their heads to solve math problems and not computerized devices," would be a great skill to learn, wrote Huff/Post50 fan Barbara Hoppenfeld.

Tying shoes came up as a skill for today's children to learn.

"Teaching cursive handwriting isn't time especially well spent, but working on other grapho-motor skills and control, like formal drawing, and graphic representation, might serve children better," wrote Huff/Post50 Facebook fan Angel Johnson .

Similar to bringing back recess to lower childhood obesity, one reader advocated for a return to old school physical education. "We had extreme calistenics (sic) [and] workouts," wrote Vicki Morgan Melton. "Everyone was in good shape."

"OMG, I'll TTYL, G2G, byeeeeee!!!!!" With text lingo surpassing proper grammar and punctuation, teaching children and teens the importance of correct English was second to manners.