This month I did something I've never done before: I went a full 11 days without checking my email or phone. And you'll never guess what happened.
Absolutely, positively nothing.
I surrendered my laptop on Friday, July 12 before heading to JFK to catch a flight to Nairobi, Kenya. This overworked urbanite had signed on to be a chaperone, along with five other adults, for my son Ben and 15 other high school students -- all traveling for the first time to this country on the eastern coast of Africa.
I knew my days would be built around charity work and the logistics of shepherding a group of disparate personalities to and fro in Nairobi as well as on a three-day safari in the Masai Mara National Reserve. I also knew there would be plenty of time for games, quiet reflection and face-to-face interactions. What I didn't know or didn't even consider was that there would be no opportunity to get on the Internet.
But when we arrived at the Dubai airport, our one stop on the way to Nairobi, I realized I was locked out of my email after trying to log on using my son's iPad. For security reasons, my email provider asked me to input a code texted to my iPhone to gain access. But I've never had international roaming on my iPhone. And I wasn't in a position to get it. As a result, there was no way I was getting into my email while I was in Kenya.
And that's how I found myself, a normally overcommitted professional, untethered for the first time in, um, forever.
As I waited to board the plane again, I started going through serious withdrawal. Just the idea of being without Internet access felt ominous. Like always, I had left "away" messages making it clear I was on vacation. But whenever I've gone on a trip in the past I've always succumbed to temptation and logged on at least once a day -- albeit briefly -- just to make certain I wasn't missing anything important and to clean out my inbox.
What would happen if I couldn't check email? Would I be factored out of important decision-making at work? Would my colleagues despise me? Would my friends assume I was dead? Would there be yet another "shocking event" bound to "change everything" on "The Bachelorette" -- my new guilty pleasure -- that I'd know nothing about?
The truth is that none of those things happened. When I returned to work on Tuesday, July 23, I found my site, Huff/Post 50, to be humming along quietly like a well-oiled machine. My friends were fine. And my husband had kindly -- and without me asking -- recorded "The Bachelorette."
The world hadn't come to an end just because I didn't know about Cory Monteith until days after his death. Or because I didn't hear the verdict in the Trayvon Martin case or even find out about the birth of the royal baby until after the fact.
If there had been a true emergency while I was away, I could have been reached via a friend's phone. But I humbly realized that the world hadn't come to a halt without my undivided attention. In the end, almost everything could wait.
I returned to the real world with a clearer head. Yes, I admit I was eager to go through my email, but most of it could be quickly deleted. I also felt less stressed dealing with the issues that normally would have felt so urgent.
Being completely disconnected allowed me to be fully absorbed in what was an incredible, life-changing 11-day trip. The interminable chatter created by all the email, the tweets and the Facebook postings had become like a car alarm that wouldn't go off. Without all the pressure to surf, tweet and "like," I felt liberated, my attention span extended.
Of course, meeting teenagers who can't afford a pen -- let alone an iPhone -- really puts things in perspective.
The Kenyans I stayed with clearly focus on the well-being of their family and community rather than on themselves. To this polychronic culture, time is viewed as something of an unlimited resource. Schedules and plans are simply guidelines used to help shape a day. Few things are set in stone.
Even business meetings seldom have scheduled ending times since what matters most is completing the meeting in a way that's satisfactory to everyone present. I was told Kenyans are amused at the concept of an ending time since they believe a meeting should be concluded only when everyone is content.
No doubt this would drive most Americans crazy. But there is something to be said for going with the flow, for not rushing around all the time and for a willingness to be idle.
When we're not constantly distracted by the Internet's black hole of information, we become better listeners. We really start to make family and friends a priority over the gobbling up of silly cat videos and other often useless information. We have more time to establish connections or strengthen existing ones.
Now that I've been back a few days I still feel like my thoughts are clearer and less fragmented. I haven't been jumping on the computer the minute I get home from work to make sure I haven't missed anything in the 12 minutes since I last checked my email on the train. I feel more relaxed, happier. Taking an 11-day break from the Internet was the best thing I could have done.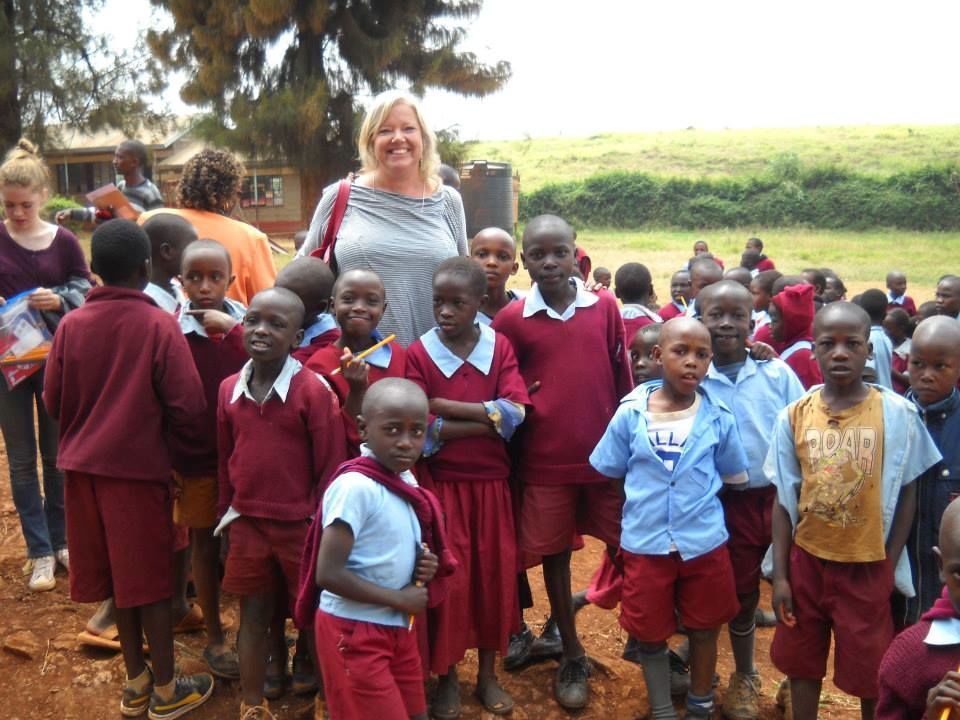 How about you? Have you ever taken an extended break from the Internet? What was it like? Let us know in comments.
Earlier on Huff/Post50:
8 Things That Make Or Break Your Happiness: AARP Survey
Health was "extremely important" to happiness for 73 percent of respondents. People in "good or excellent" health are three times more likely to report being "very" happy. Interestingly, what may matter most is how healthy you think you are: The AARP found that the percentage of people reporting good health is relatively stable over the 35-80 age range, varying only seven percentage points. That's despite the fact that objectively, older people are in fact not as healthy: The number of people who report they are suffering two or more medical conditions increased 400 percent over the 35-80 age range. (People may be comparing their health to their peers who are in worse shape.)

Some 68 percent of respondents called relationships "extremely important" to happiness. Some 72 percent of people who were married or in a relationship called themselves "very happy" or "pretty happy" -- compared to 60 percent of singles. AARP asked respondents to rank the importance of certain activities to happiness, and many of those scoring at the top were relationship-related: 72 percent said "kissing or hugging someone you love"; 72 percent said "watching your children, grandchildren or close relative succeed in what they want to do"; 69 percent said "spending time with your family and friends such as a meal or social gathering'; and 64 percent said "experiencing a special moment with a child." However, relationships did have to be real: "connecting with friends or family on a social media site like Facebook" came in 37th out of 38 activities in contributing to happiness.

Nearly half (47 percent) of respondents said pleasure was "extremely important" to happiness. Among the simple pleasures that were most important to the happiness of people 50 to 80: enjoying natural beauty like a sunset or ocean (64 percent); having someone do something nice for you unexpectedly (56 percent); practicing religious or spiritual faith (50 percent); making progress on personal goals (47%); and being absorbed in a favorite hobby or interest (42 percent).

Four in ten of those surveyed called accomplishment "extremely important" to happiness.

Meaning and engagement were considered "extremely important" to happiness among 38 and 37 percent of respondents, respectively.

Some 31 percent of respondents said money was "extremely important" to happiness. Money was slightly more important to people who earned $25,000 or less. As psychologist and Nobel Laureate Daniel Kahneman has noted, beyond a household income of $75,000, experienced well-being no longer increases, although people's judgment of how satisfied they are with their lives does continue to increase. At the same time, severe poverty amplifies life's misfortunes, such as illness or divorce. The AARP study found similar results: Income and happiness were positively correlated; when comparing the percentage of those "Very Happy" by income ranges, the slope increases up to the $75,000 mark, then continued to rise even more dramatically. Asked how they would spend $100 on something to increase happiness, most respondents said they would spend it on their family or going out to dinner. This correlates with findings that show buying experiences makes people happier than buying things.

People who feel they are in control of their happiness report that they are 2.5 times happier than those who believe happiness is out of their control. A sense of control is linked to higher income, higher education, good health and not experiencing a major life event in the past year. This finding also mirrors decades of research suggesting autonomy -- the feeling that your actions are self-chosen and self-endorsed -- is a core psychological need. Studies have found people who lack a sense of control -- prisoners, nursing home residents, people living under totalitarian governments -- suffer lower morale and poor health, according to David Myers, a professor at Hope College in Michigan and author of "The Pursuit of Happiness." Interestingly, a sense of control over one's happiness rises with age -- with 69 percent of people age 75 to 80 feeling they have control over their happiness, versus about half of people age 40 to 54. It may be that with the wisdom of the years, people recognize that happiness is a choice.

Spending time with a pet can be a substantial way to contribute to one's happiness, the survey found, especially for older women: 81 percent of women age 66 to 80 who own pets said spending time with them contributes "a lot" to personal happiness. It was also important to two-thirds of singles.