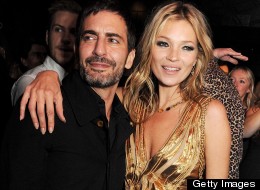 It is the city that never sleeps. It is the place we are all reminded that if we can make it here, we can make it anywhere.
"I was born in New York, so the city is a part of everything I do. It's my creative fuel, constantly changing and evolving with the times," eagerly commented creative director Donna Karan.
She is not alone. New York is a world hub of creators, inventors, designers, artisans and entrepreneurs who flock here for the energy, the hubbub and the "creative fuel" that enables them to make greatness happen, even if they don't call it home.
It is no surprise that when New York suffers so does the world. Business titans to professional athletes, fashion designers to master chefs all feel her pain.
"New York is a living, breathing city that responds to every challenge with unstoppable courage and heart. I am powerless to resist the pulse, vitality and creativity I encounter each and every time I return," enthralled Net-a-Porter founder Natalie Massenet.
Today marks the launch of a platform for creators to give back. CREATETHE GROUP brought together a host of celebrities, artists and entrepreneurs each providing a personal object for auction and a playlist to share. Donors include Kanye West, Kate Moss, Marc Jacobs, Julianne Moore, Anne Hathaway, Arianna Huffington and David Karp of Tumblr.
"Many members of our creative community wanted to give back to New York and the surrounding areas. We are touched by the enthusiasm of our friends to collaborate for the benefit of a city we hold close to our hearts," commented CREATETHE GROUP CEO James Gardner.
Re/Create New York Product Donations
One-of-a-kind Nike Air Yeezy II Sneaker designed, worn and signed by Kanye West. The limited-edition Yeezy II is the second shoe in the iconic Kanye West's signature line from Nike.

Custom one-of-a-kind Alexander McQueen bag currently in production, signed by Sarah Burton.

Special effects rigged breastplate from the upcoming film remake of the cult classic Carrie (2013), worn and autographed by Julianne Moore.

Lingerie set and signed postcard

Signed Miu Miu dress worn by Anne Hathaway to The Museum of Natural History Gala.

Scott Campbell book and framed FU Sandy drawing.

This WeSC jacket, called the "Baby Maker" was worn by Sonny Moore (artist name Skrillex) at the Grammy Music Awards in 2012. That evening he was awarded with three Grammys (his first year nominated as well). The WeSC Jacket is a men's size small with leather sleeves and a wool body featuring full zip closure; pocket trims; two waistline pockets and one left chest pocket with zip closure.

A personal retrospective of one of the most iconic models of our time, Kate Moss. Edited by creative director Fabien Baron, Jess Hallett and Jefferson Hack. The book has been personally signed and kissed by Kate Moss.

A pair of PRADA shoes unworn, custom-made for actress Tilda Swinton in their box. Includes photo of Tilda wearing the shoes.

One-of-a-kind custom NICOPANDA "Naboo" Bag from MUGLER's first bag collection (out early next year), by Nicola Formichetti

A unique box containing a Mister Marvelous Leather Travel Case as a tribute to Christiaan Houtenbos and a 3x12ml vials, the whole signed by Ben Gorham.

Custom engraved Harmonica with "Dazed and Confused Forever" engraved on one side and "For Hurricane Sandy" on the reverse from Jefferson Hack.

One-of-a-kind bag custom-designed and signed by Alexander Wang..

RC Reserve Syrah from Roman Coppola

Five books from Arianna Huffington's personal collection and a tour of the newsroom with the Huffington Post editors.

Exhibition Sumo print, hand printed first edition of each of Craig McDean's three books

David Yurman® Signature pinky ring in 18K white gold adorned with 2.70 carats of white diamonds. Enclosed in a box signed by Evan Yurman.

One-of-a-kind Louis Vuitton gold pin designed by Kim Jones.
The auction will benefit New York Cares and the platform is anticipated to be an annual charity project for CREATETHE GROUP.
Visit recreatenewyork.org for more information on auction items.
Follow Shenan Reed on Twitter: www.twitter.com/shenan