Top 10 Budget Ski Hotels (PHOTOS)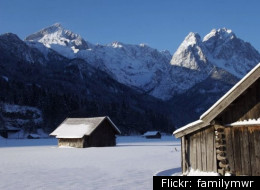 Though snow seems like a scarce resource this ski season, with resorts scrambling to make the white stuff via artificial means, travel bargains at ski hotels across the country are in plentiful supply. Thankfully, the snowpack is starting to come back while the low prices haven't really budged. We surveyed 10 popular US winter resorts and uncovered deep savings at budget ski hotels that are just a hop, skip and slide from the slopes. Most tout nightly rates that hover between $100-150,and a couple go even lower than that: A cozy bed at the chalet-chic Stowehof Inn at Stowe, Vermont can be yours for only $78 and a double room at the eco-friendly 968 Park Hotel at Lake Tahoe goes for $89.
With the peace of mind that comes with making a smart hotel choice, you can focus on the slopes. To that end, we also highlight the newest bells and whistles at each ski resort, from high-speed chairlifts and state-of-the-art terrain parks to restaurant renovations and a white-knuckle winter zip line tour.
968 Park Hotel Heavenly Ski Resort South Lake Tahoe, California The 57-room 968 Park Hotel was fully renovated in 2009, transforming from a run-of-the-mill Days Inn into a warm, eco-friendly, rustic resort. The hotel has replaced many halogen lights with LED bulbs, serves locally sourced food, and uses water-efficient appliances. After a long day on the slopes, guests can come home to some of the most comfortable beds in Lake Tahoe: They're EPA-approved and covered in 300-thread-count sheets and down fillers. It's a five-minute walk to the Heavenly Village gondola that takes you up the mountain. Winter rates from $89/night for a double room, but keep your eye out for promotions: the hotel offers a 20% discount to returning customers who book directly, as well as a 20% discount to guests who drive a hybrid vehicle to the hotel; www.968parkhotel.com What's New at Heavenly Ski Resort Extreme skiers and snowboarders alike will appreciate that Heavenly opened a half-pipe in one of their four terrain parks in mid-January, exciting both beginners and future X Games superstars. The coolest part? As you catch air off the 18-foot pipe, take in a glimpse of the vibrant blue Lake Tahoe, one of the most beautiful views Heavenly has to offer. For more trip-planning information, check out our Heavenly Travel Guide. Photo: 968 Park Hotel

The Alpine House Jackson Hole Ski Resort Jackson Hole, Wyoming We'd like to think a husband-and-wife team of two former Olympians – Nordic combined skier Hans Johnstone and winter biathlete Nancy Johnstone – knows a thing or two about what makes a great ski hotel. The couple's Alpine House Lodge & Cottages (22 rooms; 5 cottages) treats tired skiers and boarders to heated tile floors, down duvets, custom bath amenities, and free Wi-Fi. Start your day with a hearty, homemade breakfast – included in nightly rates – with mouthwatering delights like lemon-ricotta blueberry pancakes and buttermilk waffles. After a full day on the slopes, unwind at the Viking Bar by slinging back locally brewed beers and regional wines. Need to relax those achy muscles? A small on-site spa offers up massages and mud wraps (with prices starting at a manageable $95 for 60 minutes). The Jackson Hole Resort in Teton Village is just a 15-minute ride away on the public bus system. Winter rates from $145/night, including breakfast; www.alpinehouse.com What's New at Jackson Hole Ski Resort One of the least crowded ski resorts in the country – in terms of the average number of skiers and boarders per acre of terrain – Jackson Hole has plunked down $4.5 million in improvements this season, from a brand-new lift to the redesigned Kids Ranch ski school hub. For more trip-planning information, check out our Jackson Hole Travel Guide. Photo: The Alpine House Lodge & Cottages

Austria Hof Mammoth Mountain Mammoth Lakes, California At less than 200 yards from the slopes, the location of this wallet-friendly hotel is unbeatable. With "every fourth night free" deals and ski packages that include continental breakfast, lift tickets, lodging, and dinner, the value is great as well. All 35 rooms have refrigerators, free Wi-Fi, flat screen TVs, DVD players, and cozy down bedding to warm the cold right out of you. Though the décor is simple, warm tones and large beds make relaxation easy. Breakfast is included, as is ski and board storage. End your day with some hearty German and American fare at the Austria Hof Restaurant and Bar, or take a dip in the Jacuzzi that overlooks the slopes. From $135/night; www.austriahof.com What's New at Mammoth Mountain Mammoth boasts several new features to make your visit this year better than ever – there's a new high-speed quad chairlift, a new ticketing system to reduce lines, and new snow tube park. In addition, snowboarder and artist Jamie Lynn has painted many features in the Art Park terrain area. For more trip-planning information, check our Mammoth Travel Guide. Photo: Austria Hof

Chateau Apres Park City Mountain Resort Park City, Utah For more time on the slopes, and no-fuss lodging, Swiss chalet-style Chateau Apres is the place to be. Located only 150 yards from the PayDay lift, less than a 10-minute walk (or free bus ride) from the shops and restaurants of historic Main Street, and less than three miles from the area's other ski resorts (The Canyons and Deer Valley), the inn could not be better located. This family-owned "Skier's Ski Lodge" has 32 rooms, all with cable TV, daily maid service, and free Wi-Fi; a lobby highlighted by a large, circular fireplace surrounded by cushioned circular benches and comfy couches and chairs; and complimentary continental breakfast. From $110/night; www.chateauapres.com What's New at Park City Mountain Resort Park City Mountain Resort has made several improvements for this ski season, from a new triple chairlift at 3 Kings that will double the carrying capacity of the original lift, to improvements on the Eagle Superpipe, to making the popular snowboarder-brand Cobra Dogs hotdog stand a permanent structure at the base of the 3 Kings chairlift. For more trip-planning information, check our Park City Travel Guide. Photo: Casey Hyer

The Christie Lodge Beaver Creek Ski Resort Avon, Colorado With options for either one-bedroom condo suites (sleeps 4) or three-bedroom condo suites (sleeps 8), the recently renovated, 280-room Christie Lodge promises to deliver the one thing families always need more of: space. Guests can conveniently rent their ski equipment at the Lodge and then hop on a 15-minute shuttle to the slopes. Restaurants and shops in the quaint, family-oriented town of Avon are within walking distance. After a long day skiing, dine at the Lodge's new La Luna café or unwind in the heated pools and hot tubs. Winter rates from $135/night for a one-bedroom condo-suite; www.christielodge.com What's New at Beaver Creek The much-anticipated new Rose Bowl high-speed quad chairlift drops skiers into a prime location for Black Diamond trails (as well as a couple Blues for the less daring), and the new side-load Doppelmayr lift carries 2,400 skiers an hour, virtually eliminating wait times so you can pack more runs in. For more trip-planning information, check our Vail and Beaver Creek Travel Guide. Photo: Christie Lodge

Cristiana Guesthouse Crested Butte Mountain Resort Crested Butte, Colorado This charming 21-room European-style ski lodge is located just 50 yards from a free shuttle that goes to both Crested Butte Mountain and the Nordic Ski Center. Crested Butte's "original ski lodge" has a large stone fireplace in the lobby, recently renovated bathrooms, and no televisions, so you'll feel cozy, unplugged, and away from it all. There is even hot coffee and tea available all day, freshly baked cookies in the afternoon, and of course the complimentary continental breakfast in the morning. While you're not on the slopes, enjoy the social atmosphere around the fireplace or take advantage of the free Wi-Fi. From $105/night; www.cristianaguesthaus.com What's New at Crested Butte Mountain Resort The Crested Butte Zipline Tour is open during the winter season for the first time. The tour is around two hours long and includes five ziplines and three suspension bridges, and is one of the only canopy tours open in the winter. The resort has also renovated its cafeteria-style restaurant, Paradise Warming House, for better service and fewer space issues so that you can quickly get back to your day, and updated its rental gear with high-end skis and snowboards. For more trip-planning information, check our Crested Butte Travel Guide. Photo: Cristiana Guesthaus

Elkhorn Resort Sun Valley Sun Valley, Idaho To find the best lodging value at a ski resort, sometimes it's better to avoid hotels altogether and instead opt for a condo rental. ResortQuest's Elkhorn Resort houses 55 condo units and homes high in Sun Valley's hills, with perks like a hot tub and sauna. Ski season rates for units that sleep two already start significantly lower than area hotels, but in many cases for just $20 more you'll find larger condos that sleep up to four – perfect for families. In-unit kitchenettes will help save money on meals (though note some lack ovens), while gas fireplaces make for cozy après-ski sessions. And don't think you'll miss out on hotel comforts: All of Elkhorn's condos come stocked with linens and bath amenities. Just three miles from the lifts, Sun Valley's free shuttle stops across the street from the Elkhorn Village complex to sweep you away to Bald Mountain or downtown Ketchum. Winter rates from $110/night for a studio; www.resortquestsunvalley.com What's New at Sun Valley Sun Valley's twin slopes of Bald Mountain and Dollar Mountain both have exciting new features to boast about this season: Baldy added 30 acres of new glade skiing, while the Dollar Mountain Terrain Park introduced 20 new rails, a new half-pipe, and a new Progression Park with smaller jumps and other obstacles for beginners. For more trip-planning information, check our Sun Valley Travel Guide. Photo: ResortQuest Sun Valley

Fairlawn Inn Hunter Mountain Hunter, New York The Fairlawn Inn, located less than half a mile from the Hunter Mountain slopes, is as full of charm as it is antiques. Rated the #1 Inn in New York by the New York State Hospitality & Tourism Association in 2010, this restored and renovated 1904 home boasts 9 individually decorated rooms and a friendly, homey atmosphere provided in part by Innkeeper Chuck Tomajko. He makes the complimentary cooked-to-order breakfasts (consisting of, say, blueberry pancakes with glazed walnuts or chévre and pesto omelets), can tell everything about the area, and provides local and sustainable organic food. Guests will also enjoy the many gardens and porches, as well as free Wi-Fi, flat-screen TVs, and DVD players in every room. From $129/night; www.fairlawninn.com What's New at Hunter Mountain Hunter Mountain is a must-visit any season, but this year it has new terrain park features (including new boxes and rails for snowboarders), a new groomer for better maintenance of the terrain park, and a new high-speed quad chairlift, the Zephyr Express, to make your trip up Hunter's West Side quieter and faster. For more trip-planning information, check our Hunter Travel Guide. Photo: Fairlawn Inn

The Lodge and Spa at Breckenridge Breckenridge Ski Resort Breckenridge, Colorado Nestled on a cliff, high in the pine-forested Rockies, The Lodge and Spa at Breckenridge boasts some fantastic mountain views. Relax in rustic seclusion – the 45 suites and rooms offer either forest or mountain views – or venture into the charming town to take part in free events in the Breckenridge Arts District. Take the complimentary shuttle to the slopes, only a 15-minute drive from the Lodge. In addition to affordable massage treatments, facials, and scrubs at the spa, enjoy outdoor mountain-view hot tubs and complimentary continental breakfasts. Winter rates from $119/night; www.thelodgeandspaatbreck.com What's New at Breckenridge Ski Resort To commemorate its 50th anniversary season, the resort launched a "50 Wishes" campaign, where guests submit any wish they'd like to see fulfilled at the resort. Resort staffers will compile 50 deserving wishes and grant them throughout 2012. For more trip-planning information, check our Breckenridge Travel Guide. Photo: The Lodge and Spa at Breckenridge

Stowehof Inn Stowe Mountain Resort Stowe, Vermont The Stowehof Inn, inspired by the architecture and design of European mountain chalets, is home to 46 distinctive rooms. Enjoy fondue at Emily's, the Inn's restaurant, or indulge in Vermont microbrews at Coslin's Pub. Unwind and warm up by the fireplace in the Inn's cozy living room or in their library, perfect for curling up with a cup of hot chocolate. If you need some time away from the ski slopes, look no further than Stowehof's on-site sledding hill and sleigh rides ($29.50 for adults, $14 for children Wed-Sun during non-holiday periods). Winter rates from $78/night for the "Ski Bum Special," including breakfast for two; www.stowehofinn.com What's New at Stowe Mountain Resort Stowe Mountain Resort claims the longest average trail length in New England, and now there's a new high-speed chairlift to get you to the top of the mountain even faster. For more trip-planning information, check our Stowe Travel Guide. Photo: Stowehof Inn
Follow Shermans Travel on Twitter: www.twitter.com/ShermansTravel