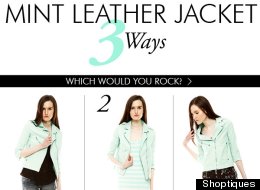 Pastel is the color of the season and the lighter hues are showing up on every piece of clothing imaginable, including your leather goods. If you're holding out on snagging yourself a piece of the pastel pie, you are definitely missing out.
Mix the color into your wardrobe via a chic leather jacket and you'll be able to be on hue and on trend where ever you go. Not convinced? Here are our three favorite ways to rock the look.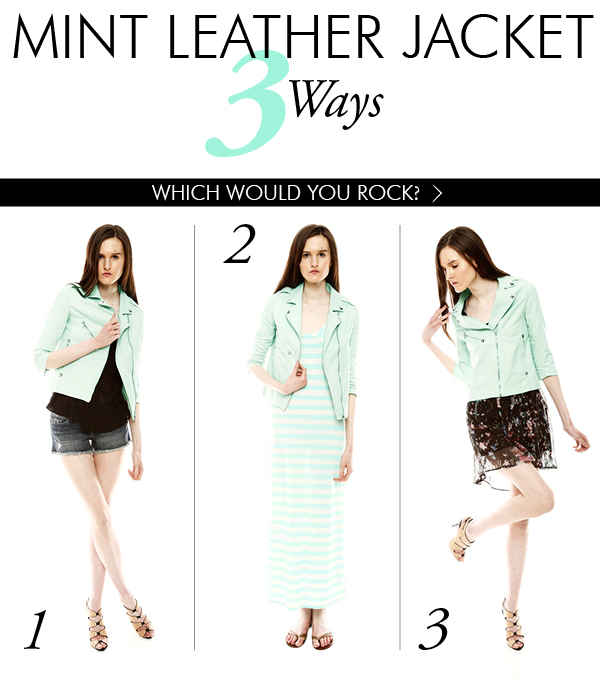 LOOK 1
Bring the hard edge of the moto style into your ensemble with black and faded denim. This simple combination is laid back and stylish. Feel free, too, to layer the accessories on: the three-quarter-length sleeve is the perfect canvas for chunky bracelets or big cocktail rings. One of the oft-repeated fashion rules is that you can't wear heels with jeans. Who says? Try a platform heel in black to compliment your urban style. 
LOOK 2
For a summer-ready style, a maxi dress is your best option, but be mindful of proportion: this jacket hits the model right around the hips, but anything shorter will make you look short-waisted. Another great thing about this outfit is the pastel-on-pastel combo. Although this is styled with very similar shades of green, bringing in pinks or baby blues will feel equally fresh and unique. 
LOOK 3
Play with two of springs biggest trends by combining your pastel jacket with a floral dress. The interplay of hard and soft patterns and textures will keep your look modern and chic. Like this model, don't feel penned into choosing a bright floral in the same hues as the jacket: experiment with darker fabrics and patterns, too.
Follow Shoptiques on Twitter: www.twitter.com/Shoptiques