Many startups are flocking to tech-rich San Francisco, but composer/lyricist Tony Asaro has arrived with a different kind of startup. His nascent theater company, The FOGG Theatre, which stands for Focus on Golden Gate, is the only theater company in the Bay Area to focus on developing and producing new musicals, all of which are created by Bay Area artists and tell Bay Area stories.

"We see the Bay Area as a frontier," Asaro, a Bay Area native, said in a recent email. "The oft-cited maverick spirit of the Bay Area makes it an ideal place for entrepreneurs that think outside the box to set up new businesses."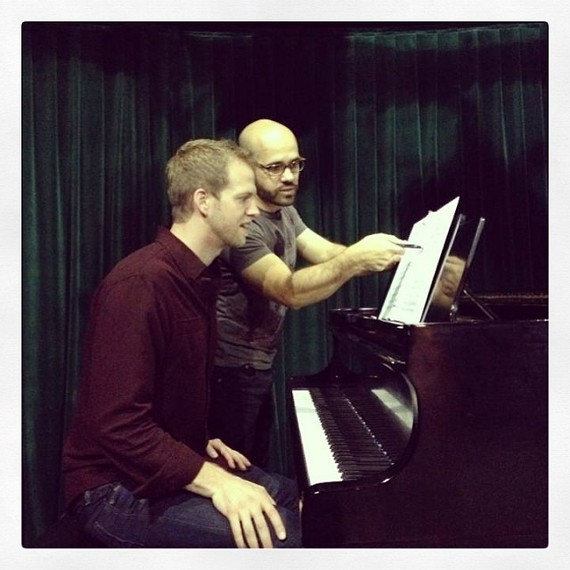 Asaro and accompanist/actor Jeff Pew. Photo credit: Nicolás Rico
Developing and producing new musicals in San Francisco, as in many cities outside of New York, does not often happen without the support of the New York City theater scene. Artists and producers bring new musicals to the Bay Area either for development, as with the TheatreWorks New Works Festival, or for production, as with American Idiot, which premiered at Berkeley Rep but with an eye toward Broadway. The few musicals that are written locally usually play Fringe Festivals or enjoy short runs at small theaters, Asaro said. All great opportunities, but FOGG is thinking more local and it is thinking bigger.
"The theater scene here is lacking mid-size companies," Asaro said. "We don't have very many companies the size of an off-Broadway nonprofit. That's right where FOGG is aiming."
Asaro also noted that there are no companies in the Bay Area consistently doing new musical theater, and that can result in fewer stories being told. "Music creates a visceral reaction in the listener," he said. "Certain stories will benefit from this kind of storytelling; some stories aren't best represented on film or in a novel."
Although FOGG services the Bay Area, the idea for the company originated in New York City where Asaro had been living for seven years. After completing his graduate degree in Musical Theatre Writing at NYU, where we met, he had been working on making a name for himself as a musical theater writer in what is considered the best city for his industry. But the theater scene, while vibrant, was not giving him what he needed to continue writing.
"I knew I didn't belong there anymore," he said. "I love New York, but by the end of my stay, I was no longer feeling fulfilled there. I was running the race of the emerging composer-lyricist, but I was struggling emotionally, artistically and financially with the realities of the theater scene there."
In search of other opportunities, Asaro had lunch with FOGG Executive Director/Director of New Works Carey McCray, then the Director of New Works at CAP21 in New York, who was considering a move back home to San Francisco. Their conversation put Asaro's move and the new theater company in motion. "It was a pivotal conversation for me," he said. "[McCray] said, 'I know I belong [in San Francisco]. I just wish I could do what I do here, there.'"
They soon realized that they could, in fact, make the theater they wanted to make in San Francisco, and the company began. Aimee Miles joined as Director of Education, establishing a Youth Conservatory that offers performing arts classes. Future education plans include youth productions starring and written by Bay Area youth and musical theater master classes for actors, workshops for writers and performing arts classes for non-professionals.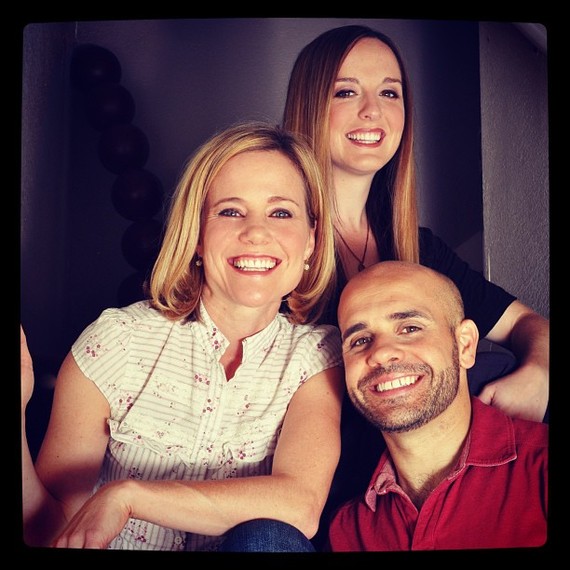 Aimée Miles, Carey McCray, Tony Asaro. Photo credit: Nicolás Rico
In the spring, FOGG will produce its first musical, The Cable Car Nymphomaniac, written by Asaro and Kirsten Guenther, a Bay Area-native who now resides in New York City. Examining gender roles and misogynist jargon in the media, the new musical, set in 1964, is based on the true story of a young woman whose cable car fell down one of the steep San Francisco hills. The accident triggered an insatiable sexual appetite in her, and she won a lawsuit against SF Municipal Transit for $500,000. FOGG is using the crowd funding website indiegogo to help raise funds for this production.
Now firmly established in San Francisco, Asaro still draws from his years of making theater in New York to run FOGG. "The most important thing I learned in New York City is how to self-produce," he said. "Self-producing taught me so much that I use every day with FOGG: budgeting, promotion and marketing, fundraising, scheduling, hiring, managing money, managing employees, putting out fires, making difficult decisions. When you self produce you do it all. Starting a theater company is similar, only much larger."
Still, with any new venture, there is a learning curve. "I've never been an Artistic Director before," he said. "With my experience self-producing, I'm so used to doing everything myself, and doing it all last minute. But little by little, I'm figuring out when to be the leader, when to be the volunteer following someone else's lead, and when to be the composer/lyricist."
As the company grows and works toward its first production, the leaders of FOGG are committed to bringing new musicals and local stories to the Bay Area. "The Bay Area is not like anywhere else," Asaro said. "We have a unique approach to life, and an undeniable identity. We have a rich history, and countless heroes. But we rarely hear our stories. Bay area stories matter. And we deserve to have them told."