Easy Meatball & Wine Pasta Bake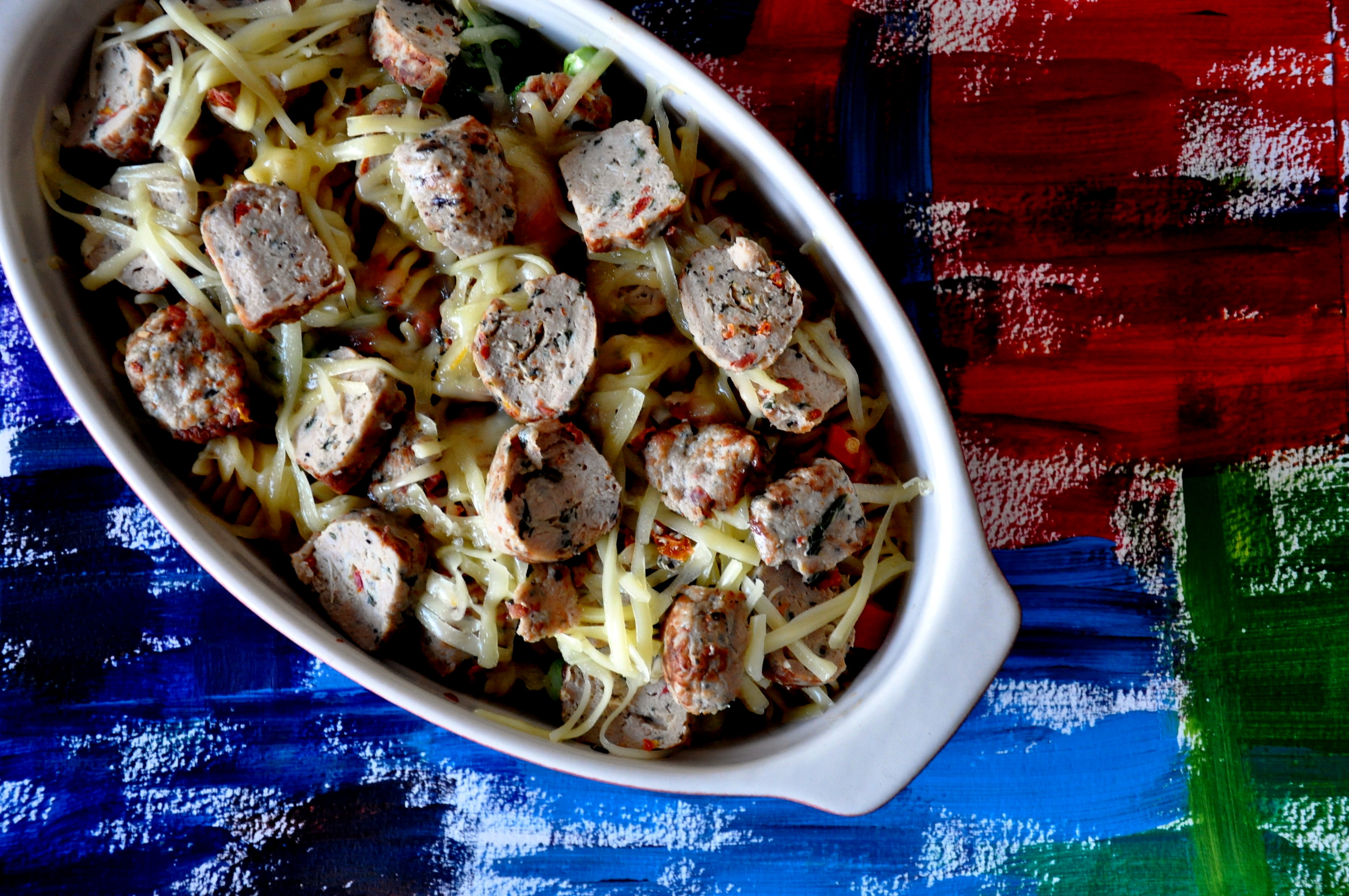 Ever had one of those days when you wish you could throw everything in a pot and it cooked by itself? Today was just that. I wanted to make a quick, flavorful dinner that was simple, tasty and yet had a slight sophistication to it. And what speaks sophistication better than wine. I used a basic white wine pasta recipe, threw in some veggies (as always!) and added a quick bake in the end - for that warm gooey goodness that sinks till the last bite. God bless whoever invented the oven!
Sadly, it finished before I could take my post-bake-finished-dish pic. Perhaps, that says it all.
Ingredients
2 cups short tube or shell pasta, par boiled
½ red onion, sliced lengthwise
8 frozen chicken meatballs, sliced (you could also make fresh like these, replace with beef/pork etc)
½ red pepper, diced
½ cup brocolli florets
3 cloves of garlic, minced
¾ cup chicken stock
½ cup white wine (any kind that you like to drink - I used Sauvignon Blanc)
1 teaspoon red pepper flakes (lots more if you like it hot!)
3 tablespoons olive oil
½ cup grated cheese - I used Castello Weissbier since I had it in stock but typical cheeses like gruyere, cheddar or gouda would work well too.
Some fresh coriander/basil, finely chopped
Salt & pepper
Heat oil in a non stick pan. Add onions and garlic, and sauté till onion begins to turn translucent. Add the red pepper and broccoli and sauté for a quick minute till the broccoli turns dark green. Pour in the wine and let it simmer for a minute. Now add the chicken stock and dry spices. Let the sauce simmer till it becomes slightly thick and then stir in the pasta. Mix well and cook covered till the pasta is al dente. Once done, uncover and turn heat to high so any excess liquid gets absorbed. Leave a little moisture as we are also going to bake the dish and you don't want it to turn too dry.
Transfer the pasta to a baking dish. Top with half the sliced meatballs, followed by grated cheese and then the remaining meatballs. Sprinkle some fresh coriander/basil on top and bake at 375 F till the cheese has melted and begins to bubble. Turn oven to broil and let the cheese brown for 30 seconds.
Remove from the oven and dig in!
A relatively quick and mouth watering weekday dinner.
[Tip: Bake in individual ramekins to create an appetizer size portion!]
Follow Shuchi Mittal on Twitter: www.twitter.com/shuchi82