It was the day before my 30th birthday. I went out for an afternoon run with my dog. Two pit bulls attacked us and the events that subsequently occurred changed the course of my life forever. I remember the moment it happened, time stood still. A flash image of Elizabeth Taylor appeared in my mind, a woman who for me embodies the model successful actress with an effortless air of nobility. Along with her image appeared a thought that said "Okay, that's it. I'm leaving my old life behind." I took that to mean two things. One, that I better start treating myself divinely like Liz Taylor. And two, I'm through with settling for what life hands me. The single most important thing was to listen to what I want and move in that direction.
Facing a traumatic experience has it's truly life affirming gifts. The experience was what it was, but I was able to come out of that incident with a fundamental understanding for the power of the present moment. It gave me the courage to put my priorities on the table and nothing else. I moved away from that neighborhood, sold the majority of my possessions, jumped into a wonderful relationship that inspires me everyday, and set out on a new journey.
I knew that living from my divinity required that I feel good abut what I create in this world. And the whole 'putting yourself first' doesn't really sound like this should be an article for the giving life, but I found quite the contrary to be true. (As the wise ol' airline emergency brochure indicates, you have to put the oxygen mask on yourself first before you can even think about putting one on someone else.) It's not that I haven't been of service before, but my participation seemed all too infrequent. How can I give more of myself when I already feel stretched so thin? I was giving from a place of lack instead of easily living a giving life in my day to day.
I recently wrote a play entitled Still Standing where the setting takes place in New Orleans a year after Hurricane Katrina. I wanted the impact of the piece to be more than an emotional, thought-provoking one. I wanted it to be tangible, some type of physical manifestation of my creative voice. That's the moment when I instantly got the idea of donating ticket proceeds, thereby using my creative writing as an act of service. It would be a service for myself as far as getting my creative voice out in to the world, and for the community by donating the profits. This felt in alignment with my 'feel good' clause so I trusted my inspiration and took action.
First, I called Hands On New Orleans, told them about my project and they took to the fundraiser idea agreeing to be my fiscal sponsor. A fiscal sponsor is a nonprofit, tax-exempt organization acting as an aid for a project that does not have its own tax-exempt status. Grants or contributions are made to the fiscal sponsor who manages the funds. They are pleased to help support my project and in turn have the opportunity of a fundraiser outside of their local community.
HONO "envisions Greater New Orleans as a hub of civic-minded individuals that take action through service to meet critical community needs." Their mission spoke to the abundant vision I have for this planet and I personally believe it's valuable to contribute to an organization with an affirmative standpoint.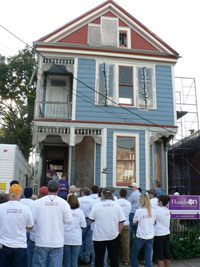 And thus inspired, my specific goal became to take my play from page to stage in four months, crafting not only a dynamic production but also donating 100% of its ticket sales (an estimated $30,000) to a local service organization in New Orleans. But the idea isn't solely about New Orleans. It's about giving back to the community reflected on stage: a framework, if you will, of a method to be implemented for future creative endeavors. Theatergoers will have a direct hand in contributing to the world reflected on stage, all the while supporting a socially conscious production.
I would say that the hardest thing about getting started was just accepting the idea that 'if you can conceive it, you can achieve it.' Trusting that my idea was exciting, had artistic merit and a place in this world. Once I got out of my own way and surrendered to the first step in the process, the next part showed up easily. Especially with the principle of 'change' that is running through the entire country right now, it's time that we all step up to our heritage and envision how we can transform our local communities.
To incorporate giving in conjunction with what I love to do. I don't know if I could think of a principle any more satisfying. That's the direction I want to move towards on a daily basis. A strong mission can prove to be that saving grace when obstacles threaten to get in the way of an objective. It can also be a motivating force to take a risk or provide much needed encouragement when we go back to the drawing board.
I am positive many others have giving ideas that speak to their hearts and minds. I ask that we think in excitingly creative and collaborative ways to contribute to ourselves and give of the overflow. We are a very abundant world, and there is enough room for everyone who wants to sit on the throne of goodwill. I encourage everyone to trust their vision and take the first step, thereby creating a broad spectrum of communities that establish giving as a part of their life's work.
I would love to hear about the ideas that are out there, forward information and support where I can. I'm excited to see what shows up next, blog about my progress - what works what doesn't, and hopefully in hindsight, look to a well carved out path that got me there. Already the people that have shown up to assist me have been a blessing. It was as simple as going out to my circle of friends and asking for what I need. It's a divinely 'selfish' way I've realized how to be of service and that feels good. You can read, contribute, and pass on the news about Still Standing and Hands On New Orleans at www.stillstandingtheplay.com and www.handsonneworleans.org.