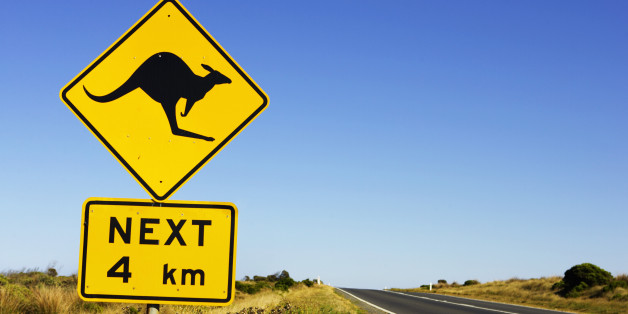 The koalas of Kangaroo Island (South Australia) are very slow, just like all koalas. But these are quite motionless, as they have no predators; nobody is out to eat them. They hang in eucalyptus trees until all leaves are gone, and when they finish one tree, they slowly descend to the ground, cross over to another one at a glacial pace, and swiftly but slowly climb into the next one for fresh leaves. This is amazing to watch, such a slow motion activity, I felt myself holding my breath until the fur ball I was watching reached his destination.
The island has a sterilization program to reduce the population of the native koalas, since they have nowhere to go and nothing is killing them, the need for reducing the numbers called for a little help from humans. Kangaroos on the other hand are road kills by the thousands, and it seems that there is no need to hunt them down for meat; they kill themselves quite enough to feed the small population of the island.
We hitchhiked to the other side of the island to go visit the famed Seals Bay at the extreme south, the furthest one can go while still in Australia. The lovely beach appeared to be covered with large purple grey rounded stones, and the cove was empty of visitors -- but oh wait, they're not boulders! Those are the famous huge seals basking in the sun.
Immobile when we arrived, immobile when we walked on the beach, immobile when we took pictures, nothing seemed to faze them. A couple of rangers approached us after a few minutes, to tell us to back off, as we are not to annoy to animals. They told us to stay on the boardwalk - the sand is only for seals. We followed the beach on the wooden elevated path where we should have been all along, only to find some younger seals lounging there on the boardwalk in the sun. One was on its back like a lazy puppy waiting for a pat on the stomach, but we did not dare to touch him, as it was most likely very verboten.
Moving on to the next cove, we decided to go for a swim; after all, this is Australia, land of surf and sand, sun and oceans. The waves were gigantic, like everywhere we've been so far in the country. After dipping our feet in the water, we realized that we were standing on a beach located only 3,000 (tiny) miles away from Antarctica, and the temperature was definitely not comfy enough for us to swim -- we are from Miami after all.
So we lifted our thumbs again to express our need for a lift, and it only took two cars passing by before the third one screeched to a stop to pick us up. I am starting to understand the hippies of the '70s who depended on mass kindness to go anywhere at all. Hitchhiking is cool, so safe here on the island, I think they should restore the concept in small places, such as Sanibel or Key West, in Florida, or maybe Cape Cod.
After all these various ways society has made us share our cars, with Uber, BlablaCar, Share-a-Ride and other gas-saving and car-sharing options, shouldn't we revive the thumb-up method? Not everywhere of course, but in small towns, safe communities, islands, the concept worked once, it could work again. For us on Kangaroo Island, it's been a blast!
As we stand by the side of the road, one of the rangers who gently scolded us when we walked on the beach to see the seals asked us where we wanted to go next, and he would take us. We kindly requested to get dropped off at Flinders Park, and our nice driving companion obliged with a smile, asking us to only say good things about his island, no problems we said! And so he graciously took us some 40 miles further along the coast -- when we asked if we can offer some money for petrol, he said "Absolutely not, as you are guests of Australia!" I just love this country.
Our next stop is inside Flinders Park, a natural preserve where colossal and somewhat deformed giant rocks are perched high above the sea. The smooth granite boulders seemed to balance on their smallest side, ready to gallop down the slopes and into the sea below. The impressive clusters are the result of weird wind patterns which gave them a beating and left them in bad but beautiful shapes. Old by some 500 million years, most of the formations are covered in fuzzy orange lichen. And so they are called Remarkable Rocks.
Another 95 miles back to our beach in Penneshaw, this time with a local bus shuttle, and for $10, the cheap trip back home took us to our beach where we discovered a small white dome and an engraved rock that read: "Expédition de découverte par le commandant Beaudin sur le Géopraphe, 1803", meaning Discovery Expedition by the Commandant Beaudin on the Geographe, 1803. Very early graffiti.
A remnant of the French discoverer who arrived on the island in 1803, back then only populated by Aborigines and grey kangaroos. The Aborigines are all gone, the kangaroos are still here. Thanks to commandant/discoverer Beaudin, quite a few places on the island bear French names, that nobody here has any idea how to pronounce correctly.
In the bushes by our house, we heard several nights in a row the gentle ruffling of some animal hidden, but we could never see anything or figure out what it was, maybe our friends the wallabies asleep in their lairs? Another mystery of the island. We soon found out what it was. Tiny tots.
Besides the miniature wallabies in our garden by the shore, the island has small penguins only coming out at night on the beach, to play in the waves and jump from the rocks. You are warned when you first enter the island that even though you may need a flashlight to walk around the non-illuminated villages, you may never ever use the lights to look at the tiny penguins in the dark, as you quite possibly may render them blind for the rest of their lives. They are so extremely sensitive to any kind of light, including sunlight, that they only come out in the safety of darkness.
So we sat on the beach, high enough by the bushes and waited. We heard them first, before even spotting them, a shuffle of little palmed feet on the sand, then the splash of water as they entered the surf. We still could not see them, we had to wait for some moonlight to shine a little. The shadows we saw were compact and dark; it was hard to even make out their shapes.
Then we heard the burst of wings as they jumped in the ocean from the rocks on the shore. We were lucky that a bright moon finally highlighted the beach, and we saw a multitude of little ones having their fun in the water. We did not move, they never saw us. We were stealth.
SUBSCRIBE AND FOLLOW
Get top stories and blog posts emailed to me each day. Newsletters may offer personalized content or advertisements.
Learn more