As we enter this holiday time from Thanksgiving to New Year's, don't
forget to include our next generation in this annual time for
self-reflection, gratitude, giving and resolutions.
My holiday season just began with a great kickoff -- Children for
Children and Blue Smoke collaborated for a 4th Annual Fall Family FUNraiser. At this free
volunteer event, kids and families from all backgrounds across the
metropolitan New York area came together to work on projects helping
others -- like paper flower centerpieces for a senior center, toiletry
care kits for homeless families, scarves for those in need of warmth
this winter -- and shared a delicious meal of barbeque, ribs, salad,
creamed spinach and mac & cheese. Cupcakes, cookies and brownies for
dessert.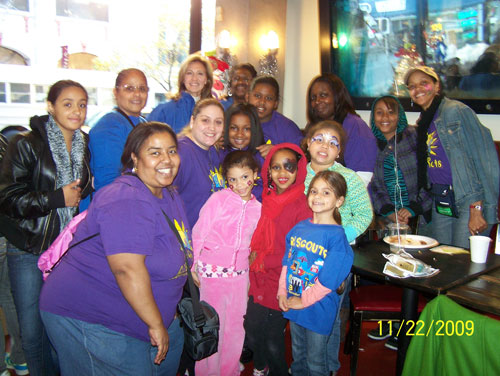 Some of our participants in Children For Children's Fall Family FUNRaiser held November 22. (Photo by Zoila Gomez of the Girl Scouts of Greater New York Service Unit West 2/3.)
It's a great happening that could be replicated anywhere in these
United States and, for that matter, across the globe.
As I looked around the room filled with homeless families,
economically-fortunate families, Girl Scouts and other groups, kids
with special needs and many public and private school children all
working together on their tasks, I was reminded anew how each of us
can do something to help someone else, even as we all, at some point,
will need others to help us.
And, as I watched toddlers to high schoolers all contributing in
developmentally-appropriate ways from gluing felt shapes onto pre-cut
scarves to running student-designed projects, I thought about how we
could truly build a national pipeline of educated and engaged citizens
simply by making volunteering and service learning a component of
every U.S. child's basic education from an early age -- and not just a
holiday season event. The kids I observed were learning
through experience how to identify and solve problems and how to connect
with others and develop their social and emotional skills. And best
of all, they were having fun as they learned to give, care and share!
During this season and throughout the year, make time to volunteer
side-by-side with your children. There are so many creative ways to
give back. It doesn't have to be overwhelming. You can find small,
engaging, meaningful ways to incorporate service into your family life
and holiday traditions. As it becomes an annual ritual, you are
setting your kids up for a lifelong pattern of service. You are also
teaching them that kids have the power to take action and make a
difference. There is no age too young to start. For example:
1. Bake a batch of cookies and take some to your local fire station
to thank your local firefighters for their work protecting you.
2. Volunteer to lead a service project in your child's classroom.
Involve the students in identifying whom and how to help. For example,
they could make fleece scarves for the homeless. All you need is
fleece from the fabric store, scissors, felt to make a fun patch to
decorate the scarf and fabric glue.
3. Cut back on your family holiday expenses and donate the savings
to an organization needing support which you select as a family.
4. For your holiday open house, ask guests to bring a wrapped gift
or children's book for a local shelter or children's hospital and then
make the delivery together as a family.
5. Have your children go through their toys and books and select
ones they are ready to share with other children.
6. Find a pen-pal campaign for service men and women overseas and
help your young ones write letters to send some holiday cheer.
7. Brainstorm with your kids. Let them identify particular needs in
your community and help choose where your family can help!
Family volunteering is a hands-on way to teach children the values of
kindness, compassion, tolerance, community responsibility and good
citizenship. Other benefits to your family include:
•Strengthening family communication and bonds
•Allowing family members to be role models for each other
•Increasing commitment to volunteering and community
•Providing quality family time
However you choose to do it, family and youth volunteering can help
mobilize thousands of new volunteers to meet community needs and
instill a lifelong commitment to volunteering!
If you are looking for youth or family volunteering opportunities,
check out HandsOn Network to
connect to one of 250 affiliates across the country and its affiliated Children For Children, Family Cares, or other volunteering
websites for ideas and opportunities right for your family or child to
Grow Involved!
SUBSCRIBE TO & FOLLOW TRUMP'S FIRST 100 DAYS
How will Donald Trump's first 100 days impact YOU? Subscribe, choose the community that you most identify with or want to learn more about and we'll send you the news that matters most once a week throughout Trump's first 100 days in office. Learn more