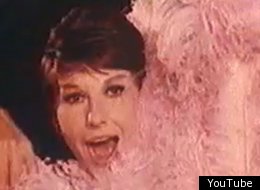 Gay people are cultivated and nuanced, with a fabulous and indisputable grasp of aesthetics, style, and design. Whether you are gay or straight, a familiarity with the miraculous gay canon is the key to creativity, joie de vivre, and not being a giant bore. The gay canon is not simply full of gay things. The gay canon is a broad cultural smorgasbord that provides a quirky, thought-provoking aesthetic linchpin or reference point for every creative moment. It is a beyond-useful source of inspiration, especially for those overachieving, annoying little straight brats who think they know it all.
In my new book, Gay Men Don't Get Fat, I lay out the essential categories of the gay canon: film, literature, fashion, aesthetic movements, and, perhaps most importantly of all, strange people. The gays have a nose for creative, rule-breaking, taboo-busting eccentrics. If there is an Isabella Blow or a Daphne Guinness in the house, we will find her, pick her up by her Verdura earrings, and put her up where she belongs, which might be on a throne or on the kitchen counter. New names are added to this list of lovely lunatics every day. Boiling this down to 10 names was torture. Et voilà! The Lady Gagas and Nicki Minajes of yesteryear.
Gay Men Don't Get Fat is now available in bookstores everywhere.
10 Glamorous Eccentrics Every Gay And Straight Needs To Know
The chicest lesbian of all time and a dab hand with an ostrich feather.

Insanity and a tendency to fling all her accessories into the audience while screeching. A petulant, Latin precursor to Nicki Minaj.

Style, cheekbones, panache, and bulging white tights.

The first and only real supermodel, with the most demented eyebrows in the history of fashion. Also worth Googling: Jean Patchett and Dorian Leigh. These girls made Linda Evangelista possible.

Speaking of making things possible, Diana Vreeland once said, "Brigitte Bardot's lips made Mick Jagger's lips possible." She was the queen of the sweeping grand pronouncement, as in, "Pink is the navy blue of India."

Drugs, miniskirts, and fake lashes. The house model for the Warhol crowd, until she wasn't.

Something unusual: a pretty punk. See also Nina Hagen, Chrissie Hynde, and Lene Lovich.

A tour de force of majestic fashion inspiration, in a chrome-yellow, floor-length, crocodile coat.

The first reality-show star, circa 1971.

The chicest woman who every lived and the first person I ever saw milling about and chopping onions in a couture vintage gown.
Follow Simon Doonan on Twitter: www.twitter.com/SimonDoonan