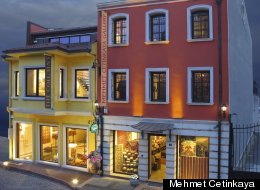 In his evocative memoir Istanbul, Nobel Prize winner Orhan Pamuk writes powerfully about the place of his birth, beautifully capturing the city's modern-day complexities and historical riches: "In Istanbul, remains of a glorious past civilization are everywhere visible. ... The great mosques and other monuments of the city, as well as the lesser detritus of empire in every side street and corner -- the little arches, fountains and neighborhood mosques -- inflict heartache on all who live among them."
Many visitors -- first timers and habitués -- would agree that Turkey's largest city indeed inflicts heartache, especially upon those who venture behind the (mosaic-tiled) scenes. From the ornate interiors of the many mosques to the buzzing rooftop bars with sweeping views, the city mesmerizes with its tug between cultural heritage and captivating energy. In fact, all across Turkey, whether touring the surreal landscapes of Cappadocia or the sparkling Aegean coast, a visitor is invited to partake in this exciting dialogue.
The latest Indagare Black Book focuses on Istanbul, once a religious Mecca and the seat of four great empires, and includes cheat sheets on Bodrum and Cappadocia. Highlights include the city's best hotels; restaurants with a view; top sights and how to map out an itinerary. Read the magazine.
The issue also features interviews with stylish insiders, like Isabella Icoz, an Istanbul-based art expert and consultant to private collectors and Caroline Koc, designer of Haremlique, the ultimate source for luxury textiles. For style mavens, it's one of the world's most exciting cities for shopping, whether you are seeking rare antique textiles, hand-stitched Anatolian carpets, trendy fur vests, suede jackets or museum-quality jewelry.
Here are some highlights not to miss along the way:
In the Grand Bazaar: Abdullah for gifts; Adnan & Hasan for carpets; Epoque for vintage jewelry; Koç for leather, fur and suede.
In Nisantasi: Armaggan, for a Turkish version of Takashimaya; B Point for great jewelry at reasonable prices; Gonul Paksoy for fashions with an Ottoman sensibility; Midnight Express for a selection of modern Turkish designers.
Further afield: A la Turca and Asli Tunca for a sense of how Istanbul's elite lives; Haremlique for gorgeous linens and towels; Sevan Bicakci for really special jewelry; Sofa Art and Antiques for a curated, best-of-the-bazaar experience.
Read more about Istanbul and beyond: Indagare's Turkey.
"In Istanbul the remains of a glorious past civilization are everywhere visible…" writes Orhan Pamuk in his moving memoir Istanbul. Pictured here, the Blue Mosque, which sits across the park from the Hagia Sophia. Photo courtesy: Turkish Culture & Tourism Office of New York

Housed in a seven-story building around the corner from the Park Hyatt hotel, Armaggan carries Neo-Ottoman treasures from textiles and naturally-dyed linens to hand-tooled leather and stunning jewelry. Photo courtesy Armaggan.

A a good place to browse for vintage suzanis in perfect condition (with prices to match). The owner also a recently opened gallery called Columns next to this original branch. Photo courtesy: Mehmet Cetinkaya.

This tiny boutique across the street from the Pera Palace hotel sells beautifully packaged gift boxes of Turkish delight (lokum). You can sample a half dozen varieties, then pick from the colorful boxes decorated with evil eye charms. Photo courtesy: Hersey Asktan.

Imagine the home of an incredibly stylish Turkish woman who has collected treasures, particularly carpets and textiles. That is the feeling of this showroom. Photo courtesy: Liza Nugent.

Incredible decorative details abound in Istanbul. Photo courtesy: Liza Nugent.

Many of Istanbul's most acclaimed restaurants and bars have lofty city views thanks to rooftop locations. Picture here: 360, a restaurant/bar that turns into a party on weekends (avoid the food, go for cocktails and vistas). Photo courtesy: 360.

First-time travelers will get lost -- but also have a lot of fun -- in the cavernous tunnels of the Grand Bazaar, a 400-year-old indoor shopping complex, where you can satisfy all of your indigenous souvenir desires. Photo courtesy: Turkish Tourism.

The painter and designer, whose colorful atelier is located on the top floor of ABC Carpet & Home in New York, has long been inspired by Turkish prints and textiles.
Follow Simone Girner on Twitter: www.twitter.com/indagaretravel