A portion of this interview first appeared in Heeb.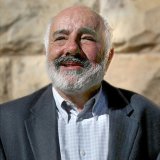 Governor Sarah Palin has demonstrated that anyone can run for office. This is both good and bad. This mini-series of posts is about what it means to be green in blue and red states and what it took to galvanize everyday people into action. For Rabbi Dennis Shulman, it was a coal mine. He says: "The moment was when there was a terrible mining accident in Utah. The news was showing images of widows crying but no one was telling the story of Richard Stickler, the head of Mining and Safety who was appointed over a recess because even the Republicans knew he was a lousy choice. [Stickler's nomination was originally blocked by Democrats and he was nominated a year later by George W. Bush during a recess.] I was enraged that no one was telling the real story and taking responsibility. I thought, "Why isn't anyone screaming?" This man broke rules and no one bothered to check up on him. My basic feeling was human life is more important than that."

Dr. Dennis Shulman is running for US Congress in New Jersey's predominantly suburban, generally conservative 5th Congressional District against two-term Republican incumbent Scott Garrett. Our tangled state of affairs inspired the Rabbi to get off the couch and put skin in the game. His history makes him an unlikely candidate, but has also provided the wisdom and fortitude that gives him a solid chance of winning his district. And his PhD in Clinical Psychology from Harvard University is assured to come in handy managing the crazy-making on Capital Hill.
Dennis Shulman: I'm putting all the things I care about into political action, and talking about how things matter to me the most. I'm humbled by the amount of support--the money, volunteers, and sweat equity--I've gotten. It's not just about me but about how far off my opponent Scott Garrett is.
Simran Sethi: So Doctor, Rabbi, Congressman Shulman, which identity do you wear first? How do you define yourself?
Dennis Shulman: I think they all go together. Each one led me to the next. My interest in Abraham Joshua Heschel--my hero--led me to psychotherapy. The psychologist led me to be the rabbi. And then my love of [Rabbi, social activist, and author] Abraham Joshua Heschel led me to the moment when I felt like I had to run.
All these roles have to do with problem-solving. Life as a blind person has to do with problem-solving. And that's the main difference between me and my opponent Scott Garrett. Garrett is an ideologue and I am a problem-solver. Garrett said, "I didn't go to Washington to improve it but to eliminate it."
He's an enemy of the environment, he's got the oil and gas industries in his pocket. [Garrett voted against repealing tax cuts to the oil industry in 2007 and voted against tax cuts for renewable energy in 2008.] He voted against the most recent energy bill, which isn't perfect but it's the best we've got. He's the only New Jersey legislator to advocate drilling off the New Jersey shore. And he's voted against all bills [to combat] global warming. [Garrett voted in June 2007 to remove language from an appropriations bill indicating that "human activity is a substantial cause of greenhouse gas accumulation in the atmosphere" and "mandatory steps will be required to slow or stop the growth of greenhouse gas emissions into the atmosphere."]
He is one of 17 members of the 435 members of the U.S. House of Representatives to vote against the Americans with Disabilities Act. He voted against the GI Bill that provided medical benefits for disabled war veterans. And while he says he's for eliminating government, he simultaneously says he wants the federal government to be his partner. [On 8/6/08 Garrett made a speech on the House floor, during the Republican "sit-in," protesting the Democrats' unwillingness to pass the Republican energy bill before the recess. In this speech, he mocked House Speaker Nancy Pelosi (D - CA) for saying she wanted to "save the planet." According to Garrett, the leadership in Washington must be willing to save the American tax payers, save the American middle class, and relieve the burden of high fuel costs from the poor. He did not give any details on his plans for how to do this.]
I'm going to Washington to do what I've always done.
Simran Sethi: You've talked a lot about how you see your run for office is an opportunity to "expand your pulpit." This statement seems to blur the line between synagogue and state.
Dennis Shulman: I am an absolute proponent of the separation of church and state. Scott Garrett blurs those lines. What I mean by "expanding the pulpit" is taking a moral vision and bringing it to Washington. People should have been screaming for 7 years about global warming, about not having an energy policy, about the war, about the state of the economy.
I have taken a pledge. I will never take money from an industry that I am supposed to be overseeing. Garrett votes on the oil and gas industry and housing--that's why we're in the trouble we're in today! How can you have oversight when you are taking money from the industries you are supposed to oversee?
Simran Sethi: What I've seen in politics is very messy and requires us to shed light on the worst in our opponents. I think about what you write about in your book, The Genius of Genesis: A Psychoanalyst and Rabbi Examines the First Book of the Bible, about struggling against our nature and moving towards the goodness in ourselves. Has becoming a politician interfered with or enhanced your ongoing journey to become your best self?
Dennis Shulman: I'm talking about Garrett's vote, not about whether he's a good guy or bad guy. I'm only interested in calling out his record. . .There is an ongoing struggle to "feed the good dog." So far it feels like I've run an honorable campaign. What is it that they say you need for a campaign to succeed? Money and. . .
Simran Sethi: . . .I suspect media. There's been a lot of emphasis in press materials about you being blind. When I first learned about you, I was told you were an author, a therapist and a rabbi. I didn't learn you were blind until much later. How do you feel about your disability being emphasized in the media?
Dennis Shulman: I feel fine about it. It's an important part of who I am. David Patterson endorsed me early on and a friend commented that, "Blindness is the new gay." [Laughs.] Blindness makes me aware of suffering--to struggle with one's challenges and be able to transcend them. It's an important part of this campaign. The story is part of the politics, as well--of someone who has met challenges and gotten through them. And I know most of the people I'm meeting have never met a blind person before. I think it gives a larger profile to people who are disabled and is an inspiration to everyone.

Simran Sethi: In spite of your blindness your achievements are almost pathological. You've been blind since childhood, graduated third in your class in high school, graduated magna cum laude from Brandeis University, got a PhD from Harvard University in four years, were the founding director of the National Training Program in Contemporary Psychoanalysis at the National Institute for the Psychotherapies. . .
Dennis Shulman: You're making me blush. . .
Simran Sethi: I'm not done yet. You're a full-time therapist and rabbi, and now the Democratic nominee for Congress in New Jersey's 5th Congressional district. How would you counsel someone coming into your office saying they wanted to achieve all these things?
Dennis Shulman: I'd say, "Go for it." Of course you have to examine the situation and I did. You have to ask, "What is the nature of the drive? What will I have to give up to achieve it all?" The major thing I said to myself is the big difference between achieving and not is the assumption I made that all problems are solvable.
I was in graduate school for psychology. I had to give IQ tests to sighted kids. I made the assumption that the problem was solvable. I mean it took 12 hours but I did not want to do less than my peers or fail the class. I did it.
I feel the same way about my country. When I look at the civil rights movements for African-Americans, gays, and women. People who loved this country have changed it.

Simran Sethi: The foundation Jewish Funds for Justice did an online survey a year ago asking readers to name the top five issues they would include on a Jewish domestic agenda. Of the 8600 people who responded, they named health care as the top domestic issue. You say that, if elected, you'll work with both Democrats and Republicans to improve health care access and lower prices. How do you propose to do this?
Dennis Shulman: Listen, I'm just one member of Congress but I think the plans out there are pretty good. Hopefully with a Democratic Congress and President, nothing will stop us. Between the Obama/ Clinton and Medicare for All initiatives we have a lot to work with. [The Expanded and Improved Medicare for All Bill would create a publicly financed, privately delivered health care program that expands the pre-existing Medicare program to all U.S. residents, regardless of one's employment, income, or health care status.]
I hope as a member of Congress and psychologist to work for mental health parity. Our returning vets are facing a major struggle in regards to the psychiatric and psychological effects of this war.
Simran Sethi: What do you think about sharing the ticket with Barack Obama?
Dennis Shulman: We reflect the same kind of sensibilities and attributes. People are sick, heartbroken and outraged that, as a nation, we've lost our way. This is a candidacy of change.
Simran Sethi: Who inspires you to want to fix what's broken?
Dennis Shulman: Martin Luther King, Jr. [and] Robert Kennedy who went through a major transformation in his campaign. Kennedy is a major hero to me. I can remember his death like it was yesterday. I was 18. I can remember where I was going when he was killed. What Martin Luther King, Jr. said about Vietnam and about drawing on ethical values in politics is inspiring. [An excerpt: "Now, it should be incandescently clear that no one who has any concern for the integrity and life of America today can ignore the present war. If America's soul becomes totally poisoned, part of the autopsy must read: Vietnam. It can never be saved so long as it destroys the deepest hopes of men the world over.. . .Somehow this madness must cease. We must stop now. I speak as a child of God and brother to the suffering poor of Vietnam. I speak for those whose land is being laid waste, whose homes are being destroyed, whose culture is being subverted. I speak for the poor of America who are paying the double price of smashed hopes at home, and death and corruption in Vietnam. I speak as a citizen of the world, for the world as it stands aghast at the path we have taken. I speak as one who loves America, to the leaders of our own nation: The great initiative in this war is ours; the initiative to stop it must be ours."]
Reverend William Sloane Coffin is another one. He marched with King and Abraham Joshua Heschel in Selma. I think anyone's a hero when they speak truth to power and they take a position that basically says, "This is not right." You talk politics when you open your mouth.
Simran Sethi: I met you in the basement of the Alpine Community Center in Alpine, New Jersey for your morning minyans at Chavurah Beth Shalom. The mean age of the group is probably, what, 70?

Dennis Shulman: It's getting a lot younger now since the campaign.
Simran Sethi: We drink industrial-strength coffee, eat bagels, sing, pray, and study. What always strikes me is that it's so breathtakingly ordinary until you start the meditation. And then together, in our crappy folding chairs, we find G-d.
Dennis Shulman: The whole point of a service is not for division, not to divide the rabbi from the congregation. I feel more comfortable there than in a larger synagogue. We've spent seven months talking about the Book of Job. We've been taking it slowly, verse by verse. It's fantastic! We're up to Chapter 26 of 42 chapters.
Simran Sethi: So when you win, do you get to swear yourself in?
Dennis Shulman: [Laughs] Pam came up with an idea. I am planning to be sworn in on a Hebrew Braille Bible. She came up with it. Fucking brilliant! [Laughs.]
Thanks to Heather Mueller for research assistance and Danny Goldstein for suggesting questions and introducing me to the Rabbi.

SUBSCRIBE AND FOLLOW
Get top stories and blog posts emailed to me each day. Newsletters may offer personalized content or advertisements.
Learn more