One thing is as clear as a ten-carat diamond: If the Kardashians are doing it, it can't have anything to do with virginity.
White bridesmaid dresses are a full-blown trend, having graced the most high profile wedding attendants of the last year, from Kim K's raven haired sisters, to Pippa Middleton's royal tush and the 15 adorable English roses who walked down a country aisle in front of supermodel Kate Moss.
But after each of these celebrity weddings, whether they were breathlessly documented on CNN, E! or the pages of Vogue, an inevitable chorus of Tweets and trolls began moaning about the brides' disrespect for "tradition" in their selection of white bridesmaid attire. Tacky! Inappropriate! Disrespectful!
Weddings are delightful precisely because people will throw these terms around at the same time as they delicately dip a Rice Krispie square in a chocolate fountain or ask their adult friends to buy them bed linens. Appropriate Big Day behavior is outrageously subjective, proportional to your love of bedazzlement and the speed of the bartenders manning the open bar.
Yes, tradition is a word commonly employed when it comes to marriage ceremonies, and is used about as carefully as the term "I do." Most women, for example, will swear on their Vera Wang that diamond engagement rings have been an important declaration of love since the dawn of time, and were not birthed by a particularly genius ad campaign of the 1930s.
Likewise, the idea that sea-foam green and magenta are the historically appropriate colors for wedding attendants is firmly embedded in the female psyche. She wouldn't have made me wear that if it wasn't tradition, we tell ourselves in the shower as we attempt to scrub off the memory of that floor-length marigold monstrosity.
In actual fact, the earliest bridesmaids always wore white, dressed as mirror images of the bride they were attending.
Bridesmaids, you see, were invented as a sort of human decoy. They were not there because they were the bride's BFFs, or players in her fondest childhood camp memories -- they were little more than expendable handmaidens, strategically placed in case a rival clan wanted to kidnap the bride, or some malevolent spirit hoped to place a curse on her as she walked down the aisle. Apparently, medieval wedding planners believed such nefarious plots could be foiled by placing the women folk in matching outfits. Because god knows, we all look exactly alike when we dress the same. That's why it's impossible to remember if you've already seen a given episode of Say Yes to the Dress: crazy bitches all look alike in head-to-toe tulle.
It wasn't until the 20th century when bridesmaids began wearing colored frocks down the aisle, and white became the sole domain of delusional 30-something women and mismanaged 20-year-old Hollywood starlets.
And you can see why the wedding industry embraced the idea. By tweaking the bridal color palette every season, women can never just wear that BCBG number from two seasons ago. JCrew is able to sell simple designs in "fawn" and "aged driftwood," tricking otherwise sensible women into shelling out $250 for short, strapless reams of shiny brown or grey.
It would make me endlessly happy if the resurgence of white dresses for bridal attendants had something to do with the role's original decoy purposes. Did the British MI5 conspire to confuse would-be wedding terrorists by placing both Middletons in white Alexander McQueen? Did Kris Kardashian believe her daughter's prime time nuptials would be somewhat less doomed if the rest of her offspring sheathed themselves in a neutral tone?
It's probably not that interesting. White attendant dresses were once designed to allow brides to blend in, but these days they're more likely an attempt to stand out from the throngs of bridal parties sweating into their chocolate brown A-lines.
Photos of Kirsten Dunst and Isla Fisher in matching ivory gowns have surfaced from the shoot of Bachelorette, a Hollywood film that will be released next year, riding the train of this year's Bridesmaids.
Color has become yet another bridal party cliché, and so white bridesmaid dresses will probably be reinterpreted as the height of style and class. You know, like garter tosses and proposing via Jumbotron.
And while this sartorial trend won't foil any planned kidnappings or kick any curses, white dresses should be happily accepted by women who have agreed to walk down the aisle in front of a friend. At least they can be sold on Craigslist, passed off as a discount wedding gown. Try unloading five matching numbers, no matter how expensive and shiny. And no, I'm not referring to the Kardashians this time.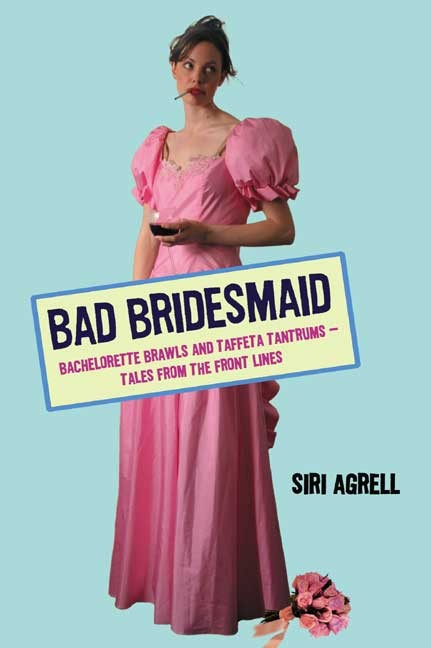 This Blogger's Books and Other Items from...
FOLLOW HUFFPOST