Sundance Film Festival has long been credited for discovering emerging voices in film. The Short Film Program is where up-and-coming filmmaking talent can present a "calling card" (less than 50 minutes) of a movie. According to Sundance:
"[Short films are] driven by innovation and experimentation...Transcend[ing] the rules of conventional storytelling."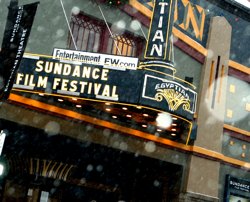 Paul Thomas Anderson,
director of
Daniel Day-Lewis
starrer
There Will Be Blood,
made his start as a filmmaker with a short film
at the Sundance Film Festival in 1993
titled
Cigarettes & Coffee.
Director Kyle Henry's first feature Room premiered in Sundance's Frontier category in 2005. Lead talent Jose Villareal is from Nicaragua and he grew up in New Orleans. He's appeared on Fox's PRISON BREAK, but Fourplay: Tampa is his first leading role. Screenwriter Carlos Treviño is a self-proclaimed "Tejano," and when asked how it feels to be representing Latinos at Sundance, Treviño's response is:
"Amazing. Though I'm proud to represent all parts of myself: the Latino part, the Anglo part, the gay part, the tall part."
There was word that the opening credits of this short film were filmed in Cuba, but it's not true. The director responded:
"Actually, we filmed in Tampa, FL, though their historic Ybor City neighborhood sure looks a lot like Cuba."
For more on
Fourplay:Tampa,
watch the
trailer
and visit the
filmmakers' website
.
Does "Me So Horny" ring a bell? This film stars 2 Live Crew's lead talent, Luther Campbell, and was written by rising star Lucas Leyva, born and raised in Miami by Cuban parents. According to director Mayer's website:
"Told entirely through a series of installations...the film recounts Luke's rise to fame as he changes the face of hip-hop and fights for first amendment rights- and later as he ushers Miami into a golden era of peace and prosperity as Mayor."
Check out a
sneak preview of this innovative mixed media film online
.
Although a UK Production, the film's director Dos Santos was born in Buenos Aires and raised in a windy village in Patagonia. His second feature film, Unmade Beds, premiered at Sundance in 2009. In Random Strangers, director Dos Santos strives to:
"...[R]epresent a new generation that grew up with social networks as their main form of social interaction...and that is a global phenomenon."
Director LaMarque is a graduate of Stanford and AFI. Her feature screenplay "The Pretty One" recently made the black list and she will be directing it as her first feature in the coming months (Steven J. Berger is producing; Robin Schorr is Executive Producer; and Mary Vernieu is casting). Marque is third-generation Mexican and she feels it identifies her work in film:
"I think that my struggle with identity that comes from being a biracial woman has come to really define my voice as a filmmaker. Identity is the main topic that has woven its way through all of my work."
This film was shot entirely in Germany, as part of a collaborative film project between UCLA and Internationale Filmschule Koln. The director Mireles is a former shot putter for the University of Houston and the Mexican National Junior Olympic team. His first short film, Hijo de mi Madre, premiered at Sundance in 2011. Mireles feels his filmmaking voice has been affected by his roots:
"Growing up in South Texas, there is a very prominent Mexican culture, but it is also infused with the overall Texan culture, which I feel has the greatest influence on my work."
SUBSCRIBE AND FOLLOW
Get top stories and blog posts emailed to me each day. Newsletters may offer personalized content or advertisements.
Learn more