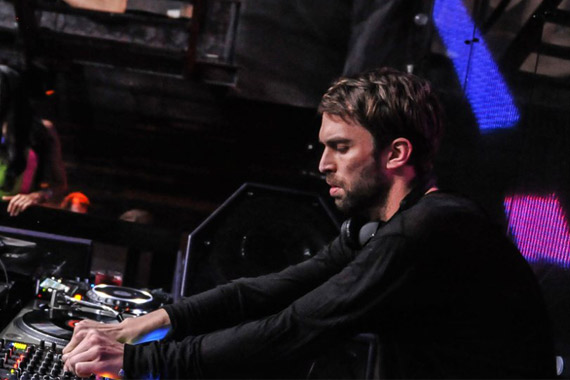 More often than not, DJing is a solitary performance -- the personal expression of one artist, choosing and performing his music, the way he or she sees fit. Collaboration, save for the impromptu "b2b" sets, usually takes place in the studio, away from the DJ booth.
But the four members of Visionquest -- Shaun Reeves, Ryan Crosson, Seth Troxler and Lee Curtiss -- challenged that paradigm in 2013, staging an ambitious worldwide event series that saw them performing together live as a foursome of DJs. Combining their own individual aesthetic and musical sensibilities, along with a shared personal history and friendship, Visionquest is essentially a "band" of DJs, playing extended sets together and creating an environment that properly presented their unique take on underground electronic music. Visionquest's sound is a heady, expansive embrace of their roots (Detroit's fabled music history) and their present environment (Berlin's constantly evolving house and techno scene), with the four members adding their own personal styles to the mix.

One of those four, Shaun Reeves, will be making his return to New York this Friday, playing alongside Marco Carola at his Music On New York residency at Marquee. This will be Shaun's second appearance at Marquee, and his first as a solo artist. He spoke to us about his own Visionquest experience in 2013, living in Berlin for the last 10 years and what's coming up for him in 2014.

Hey Shaun, how are you doing? Hope everything is good?
Yes, hi, all good here. Looking forward to catching up at the club on Friday.
Where are you at right now and what are you up to?
I'm here in New York already. I'll spend the week catching up with some friends, doing some record shopping and getting ready for the show this Friday.
Obviously 2013 was a big year for you and your Visionquest partners. Now that it's winding down, what was your take on the "Visionquest 13" experience?
Yes, 2013 was definitely an eventful year. We probably could have also called it the Visionquest "learning" experience but looking back on it we had some really amazing shows together and hopefully created some magical moments for the people that came to check it out. The most important thing is to share the vibe that we have between each other with the party to make the experience something unique to Visionquest. I feel that when we nailed this, nothing else mattered, and the party really went off musically and otherwise.
You got to play in a lot of different cities and venues this year. Have you found any new favorite destinations for you as a DJ to hit?
This year was mostly spent working with clubs and promoters that we already had established a relationship with and had played for before. Also on a personal level, this has been true this year. However, I did play a few times in Morocco lately and it's been a blast. An unexpectedly large amount of people there that are really into what we do there.
This Friday you'll be playing at Marquee for Music On New York with Marco Carola. Has Marco been an influence as you as an artist and DJ?
Yes definitely. I've always said that Marco is one of the best, if not the best, at the technicalities of mixing. I've listened to him for countless hours over the years and I've honestly never heard a mistake. Flawless, smooth as silk, and as they say, "all about the music."
This summer you played for Marco at his Music On Ibiza party along with Ryan Crosson. What was that experience like?
That was incredible! By far, my favorite gig of the whole summer. The energy on that terrace was buzzing from the first record. That night Marco also played my favorite set of the year i think.
This will also be your second time playing at Marquee New York. What are you most looking forward to for your second set there?
I really like to be familiar with everything about a club when I'm playing so I'm happy to be coming back with some experience. I'm also actually looking forward to the opening slot for Marco. It's a nice chance to hold back the reins a bit and build up a nice foundation for him to start from, versus having to bang it out for 2 or 3 hours.

You're a Detroit native who has relocated (with many of your peers to Berlin). How long have you been living there for?
I moved to Berlin in June of 2004. So, 9 1/2 years ago. Wow... that flew by.
Do you see yourself ever coming back to the States?
Nothing more than occasionally daydreaming about it so far but it's not out of the question. There's a few cities here that I could see myself living in at some point.
Is Berlin still the mecca for techno artists and DJs, or is that starting to change somewhat?
Both really. There so many DJs, labels and people working in the music scene there and the culture there is so conducive to a good party. Lots of clubs with very few rules combined with a city full of young creative people that have a good knowledge of the music and how to party properly with it. At the same time, the world outside has become increasingly aware of this freedom and excessive amount of fun available there so there is now a much different and more international mix of people there. This has changed things a lot compared to when I first arrived. Also the rents have gone up quite a lot and while it's still a very affordable city, it's not as cheap as it was ten years ago. So the opportunity to live off of close to no income and just make music or art or whatever may not be there like it once was.
Have you been keeping up with the developments regarding Detroit's financial situation and the bankruptcy filing?
I've followed it a little bit. A news story here and there, but unfortunately the fact that Detroit is broke is not anything new. It's just getting more attention now because of the filing. Hopefully whatever happens from this is the beginning of better days for the city.
What was your personal connection to Detroit's techno history and music scene as you were coming up? How did you first get exposed to this kind of music?
I actually grew up in rural Michigan, a couple hours drive north of Detroit, in one of the more backwoods areas of the state. So my journey from there to here and now has been a long and strange one. I guess my first taste came from older friends who had gone off to college and came back from Detroit with music and stories of these parties; maybe some acid was involved as well. From there, I moved to Detroit as quickly as I could and not long after I went to a Plus 8 party put on by Richie Hawtin. It was this party, and his "Control" parties not long after that, as well as what Paxahau was doing at that time that really got me. Of course I was also into the classic Detroit sound, Jeff Mills, Moodymann, all of it really. But it was those parties and those first few visits to the states from people like Zip and Ricardo Villalobos that gave me my first big musical reference. Before that I had no idea what was going on, only that I had to to learn how to DJ and to understand this music and the crazy people that I was meeting around it.
Who was the catalyst behind forming Visionquest?
That's a hard one to answer since we were all friends and working on various things together long before the name and project were attached to us. And even if we each take our time away from the project, as Seth is doing in this case, and come back to it, that friendship is the foundation of what we all do. I could recount that whole story of us meeting here but i think it's been told before and after all these years it takes a very long time to get through all the particulars. I will, however, take the credit for moving to Berlin first and getting the guys to come along a couple years later after a few visits/meetings of the minds in the time between. The original idea of the label was born in our time sharing an apartment there and was an idea that we all thought of around the same time. Like, now is the time, let's do it!
Seth Troxler recently mentioned there would be some changes with Visionquest in 2014. Can you elaborate on what those are going to be?
Yes it's true, Seth is stepping aside to focus on some ideas that he has for himself. However, as I mentioned before, the friendship has been going on much longer than the label and that is the foundation. As far as the functioning of the business and label, there won't be much change as we are all fully capable of picking up any slack, and we have always been equally involved in and devoted to this project. Visionquest has never been about one person or even just about the four of us. It belongs to anybody who connects with the vibe that we are projecting and the ideals we are trying to support.
What is Superpleasures and how does that fit into the scope of your work?
The Superpleasures concept is simply based around having fun and jamming with artists from the label and/or people that have influenced us. Compared to the 13 series, Superpleasures is about getting back to the basics and to our roots, which is simply to have a good time playing records with good friends on a nice sound system.
What do you have going on this year in Mexico for BPM 2014?
We are hosting a Superpleasures event at Fusion Beach Club on January 11th. It's a daytime event featuring Daniel Bell and Matthew Dear as well as Ryan, Lee and myself. I really love this lineup, two of our favorite and biggest influences.
What are some of your own individual projects you have coming up for the next year?
After BPM, I will be slowing down my DJ schedule just a little bit to work on music, both on my own and some Visionquest material with Ryan and Lee. I guess we will have to wait and see what comes out of that as far as releases for this year goes, but I'm excited for it anyway. After that I'm touring a lot in the late spring, in Europe and North/South America. For the summer I have a really nice Ibiza season lined up that I'm very much looking forward to as well as some nice festival dates in the works.
Shaun Reeves plays at Marquee New York with Marco Carola on Friday December 13th.
For more on Shaun Reeves.
For tickets for Marco Carola and Shaun Reeves at Marquee
For more on Marquee NY
For more on Sleepy & Boo