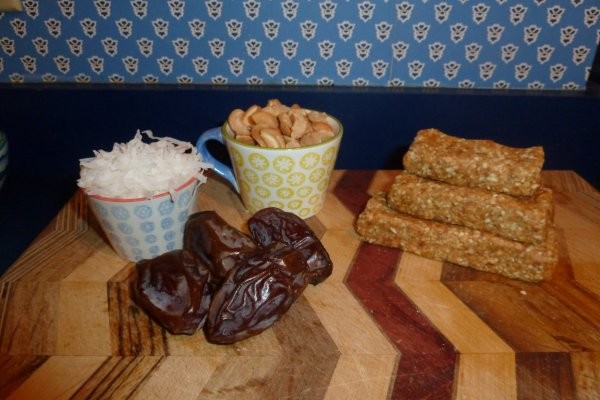 Photo Credit: Small Kitchen College
The one winter tradition that always melts my heart is my mom's yearly fruitcake-making extravaganza. Dried fruit bits and drops of brandy go flying; it's really quite fun. (PS: What is a fruitcake?) I know a lot of people don't, but I love fruitcake. It got me thinking that I also, for similar reasons, love Larabars. They are delicious, dense and high in fiber and nutrients like potassium. Their downside, however, is painful, because their price tag breaks the bank (perhaps more aptly named Ralph-Lauren Bars?). I am here to offer you a solution.
Did you know you could have just as much unpredictable fun making Larabars as my mom does making fruitcake? Larabars are a gluten-free, dairy-free, whole-food product, which means you don't need a laboratory to recreate the taste (or a gluten and dairy insensitivity to enjoy them)—you can make an exact replica in your house!
Homemade Larabars: The Formula
Makes 3 bars
Ingredients
1/4 cup dates
1/4 cup dried fruit*
1/3 cup nuts*
Note: you can use any kind of fruit and nut combination -- see below for my favorites!
Pit the dates, and then put the dates and dried fruit into a food processor. The dried fruit should become a paste in the food processor, and then it will coalesce into a lump. Take it out of the food processor, and put it in a medium-sized bowl.
Next, separately blend the nuts in the food processor. When they become a paste, add them to the bowl with the dried fruit.
With your clean hands, mix together the dried fruit and the nuts.
To make bars, shape the mixture and then wrap in wax paper. If you want to be Christmas-y, you can tie ribbons around them, or make cute little cards to explain their significance to your favorite Larabar lovers!
Coconut
Ingredients
1/4 cup dates
1/4 cup coconut
1/3 cup cashews/almonds
Apple and Peanut Butter
Ingredients
1/4 cup dates
1/4 cup dried apples
1/3 cup peanuts
Banana Bread
Ingredients
1/4 cup dates
1/4 cup dried banana
1/3 cup cashews and/or almonds
—Sarah Trautman for Small Kitchen College. Sarah Trautman attends Carleton College in Minnesota, but has spent time canvassing for environmental issues and being a camp counselor in Maine. @sarah_trautman
SUBSCRIBE AND FOLLOW
Get top stories and blog posts emailed to me each day. Newsletters may offer personalized content or advertisements.
Learn more