John McCain opened his California campaign headquarters in Torrance on Wednesday, sending a first signal that he does not intend to concede the traditionally Democratic-leaning state.
McCain's California campaign chair, Bill Jones, addressed a crowd of about 50 volunteers and elected officials to drive home that message. "It is important to understand that California is clearly winnable, and Sen. McCain is committed not just to run in California but to win the state."
Although no Republican presidential candidate has carried California in 20 years, since the first Bush in 1988, McCain is launching an aggressive statewide campaign. The campaign will have opened 70 headquarters across the state by the end of the month. California campaign manager Andrea Jones-Rivera said that the campaign has signed up 1,500 volunteers in the state over the last two weeks through the McCain website.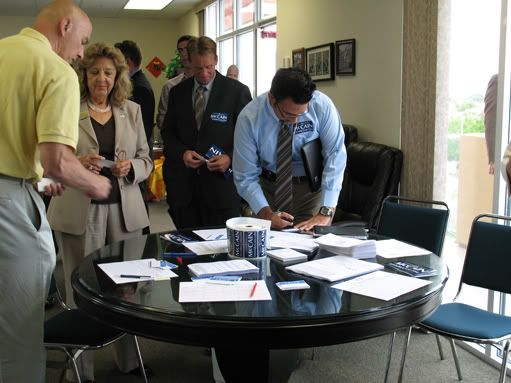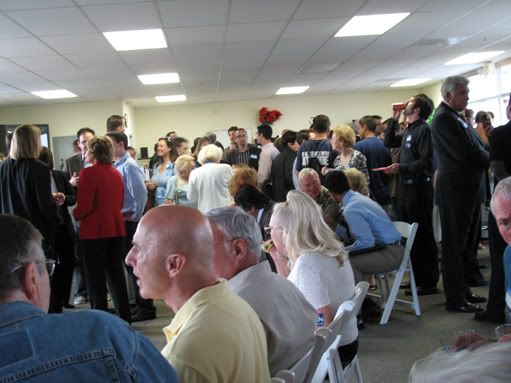 Jones reminded the crowd that California has elected Republican governors over the past two decades "with the exception of two years, and that was a mistake."
Jones told the crowd of supporters that former California governors George Deukmejian and Pete Wilson have thrown their support behind the senator. "They asked me to ask you to help and to go find your friends to help. And to make sure that we have all the volunteers necessary because that's how they won."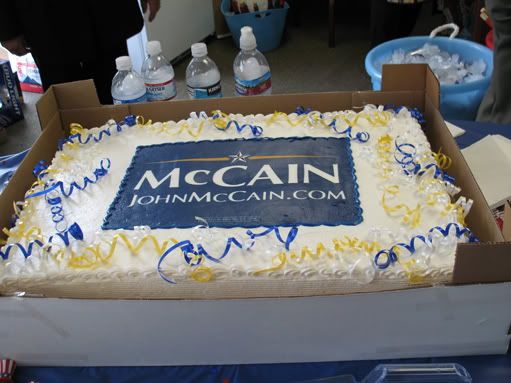 The key to a victory in California for McCain is winning over independent voters. Independents are the fastest-growing political constituency in the state, making up two of every ten voters.
"This is a state that elects candidates. It doesn't necessarily elect parties. There's 20 percent of the people in this state that are independent now," said Jones. "Sen. McCain does very well with them."
Charles Kim was one of the supporters in attendance Wednesday night. He said it was the first political event he has ever attended and that the nation's current climate has gotten him more engaged in this election.
"This election, I think it's really, really going to set the tone for the country... I was a John McCain supporter in 2000. He should have been president in 2000 quite honestly, and I'm doing my part to make sure he's president this time around," Kim said.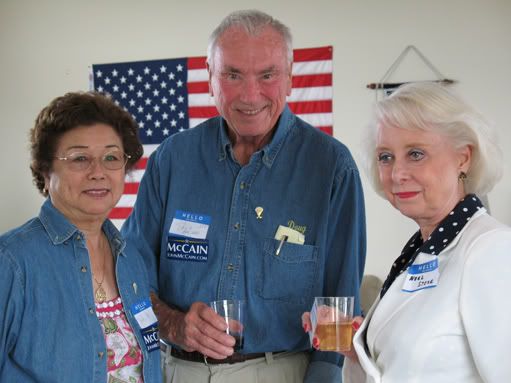 Though the event was packed, the crowd was noticeably older and less diverse than the crowds that flock to McCain's opponent's events. Ian Coyne, a 27-year-old McCain supporter, disputed the notion that Barack Obama has a larger youth following than McCain.
"I think that a lot of it's perception. People believe that Obama has more youth because they're a bit more visible, but if you really take a look at this event in particular, we have 14 youth here right now and if you look they're out there and there's more coming."
Coyne is the Southern District Chair for the Future Leaders for McCain and has supported the Arizona senator since McCain's first run at the presidency. "I love his brashness and his ability to cross the aisle and he appeals to such a wide range in a polarized political landscape," he said.
Mei Lien Chang, the vice-president of Trade Union International, passed out flyers for an upcoming event hosted by the California Asian American Coalition for McCain. She said that many Asian-Americans support the Republican philosophy.
"We want small government, we want to create more jobs, we run our businesses," said Chang. "We want to preserve family value, that is very, very important. The most important thing is education, and I think all of these things are in line with Republican values."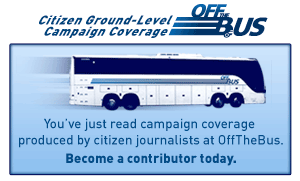 SUBSCRIBE TO & FOLLOW THE MORNING EMAIL
Start your workday the right way with the news that matters most. Learn more