Last Thursday, January 12 offered the latest twist on comedian Stephen Colbert's involvement in the 2012 presidential campaign. That night he learned from Trevor Potter, former FEC commissioner and general counsel to the McCain campaign, that he could not keep his Super PAC and also explore a presidential campaign at the same time. If Colbert wanted another possible shot at running for president of South Carolina, he would have to give up control of the Colbert Super PAC.
As Potter explained, all he had to do was sign over the Super PAC to someone else, and then he was free to enter the electoral fray. Would that someone else have to be someone unconnected to Colbert? Nope. Could Colbert even sign it over to a business partner? Yep. Could it even be Jon Stewart? Indeed it could. Would the process be bogged down with lots of paperwork? Surprisingly, no. One set of signatures later, the transfer was official and the Super PAC had a new name: "The Definitely NOT Coordinating with Stephen Colbert Super PAC."
Watch the full clip of the segment here:
In less than ten minutes Colbert showed viewers the inner working of campaigns, the absurdity of so-called "non-coordination" between Super PACS and candidates, and the degree to which money buys "free" speech in the U.S. electoral system. And he did all of this in a way that was entertaining. While many in the media worry about the impact of Colbert's involvement in the election cycle, they are missing the real point: Colbert makes civic lessons fun.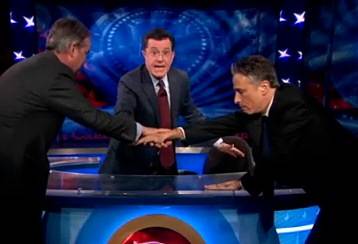 Colbert, Stewart, and Potter cheer "Non-coordination!"
Colbert -- more than any other politician, activist, or intellectual -- has single-handedly brought the role of PACs and other un-democratic features of the U.S. electoral system to public attention. Colbert started by lampooning the Supreme Court's Citizens United decision, which removed restrictions on corporations spending limits on behalf of candidates. What better way to show the absurdity of the decision than to test it? So Colbert went to the FEC to apply for his own Super PAC. Over the summer the U.S. public watched Colbert, a major media power, go through the process of acquiring his own Super PAC, a move that gives him even greater influence over public opinion since it allows him to run political ads.
Then in September, Colbert created his own shell corporation, a 501(c)(4) to illustrate how former Bush adviser Karl Rove was able to hide donors to his American Crossroads Super PAC.
He explained that 501(c)(4)s are like a "Campaign finance glory hole": "You stick your money in the hole, the other person accepts your donation, and because it's happening anonymously, no one feels dirty! ... Clearly, these (c)(4)s have created an unprecedented, unaccountable, untraceable cash tsunami that will infect every corner of the next election," Colbert said. "And I feel like an idiot for not having one."
Needless to say, Rove didn't find it funny, which led Colbert to make a rare on-air apology to Rove. Watch the clip here: