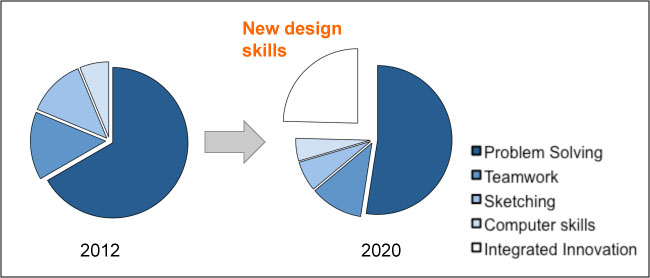 Co-written by Rob Curedale
What skills are needed for graduating industrial designers and how will these skills change by the year 2020? What innovative thinking will set the next generation of design experts apart from simple sketch monkeys?
The current industrial design education model has been dominated by a hands-on approach, augmented with academic courses. Design students begin by learning fundamentals, such as sketching, rendering, perspective drafting, computer aided design, prototyping, form development, color theory and graphics. Academic classes are taught concurrently, addressing such topics as business management, history and philosophy of design, advertising, ergonomics, aerodynamics, manufacturing techniques and design research.
As students build their understanding of design, they gain practical experience though increasingly challenging studio courses. They start with simple design assignments such as coffeepots and toasters. Initial exercises are followed by assignments in reverse engineering of mechanical and electronic products and the knowledge gained is then applied to user-centered handheld products. Students then learn to use formal design briefs and processes, advancing to general products, services and experienced design, requiring systems thinking on a larger scale .
When we asked four hundred members of the online design community about what skills were needed for a graduating designer -- problem solving was deemed most important (64%). Other relevant skills mentioned were teamwork (14%), sketching (12%) and computer skills (6%). However, the community was unable to provide any insights as to the future needs of design education.
However, from our decades of teaching and practicing design, we can see a trend in education to address design challenges more comprehensively and work across disciplines. Students are beginning to move from solo self-expression to teamwork with emphasis on business knowledge, ethnography, technology and environmental science. Design now focuses on customer experience rather than the individual product. In the process, designers are increasingly working within multiple fields such as product, interior or packaging design, as well as across cultural boundaries.
We see a range of new skills making their way into the design curriculum, reducing the focus on traditional competencies such as visualization. Some of the new foundational skills will be oral and written communication skills, including languages and storytelling. Innovation will increasingly become the most important driver requiring integration of design in the business process, from business model exploration to innovation management. Design Thinking will be the enabler and will be combined with open innovation and crowdsourcing, and applied to co-design as well as co-creation.
A study by the Danish Design Center shows that integrating design in business and innovation management currently increases revenue by one percent and studies at Stanford suggest that performance increases of up to thirty percent are still possible. These studies show huge opportunities for change and designers in the graduating class of 2020 can make a very real impact and become significant contributors to global progress.
Special thanks to Rob Curedale for researching and co-writing this article.
SUBSCRIBE TO & FOLLOW THE MORNING EMAIL
The Morning Email helps you start your workday with everything you need to know: breaking news, entertainment and a dash of fun. Learn more