You heard some more recent songs for performances last Wednesday! Fashion-wise you saw dresses, bling, some awesome blazers, dazzling customizations and, of course, tons of great jewelry and accessories. Here's the style-rundown for Top 7 American Idol, and don't forget to hit me up on Twitter: @SoysFashion!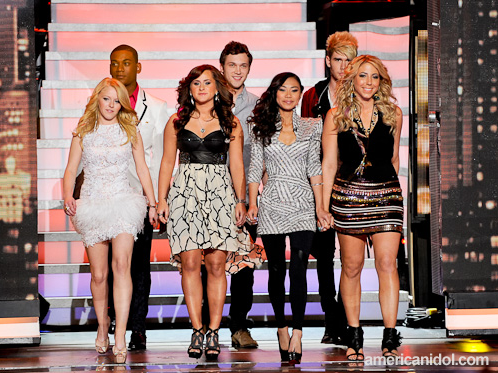 Hollie Cavanagh
I wanted Hollie to be perfect this week. The judges and Jimmy have been so hard on her, so I wanted to soften her up with this quaint frock. I love her giant diamond ring bracelet; I wanted America to fall in love again with this sweetheart.
(Left) For Hollie's performance of Pink's "Perfect," I styled her in a white Jovani dress and Steve Madden shoes. (Jennifer Lopez admired, "You look beautiful tonight, Hollie.") The look was topped off with Bebe earrings and a bracelet from Prb Studios, Private Collection.
(Right) For her trio performance with Joshua and Jessica, Hollie wore a Bebe top and shoes, ANGL bandeau, and Notify pants from LIVE! On Sunset. Jewelry included Bebe earrings and Glitterrings ring.
Colton Dixon
I had a lot of fun customizing Colton's look this week. Did you know Colton's jacket stewed in a dye pot for five hours before I got that final color? And!!! I had his duet shirt studded for the show and they began popping off ten minutes before he had to perform live. Somehow we managed to get them back on in the nick of time!
(Left) To sing "I Love the Way You Lie" by Skylar Grey, Colton wore an H&M t-shirt, Tuesday Night Band Practice hoodie, and a Lip Service jacket with Kizmit customizations. (Randy Jackson said to Steven Tyler "that's a hot jacket.") He wore Hudson shoes, a Saint Vintage necklace and bracelet, and GodDaughters ring.
(Right) For his duet with Skylar, Colton wore a top by INC International Concepts, pants by Robin's Jean, and Hudson shoes. His bracelet was by Pennyroyal Studio.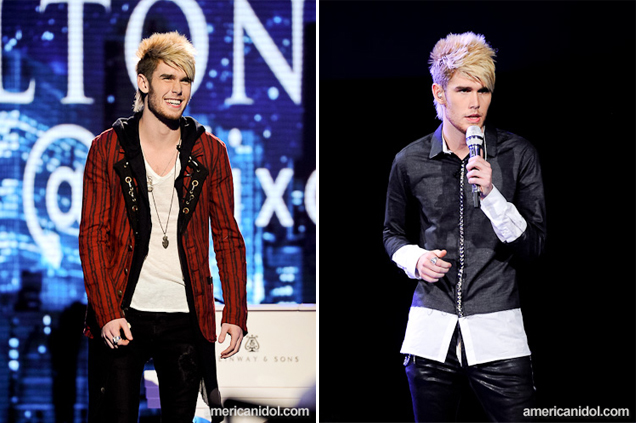 Skylar Laine
After last week's dress for "Wind Beneath My Wings," Skylar and I discovered a new style wing beneath her wings -- dresses! She has a tiny waist and I love showing that off and so does she! She looked so beautiful in both her curve-showing dresses.
(Left) To sing Kellie Picker's "Didn't You Know How Much I Loved You," I styled Skylar in a feminine Mackage dress with a sweetheart neckline and Pelle Moda shoes. Jewelry included Bebe earrings, a Pennyroyal Studio necklace, and Devora Libin Jewels bracelets.
(Right) For her duet with Colton, Skylar wore a Haute Hippie dress and Jeffrey Campbell shoes. Her jewelry included earrings and necklace by Angel Court and rings by RichRocks.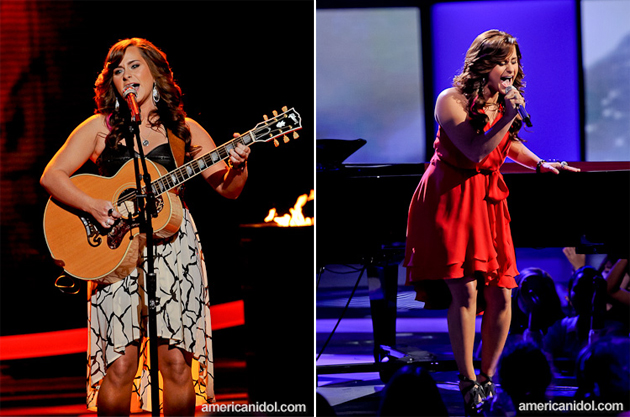 Joshua Ledet
You don't need to spend a ton of cash to look smart and stylish like Joshua. You can put together a great look with pops of color and a pair of nice fitted pants. I love the whole retro style for Joshua. He's so bold, and if any one could pull off the pink it was him! Joshua's other signature style is his funky socks; it's a fun hidden secret that you can get a glimpse of when he performs!
(Left) I styled Joshua in an Express button-up top very similar to this, Moods of Norway jacket, and Mezlan shoes with Kizmit customizations (bling!) for his performance of Bruno Mars' quick song "Runaway." Jewelry included a Swarovski necklace and personal ring.
(Right) For his trio performance with Hollie and Jessica, he wore Zara button-up top and pants, Calvin Klein vest, and custom shoes. Jewelry included a Swarovski necklace and personal ring.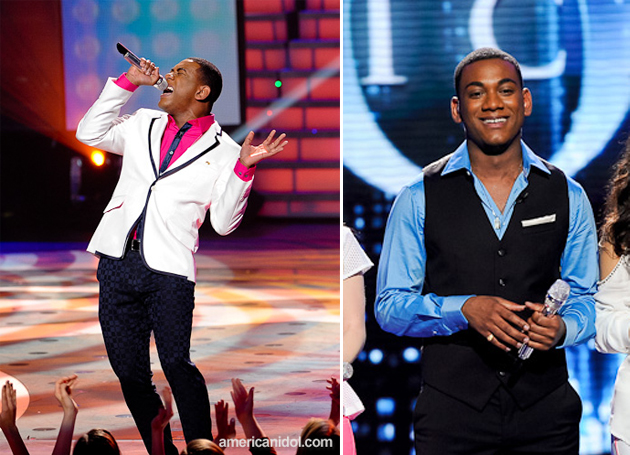 Phillip Phillips
I love the simple clean looks I'm coming up with for Phillip. He doesn't need much to be hot on stage! I'm sure all you Phillip fans would agree that he looks hot in a simple v-neck and blazer! His jeans were nicely fitted once again this week, and his woven leather guitar strap is such a great way to style him in a natural way.
(Left) To sing Maroon 5's "Give a Little More," Phillip wore a v-neck Gap shirt with a Kenneth Cole blazer and Lucky Brand pants. His shoes were by The Frye Company and he wore a Red Monkey guitar strap like he did last week.
(Right) For his duet with Elise, Phil wore a Gap shirt, Banana Republic button-up top, and Citizens of Humanity pants. His shoes were by To Boot New York by Adam Derrick.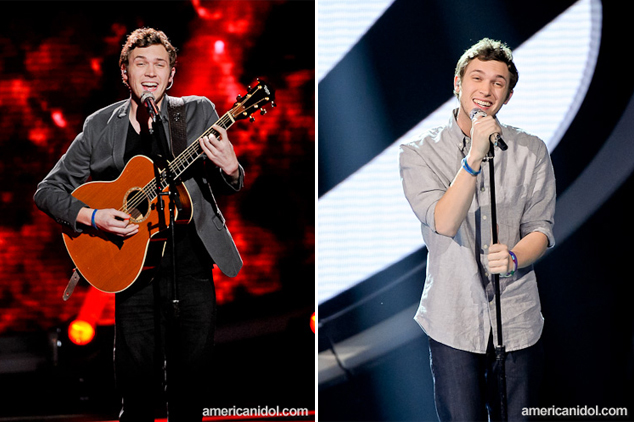 Jessica Sanchez
This girl does have good taste, like JLo commented. I have so much fun with Jessica week after week. She is really openminded when it comes to fashion. With her physique and the way she carries herself she can pull off a lot of couture looks. But let's not forget she's sixteen! Even with the elaborate styles, my main goal is to keep her looking young!
(Left) To sing Jazmine Sullivan's "Stuttering," Jessica wore a glimmering, short, short Jad Ghandour dress, David Lerner leggings, and Christian Louboutin platform shoes. I styled her in jewelry including Rodrigo Otazu earrings and RichRocks rings and bracelet.
(Right) For her trio performance with Joshua and Hollie, Miss Jessica wore a top by Bless'ed Are the Meek, Camilla and Marc tights, and Bebe shoes and earrings. Other jewelry included a necklace by Prb Studios, Private Collection, Neon Dirt and Devora Libin Jewels bracelets, and a RichRocks ring.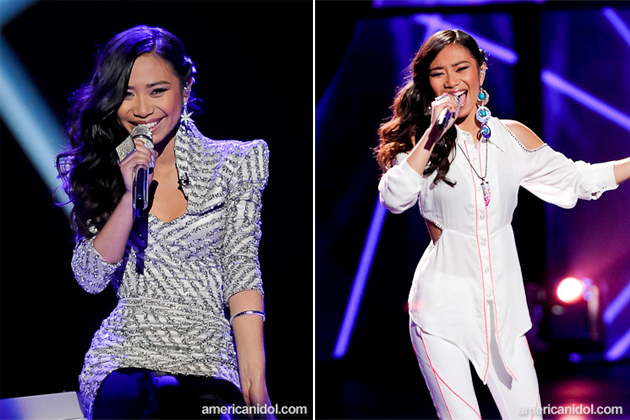 Elise Testone
There never is enough time on American Idol to style the contestants, and this week was a whirlwind with Elise. On the night of the show I decided to keep Elise simple next to Phillip by taking off her fringe vest. This allowed her to show off her curves (which I love) and to complement the duet. For her solo we were backstage sewing up the train of her skirt so that she could feel comfortable sitting and standing to and from the piano. It was a rough night, but she looked and sang fabulous!
(Left) For Elise's performance of "You and I" by Lady Gaga, I styled her in a Bebe top, Hale Bob skirt with a custom Kizmit outer layer and her own shoes. Jewelry included Dreaming Tree Designs by Sarah Poe earrings, Gypsy Global necklace, Energy Muse bracelet, and Prb Studios, Private Collection ring.
(Right) For her duet with Phillip, Elise wore a BP. Apparel tank, Bebe sheer top, skirt, and shoes, and True Religion vest. Her necklace was by J. Crew, and she wore an Energy Muse bracelet.