It was pretty crazy this week with the two looks for a "Now and Then" theme, but we pulled it off! As you may know, I listen to the songs the #Idols will perform beforehand. Though the "Then" songs this week were by Marvin Gaye, Otis Redding, etc., I wanted to keep the singers' looks fresh and modern. Loved the fashion? You're in the right place!
PLUS, have any questions or just want to say hi? Hit me up on Twitter: @SoysFashion!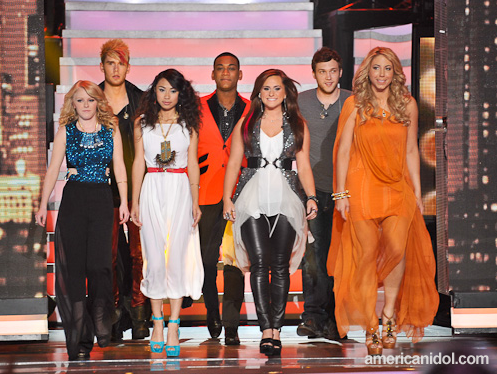 Hollie Cavanagh
First up is Miss Hollie. We didn't have much time for shopping this week, so I brought her these two options. I love modifying looks by accessorizing correctly, and for Hollie I took and made a classic silhouette edgy for "Rolling in the Deep" by giving a twist with the sheerness of the pant fabric, the amount of skin exposed on the top, necklace, and shoes. Because Hollie is petite, I modified her high collar neckline on her pink dress for her "Then" performance so she could look taller. And I have to say how much I #LOVE her pink Barbie shoes!
(Left, Now) To sing Adele's "Rolling In The Deep," I styled Hollie in a blue glittery LeiLuna Collection top that began as a dress, an ANGL bandeau, and Alice + Olivia pants. Jewelry included earrings by Prb Studios, Private Collection, necklace by Nineteen Twenty Nine, rings from Supreme Jewelry, and bracelets by Tiffany Chou.
(Right, Then) For her performance of "Son of a Preacher Man," Hollie donned a pink ensemble including a Shakuhachi dress (with a few adjustments), Aldo shoes, and Prb Studios, Private Collection necklace.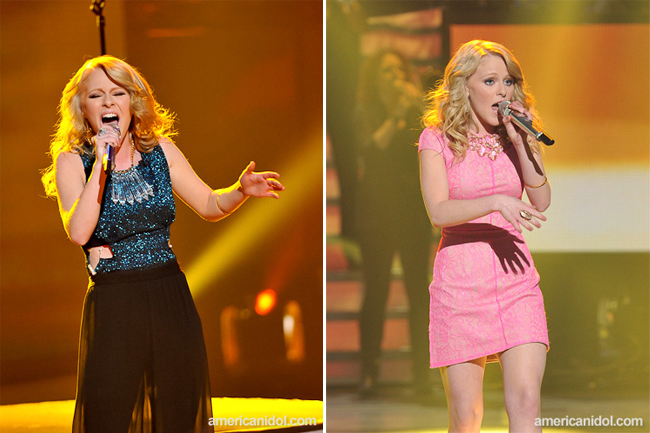 Colton Dixon
I will miss dressing Colton this week. He wanted to go all out this past week with his performance of "Bad Romance." I wanted to make sure we didn't go too crazy with the styling and keep his streamline, tailored style with all of our decisions. I made his red pants darker with some black shoe polish. We found his Jaded by Knight boots at an awesome bargain from Wasteland. For "September" I wanted to make sure we reeled back to the Colton that all his fans really know and love. He wanted to take a risk this week, have fun, and rock 'n' roll!
(Left, Now) To rock out to "Bad Romance" by Lady Gaga, Colton wore an Rochambeau top, Greg Lauren jacket (again this week!), and Robin's Jean pants with Kizmit customizations. His shoes were by Jaded by Knight, and the look was topped off with Luv Aj rings.
(Right, Then) To sing "September" by Earth Wind & Fire, I styled Colton in a Hotel top, Unconditional vest, Kill City pants, and Hudson shoes.
Skylar Laine
We all forget little tricks we do on a regular basis. When I was dressing Skylar for the results night last week a light switched on for her upcoming week's performance: belting a shawl or vest. For her "Born This Way" outfit, I pulled that trick out of my hat to accentuate the smallest part of Skylar, her waist, and have the draped looked without any worries. I really #LOVE Skylar in dresses and the one she wore this week for her "Then" performance was #HOT! I threw black accents onto her nude cowgirl boots to tie in the colors of the dress by tearing off some left-off fabric to give it a rock 'n' roll fringy look, and added a Neon Dirt bracelet to give it some sparkle! 
(Left, Now) To sing Lady Gaga's "Born This Way," I styled Skylar in an H&M top, an Unconditional vest, and Robin's Jean pants. Accessories were an ANGL belt, Nine West shoes, and rings by Junk Gypsy Co. and London Manori.
(Right, Then) To sing Marvin Gaye's "Heard It Through The Grapevine," this girl with major #spunk wore an Ani Lee dress and Corral Boots boots with major personality! Jewelry included Neon Dirt earrings and a London Manori bracelet.
Side note: Loved when Steven Tyler said to Skylar "You're like a wild horse that refuses to be tamed."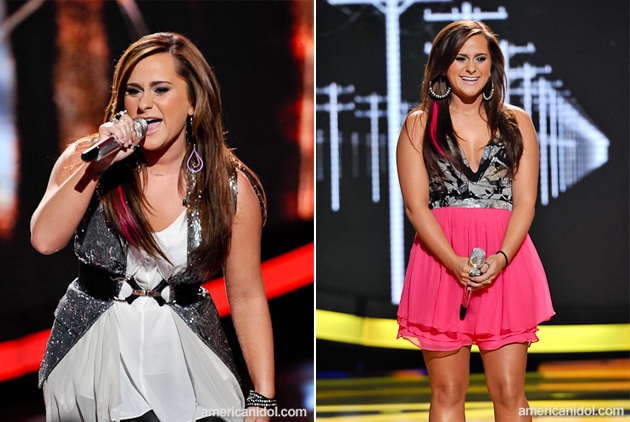 Joshua Ledet
I think all of you readers are beginning to catch on that I #LOVE to customize; it's the only way to get exactly what I want as well as give each #IDOL their signature look. I took an H&M jacket and added all the black to Joshua's jacket. It toned down the orange that gave it a deeper, richer red tone. Little touches of bling go a long way for every man, and I placed a stud on Joshua's pocket square pocket for a little pick-me-up. I wanted to switch up Joshua's look for his "Then" song to show that he can do more than just a blazer look. With a beautiful fit, he looked fabulous in his leather vest and black jeans. 
(Left, Now) To sing Fantasia's "I Believe," I styled Joshua ("Sweet cutie," as @JLo called him) in Paul Smith socks and shirt topped with an H&M jacket with Kizmit customizations. He also wore Zara pants, Aldo shoes, a watch by Christian Tse, and his own rings.
(Right, Then) To sing Sam Cooke's "A Change Is Gonna Come," Joshua wore a Zara top and pants. We shed a jacket for this performance and went with a Noah Kingery vest! He also wore Aldo shoes, socks by Paul Smith, and a London Manori bracelet.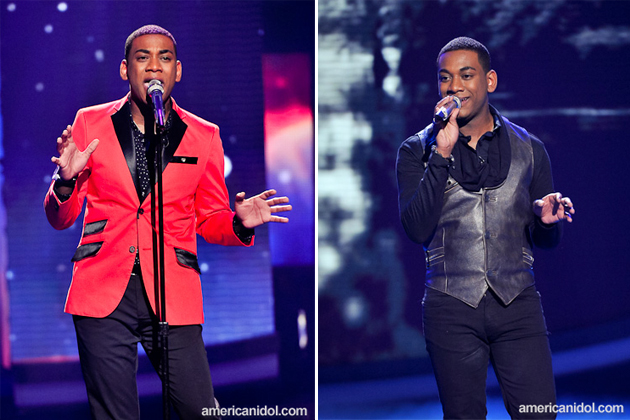 Phillip Phillips
Less is more, I always say... and with Phillip, that is the golden ticket to his style. Every week Phillip is trying out new styles and brands. Now that he's gotten comfortable with the blazer look, this week I will be experimenting on fit. He #LOVES Frye boots, and wore a nice black pair this week. Look out next week for a more fitted look on Phillip Phillips!
(Left, Now) To put his own spin on Usher's ballad "U Got It Bad," I dressed Phillip down in a James Perse top and Lucky Brand pants. He wore shoes by The Frye Company and a bracelet by M. Cohen Designs.
(Right, Then) For "In The Midnight Hour" by Wilson Pickett, Phil wore a Gap top, John Varvatos blazer, Lucky Brand pants, and The Frye Company shoes.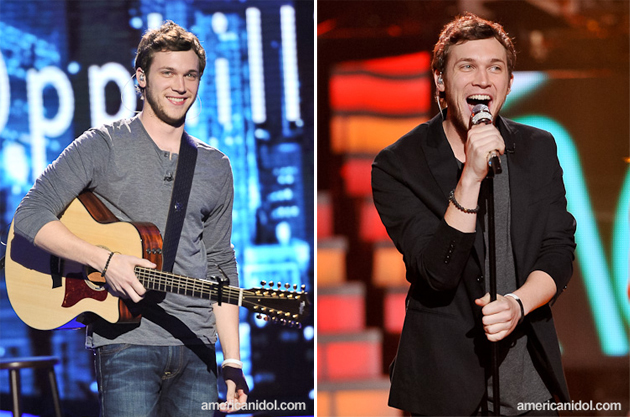 Jessica Sanchez
I wanted Jessica to be on trend and trend-setting with her white jumpsuit and Navajo/tribal jewelry pieces for her "Now" performance. White is such a great canvas to play on with bright colors. Jessica has such a funky cool vibe to her, and styling her every week is a ton of #FUN. That said, for "Try A Little Tenderness" I didn't want her anything BUT modern in paying tribute to a great classic. I gave her modern with an extreme shoulder leather crop jacket and accessories and classic with the playful fringe and pants. The colors and the cut of each piece of the look made it youthful and fun!
(Left, Now) To sing Alicia Keys' "Fallin'," Jessica wore a statement-making, and much-talked about, jumpsuit by Alice + Olivia, a pink American Apparel unitard underneath, and bold teal Bebe shoes and earrings. Other jewelry included a Deepa Gurnani necklace, Charriol bracelet, and Erica Courtney rings.
(Right, Then) To sing "Otis Redding's soulful "Try A Little Tenderness," I styled Jessica in a Zara tank top, Skingraft jacket, and Alice + Olivia pants. Accessories included Rachel Roy shoes, an Express belt, and rings by Tiffany Chou and Supreme Jewelry.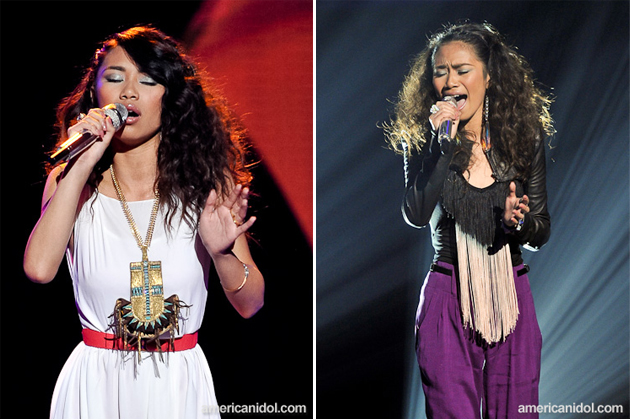 Elise Testone
Speaking of less is more, this is the case with Elise. I didn't layer as many accessories on her because we went with the statement piece jewelry concept. With the wind machine and the extra chiffon for "No One," she didn't need a lot to make her look fabulous! For "Let's Get it On" I had Elise try on a dress, but I couldn't imagine her in a fitted dress for this song. So I cut the bottom part of the dress and kept the top because I loved all the construction lines on it. I took a top with the bell sleeves and flipped it back to turn it into a shrug. Elise was really feeling the dark blue so I added the bell to her pants with that color and trim on her hips to slim down her curves just a little, because I love her curves!
(Left, Now) To sing Alicia Keys' "No One," I styled Elise in an orange Leon Max dress and Pelle Moda shoes. The jewelry was piled on! Erica Courtney earrings, necklace, and rings, and bracelets by Prb Studios, Private Collection and de Leon.
(Right, Then) To sing Marvin Gaye's sexy "Let's Get It On," this rocker with soul wore a Bebe top with sweetheart neckline and Kizmit customizations, Zara pants with Kizmit customizations, and her own Bakers shoes. Jewelry included Erica Courtney necklace and rings and Christian Tse earrings.