"Serpentine Gallery Pavilion 2010 Designed by Jean Nouvel: Ateliers Jean Nouvel Photo: Philippe Ruault"
The Serpentine Gallery in London's Hyde Park is having a slumber party right at the heels of their annual summer party, which took place around their 10th and latest eye-catching Pavilion, designed by the French architect Jean Nouvel.
Nouvel's scarlet Pavilion set the scene for the darlings of the British art set attending. Ron Arad, Antony Gormley, Gavin Turk, Dinos Chapman, Sir Peter Blake, Grace Jones, Tracey Emin and model Lily Cole were among the guests invited to play ping-pong and tennis with champion players and have their heartbeats recorded by French artist Christian Boltanski's installation The Heart Archive. Also on view in the permanent galleries inside was the summer show of new inkjet prints by Wolfgang Tillmans.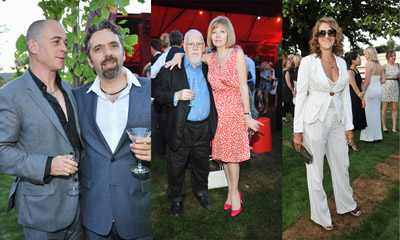 July 8 2010 Summer Party at Serpentine Gallery, London, England. L to R: Dinos Chapman and Keith Tyson, Sir Peter Blake and Chrissie Blake, Tracey Emin. Photo: Nick Harvey
Julia Peyton-Jones, the director who had originally envisioned this fund-raising concept, hosted this 40th anniversary party for the gallery with the new, much talked about co-director Hans Ulrich Obrist. This year's Pavilion is built on impressive cantilevered structures painted in vivid red, set in dramatic contrast to the green of the Hyde Park lawns. Nouvel said in his opening speech, "I want more disorder in this place," imagining a relaxed place for people to play. The Pavilion is canopied by large retractable awnings and a sloping freestanding wall that allows the park to inhabit the interiors.
"Serpentine Gallery Pavilion 2010 Designed by Jean Nouvel: Ateliers Jean Nouvel Photo: Philippe Ruault"
Notable architects that had been invited in previous years to design the free-form Pavilion include Daniel Libeskind (2001), Frank Gehry (2008), and Rem Koolhaas/Cecil Balmond (2006). The architect Zaha Hadid who had designed the 2000 Pavilion also came along for the celebration.
Spending the night in the park may not be as sordid as it sounds, because as part of the summer program, the gallery and the Victoria & Albert Museum are staging a sleepover event inside the Pavilion, beginning late at night with films, music, talks and a midnight banquet that will continue on until breakfast is served the next day at 8am. Artists, psychologists and scientists will host experiments throughout the night for the wired, sleepless guests to explore the psychedelic qualities of insomnia and alternative sleep-states.
Guests might be treated to some lullabies as well.
Sleepover at the Serpentine Pavilion: A night of creative thinking: 30-31 July 2010 from 10pm - 8am
Wolfgang Tillmans 26 June - 19 September 2010, Serpentine Gallery, Kensington Gardens London W2
FOLLOW HUFFPOST