I have no idea what to do with myself when I have nothing to do.
Let me re-phrase that.
At no point since 2010 -- the year I had my daughter -- have I had nothing to do.
I mean when my husband says "go enjoy yourself and take some time off," I haven't the slightest clue what I enjoy doing anymore or want to spend time doing.
This "me time" concept is usually stressful. Inevitably, I end up going to a mom-crack den, i.e. the supermarket, Target, Bed Bath & Beyond or (enter children's clothing store name here) looking to buy things (fingers crossed -- on sale, or the magic word -- clearance) for my daughter.
My name is Stacey and I am a princess enabler.
I get a thrill from seeing Rapunzel's purple peeking out -- my daughter's favorite princess.
The truth is, the gasp of excitement I get from my daughter when I show her these items is better than any manicure or pedicure I could get during my time "off."
So, what does one do when one has free time?
Often, this leads to me staring at the wall -- which bothers my husband. He insists I do something when I have nothing to do.
Not do nothing.
So today, I tried doing what one does when one lives in the 'burbs' -- which we now do. I went to the mall. Like Robin Sparkles.
But honestly, I didn't want to spend any money. Between buying a house, a second car, bi-monthly oil deliveries at $500 a pop and having a second kid in the last few months, I'm much more excited to save these days than spend.
I do legitimately need a few things -- I'm just not into shopping anymore. Even if I give myself permission to splurge (within the confines of my store credits), it's just not appealing.
Plus with my post-pregnancy body deflating in some parts while inflating in others, often by the hour, I don't want to buy new clothing.
Not to mention I don't know how to shop in a physical store anymore, thanks to the interwebs, Amazon Prime and the court-appointed mom-stume of leggings and boots.
I haven't been to a mall in so long, I'm not quite sure where I'm supposed to shop. I don't want to look like that mom who grips with white knuckles onto her youth and shops in the trendy stores that would sell Z. Cavaricci's. They're still the rage, right?
Told you it's been a while.
I'm not quite the Talbot's demographic yet either.
I don't want to be Forever 21.
Why is there no Sensible 35?
I need boots, but I refuse to try something on by a brand called "Fergalicious."Oh! Dr. Scholl's makes a boot.
Did I just say that?
Step away mom-jeans, step away.
Doc Martens? Is it 1991? If there is a Dylan McKay poster at the Piercing Pagoda, I'm totally going to buy it.
I mean leave.
Immediately.
I walk on.
How about some pampering? I try getting a haircut, but I have a fundamental issue with a salon charging extra to dry my hair. When did this become a thing? It used to be a flat price for a wash, cut and dry. Don't itemize. Please just dry my hair. Not talking an updo here, I just don't want to catch pneumonia.
I walk on.
I check out a kids store "going out of business" where everything is 50% off. Seems like some sort of closeout store, so I spend half an hour picking out a great selection, only to find out the items I picked are the only ones NOT on sale. I leave them at the register.
I give up.
Of course the items I chose are excluded. Plus, the store's name has poor grammar, making me think they are selling children, not children's clothing. Which makes me mad.
I walk on.
I roam a bit more. Girl Scouts. One holding a "It's Cookie Time" poster. While I don't buy any (not a sign of will power, because I already ordered five boxes), I enjoy the Troop Beverly Hills flashback that rushes into my head and wish these girls would break into the "It's Cookie Time" dance the Troop does in front of the yellow and white-striped Giorgio on Rodeo Drive. Those girls were good at selling cookies. These girls, not so much.
I walk on.
Is this lack of store direction a metaphor for not being able to define myself? The same reason why, when someone says "what do you do" my answer is different each time and 23 minutes long?
What do I do?

Who am I?
Am I "just a mom"?
Do I work?
In the home?
Out of the home?
Part-time?
Full-time?
Half-time?
All of the time?
Team Brenda?
Team Kelly?
What just happened? I blacked out.
I walk on.
Wait! A store catches my eye. I see Tie-dye stuff. My favorite type of stuff. But wait. I also see acid washed jean shirts and... Bajas.
Huh?
Seriously, is it 1991 in here?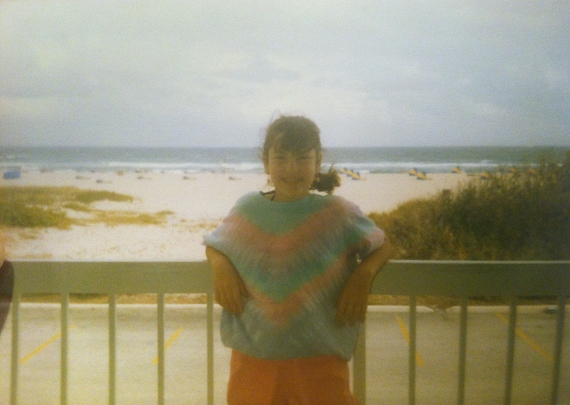 An unflattering picture of me from 1991 rocking a tie-dyed shirt - and possibly wearing Z. Cavariccis.
This is the type of store where, growing up, I would beg my mom to take me and she would say no. But I have my own credit card now! I don't have to ask anyone's permission.
I get a small thrill.
I go in.
I could do some damage here.
I try things on. The shirts will look good with leggings and boots. I know this because I'm wearing leggings and boots.
I immediately answer all my identity questions. I am a mom in my mid-thirties in some odd time warp wearing a super cool tie-dyed shirt and need no one to tell me I can get it. Raise your right hand, Beyonce!
I buy it! And two others.
Not going to talk about how the store I feel comfortable in is clearly stuck in the '90s too. Maybe that's why I feel so at home there? Plus, Kellie Martin and Carla Gugino were shopping with Shelley Long and the sales girl looked like Kelly Kapowski.
Not.
But you kind of wish it too, right?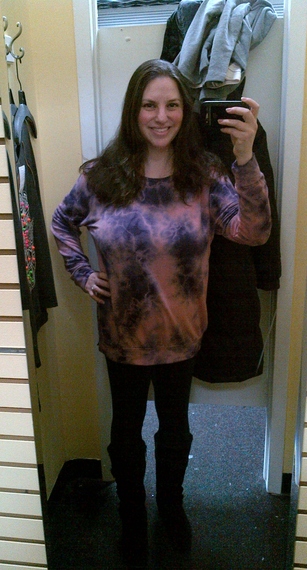 Trying on my new purple and pink tie-dyed shirt in 2014.