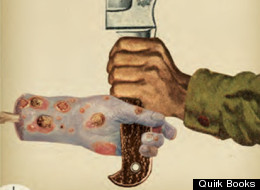 The zombie apocalypse is coming. We all know it. Why else would we have a stockpile of Cheese Doodles and extra shotgun shells under our bed if not for securing the perimeter and a delicious snack? Because I'm a book nerd, I also have a teetering stack of novels to keep me occupied until the undead figure out how to use doorknobs and actually enter the house.
As the author of the Zombie Tarot [Quirk Books, $16.95], I wondered how my favorite writers would face the oncoming horde. With conviction and a steadfast gaze, daring the zombies to blink first - which should be a cakewalk since most of them no longer have working eyelids - or would they crumble under the pressure? I decided it's time to find out who has the guts and who left them to be munched on by Hell's Handmaidens through a simple tarot spread. Buckle up, Buttercup, it's go time for the authors of the 19th century.
Using a three-card spread, how asked each would fare using:
Card 1: How they would view the zombie apocalypse: Fearing for their lives or giggling in a corner and annoying people by saying, "I told you so."
Card 2: What they needed to focus on to survive.
Card 3: The ultimate outcome. Would they lead the next wave of survivors to victory or end up chewing on their own feet?
Zombie tarot readings for authors
Edgar Allan Poe was delectably creepy. His influence on millions of emo kids leaves their parents ready to scrub a few faces and make them get a damn haircut. A natural for the tarot, he probably had a deck or two stashed around the house in case he needed a bit of inspiration. Zombie apocalypse? Bring it. It's hard to tell around the Poe household who was a vicious, death-hungry miscreant - and who just needed a hug. Card 1: Ace of Swords: Who knew Poe was a badass? Okay, everyone. The Ace of Swords is just the excuse he needed to get those juices flowing again for Nevermore II - The Raven's Revenge. Aces are seen as beginnings: a new business venture, a fresh path to travel, even a crazy man with a penchant for making pretty much everyone in the room move away when he heads for the cheese platter would get excited to see this bad boy. I'd be a little scared for the zombies when he gets that gleam in his eye. It's hunting season and Poe's leading the charge. Not to save mankind, he's just ready to play. Card 2: Three of Cups: I called this one a mile away. Who didn't see Poe falling in love with a hot zombie babe? So what if you could feed her cocktail meatballs through her wide-open cheek holes at a party? Who cares if children use her as a festive floating device at the pool? Poe is in love. His focus is now on keeping her safe from the ravages of time and anything having to do with lighter fluid and matches. Score one for their side. Card three: Seven of Swords: Some people never listen. The Seven of Swords represents someone close to him that fondles the firepower a little too enthusiastically. His love will turn on him and lead to his ruin. Then again, did we expect a different fate? And would he have wanted it any other way?

Jane Austen and I go way back. I've had a crush on Captain Wentworth for years despite the influence of Mr. Darcy brooding at me in a corner whenever I read Pride and Prejudice. I'd bet a bucket of thumbs he's been hiding a dirty little undead secret for years. Card 1: Nine of Wands: After a career of throwing together mismatched couples, she's faced with one more sticky situation: how to make a successful union of breathers to let's say the "pulse-challenged." Not one to give up after the first missteps of a clumsy dance partner, Austen faces the zombies head on - and will most likely keep hers firmly attached. Card 2: Strength: Relying on her instincts, Austen has little trouble digging deep for the resolve needed to face the horde. After all, she had to deal with the snarky little beasts that inspired some of the characters in her novels. All she needs to do is focus on Mr. Collins and pull the trigger. Card 3: Eight of Hazards: Austen is able to roll with the punches and after taking out a staggering crowd of fancy pants zombies at an assembly she most likely has a plan to round up the rest to take care of that pesky Napoleonic problem. A different approach will help her tidy up Britain from the scourge; the only question is where should she start-- the head or the heart?

Mary Shelley created the ultimate zombie in Frankenstein's monster. He's big, he's a bit moldy and has a flip-top cranium that makes brain matter easily accessible if you can get over his anger management issues. Good luck with that. Card 1: Two of Hazards: Shelley's in her element. Heck, she must have had a feeling her in her bones something like this was bound to happen. Knowing the balance of power is always shifting, she is able to get her groove on with both zombies and humans. Her uncanny ability to fit in on both sides makes her a valuable ally...and just a tiny bit sketchy. Card 2: Nine of Cups: Cups represent relationships in the tarot. Shelley continues to work both sides to keep her brain firmly in her skull; not only does she need to fear the zombies' appetites but also the humans' distrust of a woman who moves between both camps with ease. She's living the dream, what better time to fix plot holes than while trapped in a castle when the zombies get their panties in a twist and it's time to lay low? And where did those angry villagers get to anyway? Card 3: Seven of Hazards: The villagers were delicious. They kept the zombies busy and since the Seven of Hazards denotes patience, Shelley's going to have to keep on keepin' on if she wants to come out of the apocalypse with her limbs attached. Now where did she put that extra box of Cheese Doodles?

Bram Stoker's vampire didn't sparkle, get misty over a girl or probably play baseball in that cape but he set the bar high for monsters everywhere. Zombies hate this guy. How can they compete with someone who looks great after a night out? Zombies consistently look like they've been run over by an overly-caffinated soccer mom on a mission of hate with her minivan. Count Dracula has the digs, the duds and the dames. Zombies have a bone to pick with Stoker. Card 1: Six of Swords: Sometimes you just need to get away. Stoker views the apocalypse as something that will blow over soon. Seriously. How many zombies could there be in a small village? Especially after they've eaten Shelley's neighboring townsfolk, they must be full, right? Stoker's ready to sit this one out and pretend the apocalypse isn't happening. Another pina colada, Count? Card 2: Wheel of Fortune: He's got a rabbit's foot, a couple of shamrocks and a horseshoe but will that keep his luck from running out when the zombies eventually catch up to him? He's relying too much on good fortune to save him when he should be securing the castle portcullis and stocking up on supplies for the long haul. Card 3: Queen of Cups: It's always the broads that get them in the end. The Queen can't control her sex appeal any more than Stoker could reject the idea of a woman only wanting him for his brain. The lure was too potent, his destiny was doomed from the moment she scaled the walls and into his heart - the hard way, through his ribcage.

Oscar Wilde was always a bit wicked. He was one wild and crazy Victorian, living by his own rules and shunning the social mores that suffocated creativity. I think he would have fit in with nicely with the zombies; neither gives a fig who you are, you're just another tasty morsel to be experienced. Card one: Four of Swords: Swords depict a razor-sharp wit and intelligence that is not easily matched but sometimes the sword turns on its master and cuts to the quick. Wilde's initial bravado to wield a sword of words and its subsequent butt-whuppin' has left him a little shy of going back into the fray. While zombies raid the mini-mart, Wilde is still pondering his next plan of attack but from the safety of a boarded up house. Let the heroes fall first, he sits and plots. Card two: Two of Wands: Decisions need to be made and Wilde is a bit of a waffler. His lack of focus to forge ahead with a new plan and shake his bad thang at the undead is mixed with a sincere emotional attachment to his bad thang. Can you blame him? Unfortunately while he frets, the zombies are advancing and his escape route is closing. Card three: Nine of Swords: Well there goes his bad thang off in the pocket of a wandering zombie. His lack of action resulted in decisions being made for him, such as who gets the meaty bits and who gets to suck on the bones. With characteristic panache, Wilde was heard to say after his ravaged body lay upon the street, "We are all in the gutter, but some of us are looking at the stars." Of course, he was missing an eyeball by that time but that's neither here nor there.
Follow Stacey Graham on Twitter: www.twitter.com/staceyigraham