While visitors typically think of Luau's and Hula as traditional Hawaiian activities, an increasing number of adventure-seekers are paddling past the typical tourist activities and finally getting a true taste of the island's traditions.
Since 1987, when it was declared Ho'olako, year of the Hawaiian, Hawaii has experienced a renaissance of its rich ancestry, traditional skills that had almost become extinct are now being taught and honored again, in so many new ways expanding the legacy of paddling.
Hawaiian culture is deeply rooted and linked to the ocean's demands and it's no surprise this ancient mastery of navigation, canoe construction and adventure is being revived more than ever before.
For a more adventurous slice of aloha, suit up and drop in on one of these unique paddling adventures. I promise after feeling the ocean spray kiss your face as you ride a wave into shore, you'll become a worthy waterman before your return ticket home.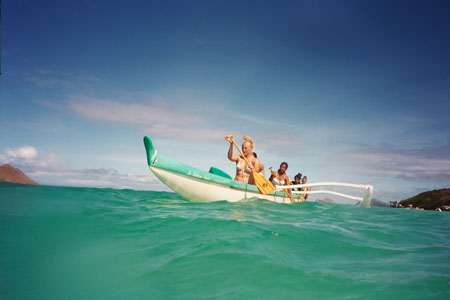 Suit Up
Aloha Ambassador, Hawaii native and Canoe Connoisseur Nakoa Prejean's Hawaiian Ocean Adventures is the most direct ticket to an authentic Hawaiian ocean experience while sharing island culture, history and traditions.
Outings are eco-minded, teaching visitors the importance of Hawaii's nature and wildlife while leaving behind very little carbon footprint with the use of non-motorized water transportation. Each group is guided into the protected waters of Kualoa, where they can sail or paddle around the small island of Mokolii, known by locals as Chinaman's Hat, viewing turtles, rays, and a variety of other sea life. You get to talk story among the lush greenery of the beautiful Hakipu'u area, a place known as the re-birth of Hawaiian canoe sailing.
Being Hawaiian and coming from a family settled deep in Hawaiian tradition, Nakoa was introduced to the sport of canoe sailing at a young age, today he is a master canoe builder and waterman -- and always extends rare insider knowledge to his clients.

Bonus: You get the master Hawaiian waterman on this adventure from hull to sail.
http://hawaiianoceanadventures.com/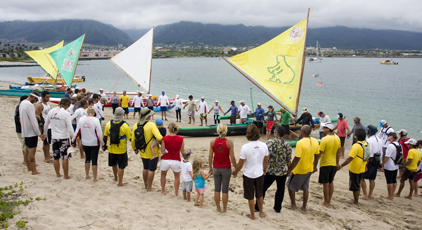 Luxurious Tradition
You've snorkeled, shopped and napped; if your speed is more watch-from-the-beach with possible participation sort of outing, check in, and check out the 7th Annual Wa'a Kiakahi at The Ka'anapali Beach Resort in Maui. The Wa'a Kiakahi race perpetuates the ancient sport and culture of Hawaiian canoe sailing. If you have never experienced a traditional Hawaiian welcome ceremony, you should. A Hawaiian Kahu will chant and welcome the sailing canoes in as they arrive from their starting point in Kahalui. Afterwards the crews will gather in a circle and a Hawaiian pule (prayer) will be said. All beachgoers are encouraged to join the circle in welcoming these watermen and women to Kaanapali.
Live like royalty and explore Hawaiian canoe sailing in style and opt for an overnight at the resort. Long ago, Hawaiian kings and queens who sought a relaxing, rejuvenating retreat at this exact breathtaking spot enjoyed the sands and lush gardens.
All weekend visitors get access to canoe rides from the participating 10 teams, crew members will be on hand throughout the day Saturday and visitors are encouraged to mingle with the crews and learn more about this ancient form of Hawaiian canoe sailing on a one-on-one basis. Sunday is the traditional Hawaiian farewell ceremony for the crews before the team's race from Kā'anapali on a journey to Moloka'i. This traditional Hawaiian send off is worth the price of your hotel room.
Bonus: Splash, and relax in luxury while getting exclusive access to Hawaiian tradition.
Friday June 10th-Sunday June 12th, www.kaanapaliresort.com
Couch Surfing
For those of you who claim to be extreme explorers of the couch kind, Ocean Paddler TV is your first class ticket to bypass airport security, flight and hotel shenanigans. This action-packed locally produced television show brings the culture of ocean paddling sports and outrigger canoes to both a national and international audience.
In 2010, Ocean Paddler conducted the first multi-camera LIVE webcast of long distance channel crossing canoe races, the Moloka'I Hoe and Na Wahine o Ke Kai- known as the most treacherous channels on Earth. The webcasts attracted viewers from over 100 countries and set the stage to finally transition outrigger events into a spectator sport -- gold medal win for couch surfers everywhere.
The show is televised locally and nationally, both locals and mainlanders have full access to participate and experience high endurance sports and authentic Hawaiian Heritage from the comfort of home.
Bonus: Experience extreme ocean paddling from the comfort of home without a sunburn.
Check local air times: www.oceanpaddler.tv or www.universalsports.com
SUBSCRIBE TO & FOLLOW LIFESTYLE
We're basically your best friend… with better taste. Learn more