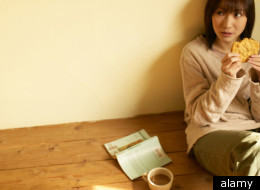 To me, good books and holiday baking will always be intertwined. When I was a kid, the last of our family's long string of Christmas Eve rituals was to set out a plate of cookies for Santa then hop into Mom and Dad's bed with my siblings for a reading of "'Twas the Night Before Christmas." Each year I'd startle myself awake in the morning, wondering how--how it was possible!--I had yet again this year missed hearing Santa descend down onto the roof. But sure enough, all the proof I needed: only sugary crumbs remained where the cookies once were stacked.

As an adult, the connection is more direct but, I think, just as magical. I am the author of the recently released cookbook "The Cookiepedia: Mixing, Baking, and Reinventing the Classics," [Quirk Books, $18.95] which is a collection of 50 classic cookie recipes made easier and modernized for today's baker. So, yes, cookies and books now very literally go hand in hand for me.
In the spirit of sharing my winter tradition, I've assembled a list for you of 10 great books to curl up with, and the 10 cookies that pair perfectly with them. Be warned: Smudgy pages are likely!
Doesn't the ultimate icon in Christmas reads deserve an equally iconic cookie? The answer is yes, and the cookie is the sweet and chewy chocolate chip. Heat a few through in the microwave to max out the melty nostalgia, but be warned: you may have to pause the poetry when you take that first bite. After all, it is hard to read with your eyes closed!

McCann masterfully weaves multiple plot lines into one brilliant story; You effortlessly twist together two chocolate and vanilla doughs. The cookie looks like it's "spinning"... Get it?

I'm pretty sure even Barbara Kingsolver would have made an exception in her pledge to grow or locally source her family's food for a batch of these pink-frosted animal cookies. Look at that sheep. Some rules are made to be broken.

These puff pastry creations are perfect for crunching on while flipping through Pepin's autobiographical account of his chef upbringing in French restaurants and farms. It's vaguely heart-shaped--fitting because of how much I love this memoir.

Japanese matcha tea powder gives these cookies their Grinchy green. These bright, lightly sweet and lightly bitter biscuits would not have been safe from his grasp had they been set out on a platter in Whoville.

Compelled by his dreams, Coelho's protagonist sets out on a sort of treasure hunt, through which he ends up discovering his own courage and potential. Look at this airy, artsy, fancy-pants cookie and repeat after me: You can achieve this baking feat. You can achieve this baking feat.

It may be sacrilege to call Hemingway stories a perfect match for cookies that have Fritos and Cool Ranch Doritos baked into them. But isn't that exactly the type of cookie you'd picture men baking if women weren't around? Guys, that's not a dig--this one's popular with the ladies, too!

You can't not smile a bit as the Ganguli family slowly grow out of their tradition-bound Bengali culture into their new American lives in Lahari's first novel. These woodsy, herbal Cardamom Cookies provide a tangible blending of universes.

The perfect combo of bizarre and beautiful, my favorite Robbins novel is all about keeping the spark alive in your relationships. Cookies = a way to do that! And doesn't the texture just seem like something a woodpecker would go to town on?