Sarah Palin has been lauded as representing the typical American mom -- the soccer and hockey mom, the stay-at-home mom, the mom who struggles to make ends meet since her husband got laid off, the mom who worries about being able to afford health insurance, the mom who juggles work and family -- and yes, the moms who have bake sales. Those were the very same moms who showed up on Weaver Street in Carborro, North Carolina, on Sunday, September 28, but they weren't there to represent Sarah Palin and her ideals. They were Mamas for Obama.

Most of the 39 volunteers didn't know each other when they arrived, having just signed on a little more than a week before. But as they dropped off cakes, pies and cookies and began working together with the kind of efficiency multi-tasking moms know only too well, they quickly became acquainted. Just as the last sign went up, local citizens, strolling by on their way to hear dozens of street corner bands during the annual Carrboro Music Festival, stopped to buy a homemade treat. Some were on a mission to hear music and paused just long enough to buy a cookie for their tugging toddler, but others wanted to talk about what was going on with the economy, the first debate, volunteer opportunities, and what the next six weeks before election day might bring.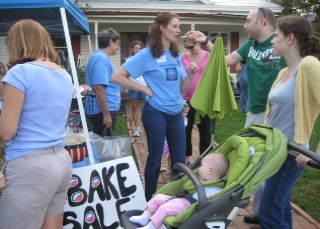 The Mamas for Obama didn't stop until the last cookie and raffle ticket were sold at 6 o'clock, an hour after the sale was to end. The more than $1800 they took in will go straight to the Obama campaign in the name of this newly-formed, last-minute North Carolina grassroots group that shares its name with many other like-minded moms' groups across the country.

What do these moms have in common? Two seemingly opposite emotions--hope and anger--have motivated them to get involved and be a part of the change they want to see.

Jennifer Schmidt and Claudia Martinez-Wayman, who organized the local event, met at a toddler group both their daughters attend and began talking about the hubbub that was sweeping the nation in the wake of Sarah Palin's introduction at the Republican National Convention. Martinez-Wayman felt frustrated that suddenly Sarah Palin seemed to stand for moms everywhere and that "mothers were coming out and saying how much they loved her. I had the idea to do something that showed that not all moms support Sarah Palin and [the ideas] she stands for."

Schmidt agreed. "I never thought I'd be so unhappy with the potential of having a woman in the White House. I'm pretty tired of hearing how she is supposed to be the embodiment of a modern woman. She doesn't represent me as a mom."

"We were so disgusted with the Republicans [during the convention] and what they were saying, that we felt we had to do something quintessentially 'Mom,'" Schmidt went on, and that's when the idea for an old-fashioned bake sale came about.

"I'd been wanting to get involved" with Obama's campaign, Martinez-Wayman explained, "but I was not comfortable with knocking on doors and making phone calls to strangers, but I like to bake." This is something she knew she could easily do in her own kitchen. Her wreath-shaped sugar cookies decorated with red, white and blue icing said it all with one simple word: Hope. They sold out more quickly than any other.

She said having the opportunity to volunteer and feel she was a part of this grassroots movement was as important for her as it was for all the other moms and grandmothers who showed up--"to feel a part of this campaign, to have a sense of ownership-- and it's something we can do with small children at home."

These sentiments were echoed by the women who came with children in tow to drop off a variety of baked goods. Stephanie Baselice, who found out about the group's planned bake sale from an internet Mamas for Obama loop said, "What got me [motivated] was when I read a posting from a woman that said she didn't want to tell her grandchildren that she had just sat passively by and watched the news during this election... I felt I had to do something, too. I don't have a lot of time or money, but I saw that it was a bake sale, and I thought, I can do that."

Baselice, who brought an amaretto and rose custard cake with cocoa frosting along with a tray of freshly-baked cookies, added, "I have an 8-year-old and a 3-year-old. My husband was laid off last year" after 11 years with a company he helped build. "He lost his pension and benefits" after the company grew to such proportions that they started reorganizing and it became another example of "corporate greed--the executives at the top began sucking the cream off the top and they forced entire departments out by restructuring and downsizing in an underhanded way." Now her husband has started his own business and they pay $800 a month for their family's health insurance, which she says doesn't cover a lot of the medical costs they've had to pay on top of it. "It hasn't been easy," she said.

Baselice has a degree in economics and worked in finance before having children. After traveling through Europe and studying international institutions and globalization, she came to believe that "we need government [to fund] some programs; some regulation is good," as she points out the current economic failures on Wall Street have proven.

She learned the power that women can wield when she traveled through many foreign countries observing successful globalization programs. She saw that when women were given money by the government whether as loans or subsidies, "they immediately started spending it to buy food, improve their family's nutrition, health care, their children's education, and start their own businesses." She learned that women used their power wisely and were a good investment.

Baselice, Schmidt and Martinez-Wayman see women as a powerful constituency that has great potential for organizing and fundraising, especially when they get creative about how to go about it given their busy schedules.

"The real take-way from this," Schmidt reflected the day after the bake sale is that "change only happens when we all get mad enough and say we want it bad enough. It was amazing to see this disparate group of women come together--young moms--some with tattoos, grandmas, stay-at-home moms, working moms, the ladies who lunch bunch," come out in force to be a part of a community organization.

"It really drove me crazy that Republicans were smugly saying that community organizers don't really do anything, don't really matter," she added. "But, we do. What we did is really important" for the women involved as much as for the Obama campaign. "I'm not so sure it would have been possible five years ago even" to organize and publicize a fund-raising event as quickly as they did. "The internet makes it easier... It's changed the grassroots movement [and taken it] beyond canvassing and voter registration. This is a very different kind of campaign."

Martinez-Wayman agrees, citing the Obama campaign's presence on MySpace, Facebook, Twitter and the use of texting to get to a whole new, untapped demographic of "students and young people who haven't always been involved" in the election process until now. "I've never seen this level of civic engagement... it gives me hope that my daughter will inherit a country that she is proud of and that she will one day want to be involved... That's what I like about Obama. He motivates people to get involved because he represents hope... for so many young people, he's a breath of fresh air."

These Mamas for Obamas are like many other grassroots women's groups that have sprung up in small towns and cities across America with similar catchy names -- "Abuelas for Obama," "Black Moms for Obama," "Blue Moms for Obama," "Babies for Obama" "Republican Moms for Obama," "Kansas Women for Obama," and just about every state's women for Obama, including even "Alaskan Chicks for Obama." They are following Obama's lead and making change happen on the ground.

According to Lousie Barilli, co-administrator of the national Moms for Obama group started in February 2007 by a few moms that has now grown to a membership of 1,852 and raised over $350,000, "We are going to show this nation that we are smart and community organizers and we're NOT going to have four more years of McSame."

They are currently planning a nationwide rally in cities and towns across America on November 1st. It will be "a tremendous opportunity for mothers and families to gather and share their concern for all of our children. As well as to demonstrate to the American people that mothers will be out in force on Election Day and we will be supporting the Democratic ticket of Senators Barack Obama and Joe Biden." The Carrboro Mamas for Obamas, having proven what they can do in a short amount of time, are already meeting to plan a rally here.

So even though having a local bake sale is as homey and all-American as Mom and Apple Pie, these moms believe they can change the world -- one day a bake sale, the next day part of a nationwide rally to get out the vote -- Yes, they can.
-----------

SUBSCRIBE TO & FOLLOW THE MORNING EMAIL
Start your workday the right way with the news that matters most. Learn more