"OH WOW. OH WOW. OH WOW." -Steve Jobs' last words.
If you're in Mexico or Mexican, November 2 is a good day to have a chat and a good laugh with someone on the other side. If you're me, you're doubly blessed. On this day it is believed that the veil between the physical world and the spirit world is the thinnest. It also happens to be the day I was born. In Mexico.
Welcome to my world - of birth, death, and that shimmery, intangible, and sometimes messy space in between.
They call it Día de los Muertos (Day of the Dead). Unlike the name suggests, however, this day has fiesta written all over it - not just for me personally, but for an entire nation. With elaborate altars - many of which can take days and entire paychecks to put together - people gather in droves to honor and celebrate family members who have passed on.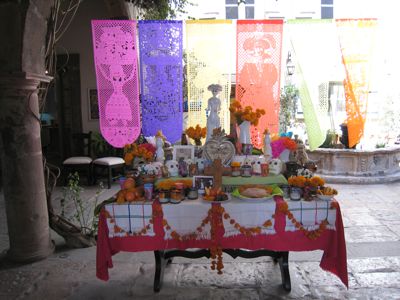 Perhaps it's no surprise given my unique pedigree that I find myself again at this time of year tuning in with acute awareness to the natural cycles of life and death.
Just last week, for example, I learned about the deaths of three women - all mothers of friends of mine - who fought hard to live, but crossed over with great courage and spirit.
There's the gorgeous eulogy written by Steve Jobs' sister Mona Simpson that came out in the New York Times recently, and has been making the rounds. In it Simpson talks about her brother's life, his loves, his final hours. I was transported.
There was Oprah's Lesson 12 called "Holding On to The Past" from her new Lifeclass series on OWN - which I inhaled. In this segment she revisits the extraordinary show she did years ago with Gary Zukav (bestselling author of The Seat of the Soul) where they explored the profound gifts that the dying can give us. You could hear a pin drop as Zukav offered this wisdom to a young couple struggling to make sense of the premature loss of their baby son:
"You are not your circumstances. You are a higher level of being and consciousness that is a soul. Life is much bigger than just a body. When you are grieving over the loss of a loved one, sense the presence of their soul, which is always with you, instead of the personality that is gone."
So yes, I'd say that "death" in any form is always up for us to consider, if not for the promise of what might be on the other side of it. I don't believe either that we have to wait for All Soul's Day to come around to receive its goodies.
You can honor the life of a loved one, or you can honor and celebrate yours by taking a moment to stop, reflect, re-member (as in to call back the scattered parts of yourself), and release what no longer serves and supports you.
You can follow any of the steps below - anytime the spirit moves you - to create your own altar of remembering and letting go. All you need to get started is a small table or a shelf in a quiet place in your home...
Place a colorful cloth, flowers, a candle, and any object that makes your heart sing.
Gather and add items that symbolize things, people, habits, beliefs, memories, or outcomes you wish to release (e.g. clothing, letters, food, photos of ex-husband or wife...)
Light a candle, close your eyes, and take a moment to connect in and get centered.
Call in a Divine Presence, or a higher power, to hold a space for you and help anchor your intentions.
Expand your energy field with your breath, and imagine it filling the room as you repeat this blessing silently or out loud: "May this _______________[thing, thought, aspect of myself, painful memory, habit, relationship...] be fully released for the highest and best good of all concerned. And so it is. And so it shall be."
Allow yourself to feel all sensations or emotions that arise without fixing, managing, or judging them [note: this step is key].
Keep breathing.
Notice in the days that follow any dreams, shifts, synchronicities, ah-has and write them down.
Keep your altar fresh and vibrant; replace objects regularly; move your altar to another location (or remove it altogether) if it isn't working for you.
I can only imagine what the final ride will be like to the other side when our time comes. But if Steve Jobs' final words are any indication, I'd like to think that it will be an exquisite homecoming.
Even more so after we've completed what we came here to do.
SUBSCRIBE TO & FOLLOW THE MORNING EMAIL
Start your workday the right way with the news that matters most. Learn more