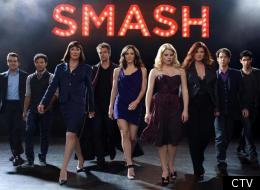 A show about Broadway, with original music, starring Debra Messing in a charmingly co-dependent relationship with a fabulous gay man, and Anjelica Huston as a merry divorcée? It sounds like a no-brainer hit aimed squarely at the crowd that used to love smart comedies like "Frasier" and "Will & Grace." But now that the pilot for NBC's much-hyped "Smash" has finally aired, I'm still not sure it can live up to its title.
For one thing, it's not a comedy. Not that there's anything wrong with that, as the expression goes, but I did expect to chuckle, or at least crack a smile. Maybe I've been misled by the aphorisms coined by Noel Coward and Oscar Wilde, but I've always thought that people who write hit musicals -- not that I've met many of them, admittedly -- tend to be witty sometimes. But "Smash" is perilously low on humour. Not a single moment of wit, no instances of repartee, nary a double entendre, not even a lowly pun appeared over the hour.
Perhaps the show is taking a quote from its muse, Marilyn Monroe, a mite too seriously. "Don't make a joke out of me," Marilyn may have asked, but she was a fine comedienne and clearly loved to laugh. A script that had its character delighting in the possibilities of a baseball number could do with a few laughs for us, the actual audience, instead of limiting them to the fictional audience of the future musical.
That said, there is something here. The casting mix of seasoned Broadway, film and television stars means the performances are all strong, but the script -- which really was surpassingly stale considering the subject matter -- isn't giving them much to work with. The strongest element of the show is the tension between the two potential Marilyns, Katharine McPhee and Megan Hilty. The pilot belonged to McPhee, who got to open the show with a rendition of 'Somewhere Over the Rainbow,' the song she pwned on "American Idol," She also rendered Christina Aguilera's 'Beautiful' well, beautifully. McPhee's character got more backstory, more screen time and was obviously meant to be the fan favourite at the end of the night, but don't count Megan Hilty's Ivy out yet. One thing the script handles well is getting you to change your mind about which actress would be best in the role several times -- a precarious postion it can hold onto for only so long, one imagines. Unless we're heading into an "All About Eve" situation, which of course, Marilyn did have a small part in.
In an earlier note on this show, I called it "Glee" for grown ups, but I freely take that back. "Smash" uses music with much more sophistication than "Glee," and the music is "sophisticated." By which of course, I mean not terribly catchy, and occasionally tuneless. Broadway fans, don't even front. Just admit that in any big musical (besides 'Les Miserables' ) there are bum numbers, ones you'd have to listen to the cast recording of eleven billion times before you'd know the melody. My question is, can that possibly work on TV? If it's not a pop song, tried, tested and moments away from being overplayed, do we even want to hear it? I hate most of the music I hear on "Glee," "Idol" and "The Voice" but at least I've heard it before, which somehow rivets me to the screen, to hear just how awful a Michael Jackson, Marvin Gaye or The Beatles tune can be made to sound. If I don't know the song, how am I supposed to know if it's being butchered? This is what all these singing competitions have done to me.
I will give "Smash" more time to win me over -- I appreciate that it's smart and upbeat, something NBC used to be really, really good at. If they manage to add funny and tuneful to the list, it might just be a smash.
Megan Hilty on playing Ivy Lynn: "She is fantastic! She's a girl who knows what she wants, and she'll do anything she can to get it."

Debra Messing on Julia and Tom's working relationship: "We're brilliant! [Laughs] Our characters are so brilliant at writing these songs. Those songs are genius, right? I feel like I'm sitting fifth row center at the best Broadway show, to be able to sit behind that table and just watch Megan Hilty and Kat McPhee sing for eight hours straight, and all this intricate choreography, these great dancers ... it's heaven."

Christian Borle on Tom's past with director Derek Wills: "For the sake of good drama, they draw it out a little bit, but we do get to see what it is. They kept telling us, 'We're gonna get there -- it's all going to come out and you're gonna have a big kind of knock-down, drag-out fight.' They kept teasing us. It happens ... later. But we were both very satisfied and excited for it. We were like giddy little schoolboys on the day we got to shoot it."

Jack Davenport on playing director Derek Wills: "He's not a creep exactly ... he's a little sociopathic. [Laughs.] In truth, the job of a director, especially working with that kind of very big canvas, you do have to be slightly Machiavellian and slightly manipulative and make yourself heard. Would I do it like that if it was me? Maybe not. But do I know directors like that? Yeah, sure! It's not that uncommon. He's not an asshole for the sake of it -- he's trying to achieve something. I'm kind of fond of him."

Jaime Cepero on playing Tom's crafty assistant, Ellis, who helped come up with the idea for "Marilyn" the musical: "It's a really fun character to play -- I don't usually get to play such layered characters. Ellis definitely wants to have a hand in this musical, and he's not that innocent. I think he's going to do whatever it takes to make sure that he has a hand in it, to make sure that he's part of the process, regardless of how it's starting out."

Raza Jaffrey on playing Karen's boyfriend, Dev: "Dev is in the mayor's office, and that's not a world that you'd imagine with Marilyn's kind of world. The clever thing is, by giving him ambition and making him a career character, it's not the kind of role where it will be easy between the two of them. It would be very easy to have the character sitting at home, waiting for his actress girlfriend to come home every night, and wondering where she's been. And actually there might be stuff coming up where it's actually Dev pulling the other way. So it's not what you imagine necessarily."

Katharine McPhee on getting to sing original songs and cover songs on the show: "I'm usually singing songs that I'm hearing for the first time, and it's such a fast pace that we're on, and you don't get a whole lot of time to sit with the songs and perfect them, as much as I would love to perfect [their] masterpieces. It is different because, for me, I think of myself as more of a pop artist, and Megan here has got, like, the big Broadway voice, so I'm always trying to balance the two so that they kind of are cohesive together, so that it makes sense in terms of the show."

Anjelica Huston on why she chose to make this show her first TV series regular role: "Because it's beautifully written. It's a fantastic cast of actors, a phenomenal team of people behind the scenes. We're working with the best of the best. I'd be a fool not to participate."

Megan Hilty on the characters of "Smash": "All of the characters on the show are written so brilliantly. You love them for the great things they do, and you love them despite the awful things that they do. Everybody's part villain and part hero."

Jack Davenport on the two actresses vying to play Marilyn: "The thing I found really thrilling about the pilot was the two girls, Megan [Hilty] and Kat [McPhee], were so well cast. They're both brilliant, but they're brilliant for completely different reasons, and both have completely legitimate claims on that role, again for completely different reasons. It's not as cut-and-dry as one is experienced and the other isn't -- it's an essence thing. As such, it's something that can go back and forth for some time. Speaking from the point of view of my character, I believe that one choice makes me, Derek, look smarter. But that's ... all I'll say about that."

On guest star Bernadette Peters, who'll play Ivy's mom: Megan Hilty: "Let me tell you -- Bernadette Peters has been my life-long idol. She's pretty much the whole reason why I wanted to go into this business. I wanted to be her. And then they told me that she was going to play my mother, and it's like, I don't know what I've done or how I'm going to pay for this, but I feel so lucky." Christian Borle: "She's unbelievable." Debra Messing: "Unbelievable! She sang a capella. I mean, that was insane."

On guest star Nick Jonas: Christian Borle: "We all got to enjoy sweet Nick Jonas, who was the most adorable guy in the world." Debra Messing: "He's lovely. I did not know the Jonases until he was cast, but we had these three nights of night shoots together where we all got very giddy."

Raza Jaffrey on Uma Thurman's role: "I've been delighted by how much the role has kind of surprised me. Like the Uma Thurman character coming in means whoever's got it doesn't necessarily have it for long ... and I'm really glad that they've made it complicated. And I kind of knew they wouldn't just make it the obvious choice -- I knew they'd throw some curveballs."

Executive producers and original song writers Scott Wittman and Marc Shaiman on plans to get the entire cast singing: Shaiman: "This cast ... they are the dream. We cannot believe our good fortune. Believe me, if you're a songwriter, to hear Kat or Megan sing your song ... and then we're also exploring things with some of the other characters ... it is our hope that by the end of the season, everyone sings! In a natural way. We're even trying to get some of the actors and actresses who never did it before ... " Wittman: "Who maybe aren't known for their singing ... Debra and Anjelica ... " Shaiman: "We have our eyes set on them."

Jack Davenport on whether or not he'll be singing and dancing: "Thankfully for everyone, I'm doing no singing at all. I am, I think, the only person in the cast who can't sing. And believe me, it's a relief for all, the dogs of America as well, that would be howling in protest. I've done a little bit of dancing though."

Debra Messing and Christian Borle being coy about if and when their characters will be getting in on the singing and dancing: Messing: "He's a legitimate Broadway star, so I think they're going to have to find a place for him to do his thing." Borle: "They're being very clever about it. They do want it to be real world, they don't want anybody to sing when people wouldn't naturally sing. I'm hoping to kind of do a little something, that would be fun. There's something coming up." Messing: "I'm a part of ... some things."

Raza Jaffrey on whether or not Dev will be singing anytime soon: "There might be some moves in that direction. What's funny is I don't think they knew that I sang and danced before I joined, but I'd done musicals in the West End before I came to 'Smash,' and I think it was a bit of a surprise. So maybe there's some demands on us in those directions that you'll see soon."

"Smash" creator and executive producer Theresa Rebeck on where the show's headed: "The first season, the plan is to take 'Marilyn' all the way to an out-of-town tryout, so it's her first really public presentation. And then the second season -- if we're lucky enough to get there -- would be 'Marilyn' comes to Broadway. How does 'Marilyn' fare in New York?"

Jack Davenport on Season 1: "By the end of the season, we'll be out of town, you know, doing the tryout. And again, a work in progress means exactly as it sounds. I think I have a line about nobody's anybody until ... until we've really settled on whatever it is, it's all up for grabs."

Megan Hilty on the rollercoaster competition to get the part of Marilyn: "I was glad that you know who gets the part really soon -- you can only draw that out for so long. But there are so many other things that we will be competing for. And just like it is in reality when you do these big shows: It doesn't matter who gets it initially because things change and people get replaced like that. [Snaps.] And that's just the reality of the business."

Debra Messing on the excitement surrounding the show: "It's a new place for me to be in -- I've never gone into a new show with the network behind it, with there being goodwill and excitement about the concept. So it feels good."