One of the best parts about the changing of the seasons is getting that inevitable email from my friend Liberty Jones, a publicist for Washington's venerable Neiman Marcus, inviting me to her twice annual beauty preview event where my colleagues and I sample various luxury products and fragrances awaiting their public launch.
Here's what I learned and a quick recap of some of my favorites.
Warning: Most of these are not recession proof, but if you're resourceful, you may find the next best thing at your local CVS.
1. Try goth glam, even if you are not Evan Rachel Wood.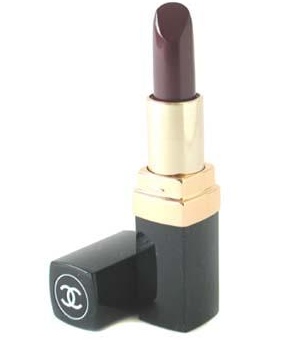 I allowed the lady behind the Bobbi Brown counter to give me a mini-makeover with Brown's much anticipated Black Velvet campaign coming this fall. My eyes immediately were struck by the sumptuously rich Black Raspberry Lipstick ($22) and the equally stunning dark purple and charcoal hues in this collection. I also like Chanel's Rouge Noir ($28). If you work in a conservative office environment, these colors may be too vampy for a day look, but you'll give off a "Twilight" allure and air of mystery with anything from this collection.
2. Nails are the new accessory and purple is the new black.

The "lady is a vamp" theme continues with a dark, infernal nail color, like Chanel's Paradoxal Purple ($23), or, my fave, Deborah Lippman's Dark Side of the Moon ($16). Remember: an interestingly laquered nail invites closer inspection, so it's best to keep nails short and well-groomed in order to pull off these unique shades. But they scream "autumn" and can be worn to the office or out on the town.
3. Cheeks have a natural flush.
The cosmetic experts at the event explained to me that this
Fall's "must have" dark eyes and lips should be the most pronounced features of your visage, so keep your cheek color to a minimum. They should have a natural flush, like you just came in from kicking some leaves in the park. To achieve this look, try Lancome's Blush Subtil in Shimmer Mocha Havana ($29.50).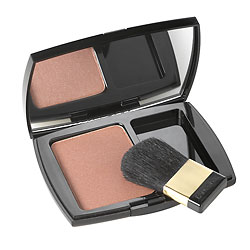 4. Even perfumes are dark and mysterious this fall.

Remember back in the day when Estee Lauder fragrances conjured images of an ethereal "beautiful" bride, or a languid day at the beach in "White Linen"? Those days are no more. Well, perhaps your grandma still wears those perfumes, but the modern Estee customer will be instantly drawn to her new perfume "Sensuous Noir" ($60). It seethes with a quiet sexiness, and has a powdery base that's not too much. I've been wearing mine to bed and putting it on as soon as I get out of the shower. The best part is that it has a lasting effect, and who can resist the "Noir" in the name? My friends at Neiman's tell me that a good size sample of this delectable scent can be found in their fall beauty bags.
5. It all goes back to your skin.
What do vampires and goth beauties like Rose McGowan and Winona Ryder have in common? Ridiculously smooth, almost transparent faces. None of these fall looks will work on tired looking and sun drenched skin. My favorite luxe beauty cream that gave my face a shot of luminosity and sun protection is La Prairie's Cellular Radiance Emulsion with an SPF 30 ($425).