Originally posted on the Washington Times.
Generation X may have found its own Annie Hall in Zooey Deschanel's portrayal of Summer Fin in the season's offbeat hit "(500) Days of Summer."
"Like Annie Hall, Summer does not market herself to men. She is independent, yet slightly quirky, and she proves that she can be the object of a man's obsession," says Hope Hanafin, the film's costume designer, referring to the title character of the Woody Allen classic, brought to life by Diane Keaton.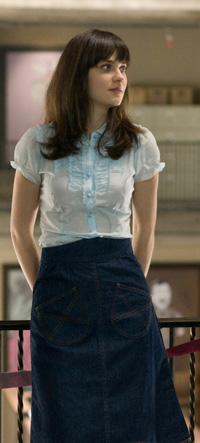 style="float: left; margin: 0 10px">Summer Fin is a 20-something from Michigan who finds herself in Los Angeles working as an assistant for a greeting-card company. Although the film's narrator classifies her as "average height and weight," she wins plenty of admirers in the office, chief among them Tom Hanson, portrayed by Joseph Gordon-Levitt, a smart but lovesick dreamer who falls hard for the free-spirited Summer.
Tom's fascination with Summer is the basis of the film's plotline, and Ms. Hanafin explains that Summer's unique style and confidence, like Annie Hall's, are central to the story's telling.
"I wanted the clothes to be classic and have a life beyond this time. People will be watching this film 20 years from now and looking at the clothes," she says.
"We wanted something timeless and less trendy. The actors understood how to create that identity through clothes," says the film's director, Marc Webb, who worked closely with Ms. Hanafin on the aesthetics of every scene.
Although Mr. Webb volunteers that he did not use "Annie Hall" as a "reference," he concedes that the two female leads do have similarities and distinguish themselves as women through their sartorial choices.
"What Ruth Morley did was take classic pieces and twist them and work through her leading lady," Ms. Hanafin says of "Annie Hall's" famed costume designer, who died in 1991.
In 2 1/2 weeks, and with a limited budget, Ms. Hanafin created a wardrobe that, like the leading lady who dons it, is a delicious contradiction.
She is edgy, yet girly. Sweet, yet slightly aloof. Averse to the idea of love, yet prone to wearing flirty bows in her long, lustrous hair. She is unconventional but is fond of wearing brooches on her lapel like a 1960s housewife. She simmers with sensuality but sports prim shirtdresses, buttoned-up blouses and argyle cardigans.
According to Ms. Hanafin, the demure "Summer look," which some have summarized as "1960s London schoolgirl," was entirely calculated.
"People who see the film think that Summer is a cynic, but she's really a closet romantic," Mr. Webb adds.
When the viewer is introduced to Summer early in the film, she is in a simple blouse with a butterfly pin from Ms. Hanafin's personal collection perched on her shoulder. Like the elusive insect, Summer remains an enigma to the audience, and much to his vexation, to Tom. She's beautiful to watch but hard to catch.
"She throws Tom off. She has this dichotomy. Unlike Borat's fascination with Pamela Anderson, we wanted Tom to fall in love with Summer's spirit and not her overt sexuality," Ms. Hanafin says. "We banned the Los Angeles look. No spaghetti straps, no cleavage, no hip-hugger jeans, and no Uggs."
Miss Deschanel, who went on shopping trips with Ms. Hanafin to strike the right looks, was involved in the building of the image, much to Mr. Webb's amusement.
"Zooey has very specific taste and is a very classy woman. If I asked her to walk around in a bikini, she would have walked off the set," he says.
Mr. Webb and Ms. Hanafin agreed from the beginning that Summer's crystal-blue eyes, which sparkle with life and intelligence, should be highlighted by the set and costumes.
"She wears blue in every scene and, most importantly, no one else wears blue," Ms. Hanafin explains.
The character's economic situation also was taken into consideration. "I wanted the characters to be real," Ms. Hanafin says. "She is a young person from the Midwest, working as an assistant. I wanted her clothes to be accessible and affordable, but we wanted the emphasis to be on her spirit and personality."
Ms. Hanafin says most of the pieces she selected for Summer were "from Old Navy, Target, vintage and thrift stores," adding that two of the more popular frocks (a silk gown worn to a wedding and a print halter sundress for a rooftop party) were antique pieces from the 1950s and 1960s.
"The guys have been asking my agent where they can get a couple of the dresses," Ms. Hanafin says with relish.
As for Summer's footwear, she wears flat shoes purchased mainly "from Keds and Payless. She is opposite of 'Sex and the City' in that regard," Ms. Hanafin notes, referring to the popular series and film that turned shopping for outrageously expensive stilettos into an art form.
"Her look is the high and the low, without the high."
Indeed, Mr. Webb summarizes the "Summer look" with what he sees as her greatest virtue: "Honesty. She never lies, and that is reflected in her beauty."