Adam Mansbach is the author of the New York Times bestselling Go the F*** to Sleep, a tongue-in-cheek adult children's book lamenting the late night vigils of nanny-less moms and dads.
He says that he still "struggles" with getting his toddler daughter to shut up, but did pass along a few key pointers to his fellow harried parents at a book signing at P.J. Clarke's in Washington, DC Tuesday night.
"I'm no expert. I'm just a schmuck who wrote a book, " he cautioned before telling us how he's coped with the sleepless nights.
First rule of advice: pass along the night shift to your partner. Mansbach says he now only puts his daughter to bed about "19 percent of the time. Otherwise, I would not have the time to write obscene children's books for adults."
Rule number two: Be as "boring" as possible when selecting bedtime stories for your little angel.
"In my stories, the characters have a picnic and then they pass out."
If your own self-invented stories fail, try the standard backup. Mansbach explains that the Pippy Longstocking stories are favored in his household.
Rule number three: Deprive them of sleep during the day. Just because President Reagan took naps during the day, doesn't mean that children should.
Last, but not least, employ some "patience", and never curse at your children.
Otherwise, they may grow up to be schmucks who write obscene children's books for adults.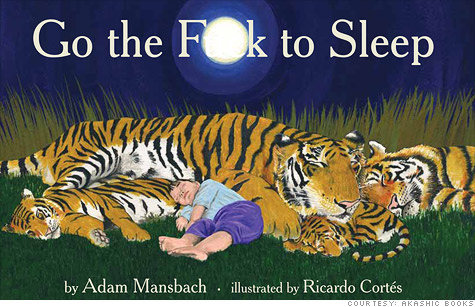 SUBSCRIBE TO & FOLLOW CULTURE SHIFT
Level up. Read THIS and be the most interesting person at your dinner party. Learn more