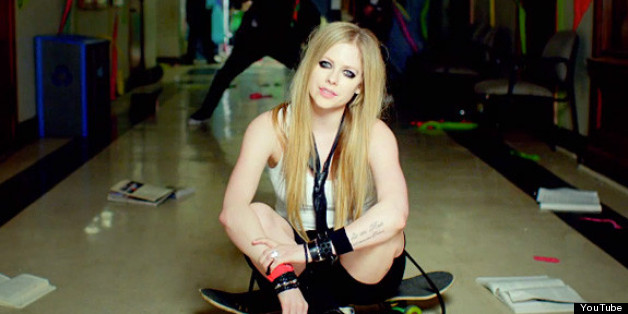 YouTube
In the clip, a raccoon-eyed Lavigne performs at a high school prom, singing about getting drunk, falling in love, and belting out Radiohead at the top of her lungs; all standard fare for any pop song. It's at the two-minute mark, though, where things take a rather depressing turn down memory lane.
She's like the prom queen who peaked in high school, looking back on her glory days. While other pop stars who hit it big in their teens have made efforts to be taken more seriously, Lavigne's music, like her attitude, hasn't matured in her more than decade-long career.
There's no denying the music industry has undergone drastic changes in the past 11 years, but the Candian singer used to be a force to be reckoned with: Her debut album "Let Go" has sold a reported 17 million copies worldwide, and her followup album, "Under My Skin," sold a reported 10 million copies. Even her third studio album, "Best Damn Thing," sold 6 million copies globally.
With the relative failure of Lavigne's last record, it makes you wonder whether she's really so desperate to cling to her youth, or if she's simply not marketable as a grownup.
FOLLOW HUFFPOST