Terrorism. Extremism. Corruption. These are a few words commonly used to describe the issues that plague Pakistan. Religious fundamentalism breathes life into the extremist ideology that terrorizes our world and seems in particular to be threatening this 63 year old country. With a constitution that has been tossed to the wayside on numerous occasions, "democracy" is a word that leaves many Pakistani's embittered by the concept. Developing a democratic process that works for the people of Pakistan is the challenge a new social movement in Pakistan is aiming to inspire. The question is -- can a grassroots movement transform a country so disillusioned?
Khudi is a self-described social movement peacefully advocating for nationalism, democracy and stability by tactically promoting tolerant discussion and debate to constructively resolve disputes. While these may seem like audacious objectives, the methods ultimately implemented to ensure Khudi's success are ironically cultivated by the autocratic authorities they will philosophically invalidate.
Founded by Maajid Nawaz, a former member of the radical Islamist movement Hizb ut-Tahrir (HT), Khudi's initiatives were designed through the eyes of a man who knows exactly how extremist organizations have successfully attracted mass membership over the years. Acting in the name of what he once thought was Islam, Nawaz devoted many years to spreading HT's radical message of intolerance and division, during which time he also led the establishment of HT cells within Pakistan. In Egypt, immediately following 9/11, he was arrested for his affiliation with HT. In prison he suffered beatings at the hands of the authorities, was made to watch his comrades suffer electrical torture, and was also thrown into solitary confinement for a period of three months. Initially these experiences only served to strengthen his resolve to continue spreading the message of HT after his release. A series of enlightening instances, however, led to the eventual reform of Nawaz.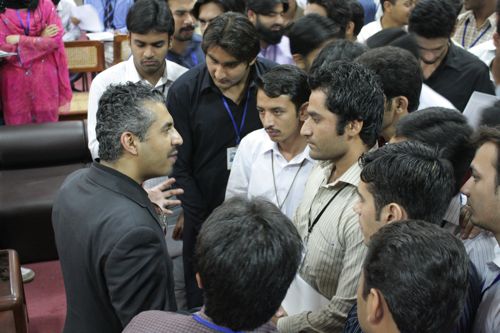 Adopted by Amnesty International as a prisoner of conscience, Nawaz witnessed firsthand the democratic values the organization represented and the principled stance they had taken to fight for his rights, despite the fact that he stood opposed to everything they believed in. He was also shocked to learn that many of the founders of extremist organizations who were jailed along with him had long since renounced their extremist ideology. Debating with individuals such as the assassins of Egyptian President Anwar Sadaat, Nawaz slowly understood the difference between the pluralistic faith of Islam and the extremist ideology of Islamism. His rigorous study of the Quran further affirmed this understanding. Nawaz awoke to a new perspective and knew he needed to stop the progression of the web of Islamist extremism he had threaded. He now dedicates his life to challenging the message extremist movements disseminate.
Upon his release, Maajid Nawaz co-founded the Quilliam Foundation, a U.K. based counter-extremism think tank, along with former HT member Ed Husain. A few months later, Nawaz teamed up with a group of passionate Pakistani activists to launch Khudi in Pakistan. Ironically, Khudi applies many of the same techniques developed by extremists when recruiting and broadcasting their skewed message. The difference is that the extremists claim to be acting in the name of religion, while Khudi does not enter into theological debates and explicitly celebrates religious diversity in Pakistan.
Nawaz now travels the globe, returning frequently to Pakistan, where Khudi has established a country-wide network of volunteers committed to tackling the spread of totalitarian ideology and shifting the paradigm of those enrolled in the extremist mentality. They work toward promoting education, building tolerance, developing government accountability and standing firmly for transparency. In a recent conversation with Maajid Nawaz, he summarized his vision by saying:
"For too long the organized minority have hijacked Islam and the meaning of Pakistan. This has led to the democratic space shrinking in an atmosphere of fear. We launched Khudi to give a voice to the silent; to give an organization to the disorganized majority; to reclaim the vision of the founders of Pakistan and to say no to those who are trying to tear Pakistan down. Khudi, an ideas led initiative, will be the Pakistan-wide network for democratic forces, working as an umbrella to provide shelter and logistical support to the disparate range of unconnected democratic youth movements struggling for support and recognition. Pakistan from hereon can only move forwards!"
Values Khudi intends to instill within their programs are being integrated into universities, messages are being published in and out of Pakistan and their message is seeping into the streets. Online tools are helping create offline action by engaging, enrolling, educating and empowering people to engage, enroll, educate and empower others. While programmatic content will vary, I believe the team that developed Khudi wisely considered the enrollment methods extremist organizations have successfully used. Key methods they are applying will ensure success include remaining astute to the generational and cultural conversations (among Pakistani youths in particular), a careful consideration of approach, respect for deeply ingrained beliefs and maintaining a forum that supports the space for Pakistanis to confidently and openly discuss important political and social issues.
Ultimately, I believe Khudi and many other important organizations will help Pakistan emerge as a country much more tolerant and pluralistic than corrupt and defunct. When developing your movement, pay attention to the tactics used by your opposition -- their methods may be the perfect formula to accomplishing your mission.
SUBSCRIBE TO & FOLLOW WORLD POST