The city streets and runways are alive with bright fashion pieces and rockin' trends! You have to sometimes wonder, "Where do these new fashion statements stem from?" We can thank color-blocking for the fun, expressive and colorful fashion items splashing across today's department stores. Color-blocking was popular last season, too; but, the vibrant color trend is back for another round and is picking up energy with the mixing of different textures and accessories with loads of awesome shades.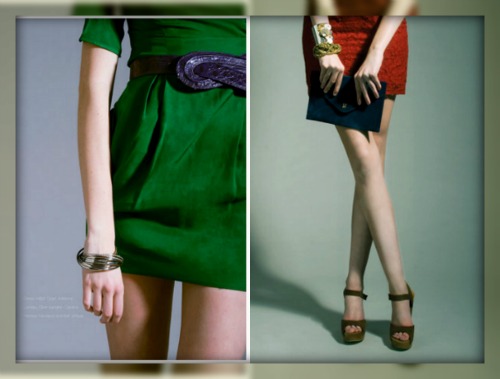 Are you ready to color-rock it this spring/summer season -- redhead style? I am!
The one thing I absolutely love about color-blocking is it can make your outfit (and of course your hair) pop. It makes a statement and you will always appear to be an effortless, mega-redheaded fashionista.
Many designers are now incorporating the color-blocking trend in their lines with one-piece maxi dresses and jumpsuits; this makes it super easy for you to rock the look.
But, if you want to wear this look with some of your new pieces, my advice is simple: there is no rule to this trend. Just remember to go for colors that complement each other. Some suggestions are dark forest greens matched with deep purples, bright reds with magentas, and eye-catching aquas paired with violets.
Here are my five top tips to color-rock it this season:
1) Play around with the color of your pants. Go for a bright bottom while opting for a basic, nude top or sweater.
2) Colorful blazars can take your outfit to the next level. If you are color-blocking with your pants and top, spike it up by adding another bright color to your jacket. My favorite look is a sunny yellow top with green bottoms and a bright pink blazar!
3) Add some color to your feet by purchasing color-blocking shoes. Aldo, Giuseppe Zanotti and Dolce Vita are just a few to check out.
4) Multi-colorful bags are all the rage this season. Play around with the shape and size of the bag. Diane von Furstenburg, Marc by Marc Jacobs and Clare Vivier are at the top of my wish list.
5) Scarfs, earrings, necklaces... oh my! All accessories on the runway are demonstrating color-blocking. Play around with what fits your personality.
Now, go out and paint the streets Red -- literally. It's time to color-rock the heck out of your outfits, redhead style.
Rock It Like a Redhead!
Image courtesy of "How to be a Redhead!" Photo by Kara Kochalko.