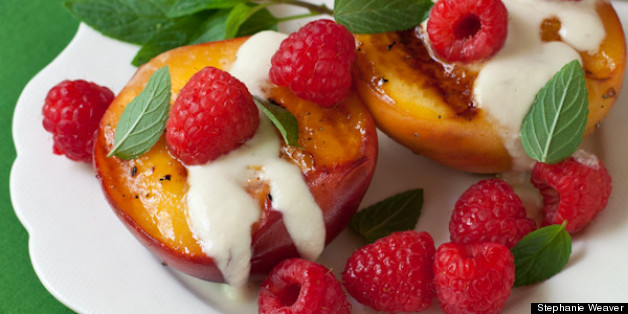 Drizzle cardamom-scented honey cream over grilled peaches, then garnish with mint and raspberries. A delightful summer dessert, and a great way to use too-hard grocery store peaches. You can also use nectarines.
I used Earth Balance vegan margarine instead of butter, and my cashew yogurt in place of Greek yogurt. If you don't want to make your own yogurt, get vanilla coconut milk yogurt and omit the vanilla in this recipe. If you don't eat honey, substitute brown rice syrup. See more about my renovation here.
Grilled peaches with cardamom-honey cream
Serves 4
2 T.Earth Balance, margarine, or butter
2 T. honey or brown rice syrup, divided
1/4 t. ground cardamom
Dash of kosher salt
4 medium peaches
1/2 C. fat-free Greek yogurt, coconut milk yogurt, or cashew yogurt
1 t. vanilla extract
1 C. raspberries
Fresh mint leaves
Combine Earth Balance margarine or butter with 1 T. honey, cardamom, and salt in a medium saucepan over low heat, until margarine is melted. Mix well.
Wash the peaches and cut in half with a paring knife along the seam. Twist the halves in opposite directions until the peach opens. Remove the pit with your knife.
Add peaches to the pan and toss to coat. Let stand for 5 minutes.
Wash and spin dry the mint leaves. Wash the raspberries and drain well.
Heat a grill pan or counter-top grill over medium heat. Coat with cooking spray. Arrange peaches on grill pan; grill 2 minutes on each side or until grill marks appear.
Combine yogurt, remaining 1 T. honey, and vanilla in a small bowl; stir with a whisk. Drizzle over peaches and raspberries, top with mint leaves.
Stephanie Weaver blogs as her alter ego, The Recipe Renovator. All her recipes are gluten-free, sugar-free, and made with plant-based ingredients.