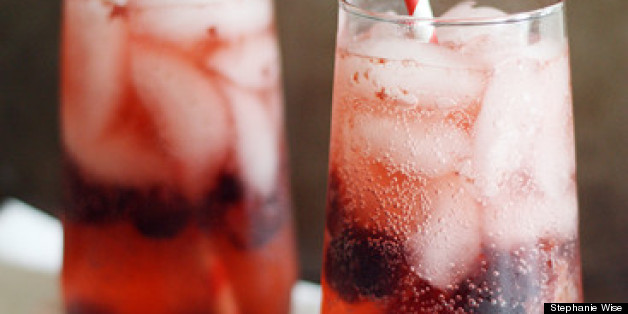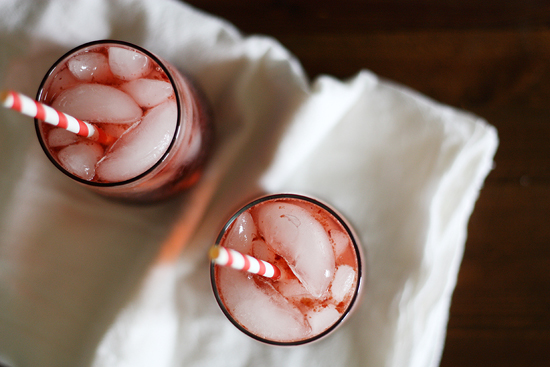 I'm only going to keep blathering on about it because maybe, just maybe, even winter will get sick of me complaining about the weather and decide to finally leave. Because really, Minnesota, could you be more depressing right now? You and your perma-cloud cover, your icy lakes and barren trees... it's just not a good look on you. And frankly, I need to get a little sun on these cheeks before I start blending into my whitewashed apartment walls.
Alas, no amount of whining and tantrum-throwing is going to lift the grayness from these early spring days. No -- instead, this cherry cocktail might turn things around, at least in spirit. The combination of sweet cherry flavor and fizzy ginger ale with a mild backnote of sake might be just what we need to think spring, even when the weather refuses to cooperate.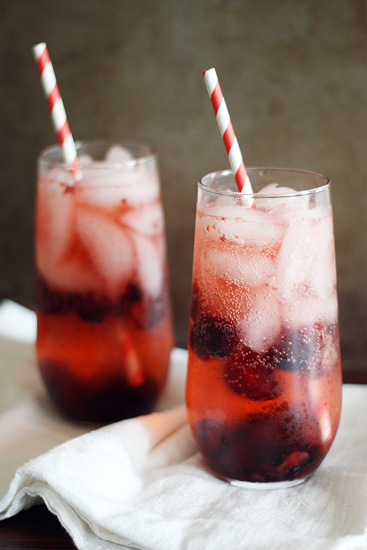 I don't know about you, but I've been a fan of cherries in my drinks for a long time -- from my early Shirley Temple days to the more current rendezvous with Manhattans -- but none can quite match the distinct flavor of this cocktail. The cherry taste is milder than anything hopped up on grenadine but stronger than anything with a maraschino cherry simply plopped into the bottom of the glass. When you muddle the cherries gently, then top it with a splash of sake, a few cubes of ice and a glug-glug-glug of ginger ale, that's when the sweet cherry flavor really comes alive.
A few sips in, and winter doesn't seem so bad anymore -- a few more sips, and it just might seem like spring is here already. These days, that's a happy hour I can get behind.
Cherry Sake Cocktails
Yields: 2 drinks

Ingredients:
2 small handfuls frozen dark sweet cherries, thawed (about 2/3 cup)
Ice
4 shots sake (about 3/4 cup)
Ginger ale
A couple drops of red food coloring (optional)
Directions:
Divide cherries among two tall glasses. Gently muddle cherries with the back of a wooden spoon in the bottom of each glass. Top with plenty of ice. Add 2 shots of sake to each glass. Fill to the top with ginger ale. Add a drop or two of red food coloring for extra color, if desired.
P.S. For a non-alcoholic version, simply leave out the sake.
Recipe adapted from Food Network Magazine.